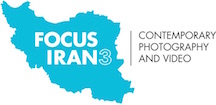 Focus Iran 3: Contemporary Photography and Video
Entry Deadline: 8/25/18
Application Closed

REQUIREMENTS:

Media
Images - Minimum: 0, Maximum: 1
Video - Minimum: 0, Maximum: 1
Total Media - Minimum: 1, Maximum: 1


Theme:
Contemporary youth culture in Iran or in the Iranian diaspora

Submission Period:
June 11- August 24, 2018

Exhibition Dates:
January 27 – May 5, 2019

Opening Reception:
January 26, 2019
6:00 – 9:00 p.m.

EXHIBITION DESCRIPTION

Focus Iran 3: Contemporary Photography and Video is a biennial juried exhibition of photography and video works organized by the Craft & Folk Art Museum (CAFAM) of Los Angeles and Farhang Foundation to feature artists whose works explore themes related to Iranian culture. The theme of Focus Iran 3 is youth culture in Iran or in the Iranian diaspora

Approximately 40 selected photographs and videos will be displayed in a group exhibition to take place at the Craft & Folk Art Museum from January 27 to May 5, 2019, with an opening reception to take place on January 28 from 6:00 to 9:00 p.m. Cash prizes of $3,000, $2,000 and $1,000 and a print advertisement in ArtForum will be awarded to the top three selections.

The competition is free to enter. Selected artists will be determined from among all eligible entries received and reviewed by a panel of qualified judges. The jurors will consider pertinence to Iranian youth culture, skill, artistic vision, and impact in the selection process.

JURORS

Mehrdad Afsari is a photographer, documentary film director, and video artist based in Tehran, Iran. He has advanced degrees in photography from Tehran University of Art and has been a professor of arts since 2004. He is an honorary member of Iranian Visual Artists Society. He has had fourteen solo exhibitions, including at Mohsen Gallery in Tehran and Etemad Gallery in Dubai, United Arab Emirates. His work has been exhibited internationally, including at Paris Photo in France (2009), Contemporary Istanbul in Turkey (2010), Queens Museum of Art in New York (2011), and PHOTOFAIRS Shanghai in China (2016). He is an honorary member of Iranian Visual Artists Society, and his work is in the collection of the Tehran Museum of Contemporary Art.

Aria Eghbal is a professional painter and founder of Aria Gallery in Tehran, Iran. As an artist, she has been subject of four solo gallery exhibitions and part of over fifty group presentations both inside and outside of Iran. She established Aria Gallery in 1991 and presents contemporary Iranian painters, sculptors, photographers, and jewelry artists, among others. As an educator, she co-founded Mahe-Mehr Cultural and Art Institute to fill a perceived gap in the government-led art education, particularly awareness of art theory and criticism. She is also a co-founder of Dena Art Group, which advocates for Iranian women artists in Iran and abroad.

Holly Jerger is the exhibitions curator at the Craft & Folk Art Museum (CAFAM) in Los Angeles, CA. She holds a Bachelor of Fine Arts from Ball State University, Indiana and a Master of Fine Arts from the University of Nebraska-Lincoln, where she also taught. She has served on the boards of the Museum Educators of Southern California (MESC) and the Los Angeles Printmaking Society.

Amanda Maddox is associate curator in the Department of Photographs at the J. Paul Getty Museum in Los Angeles, CA. Since 2011, she has organized or co-organized numerous exhibitions at the Getty, including Now Then: Chris Killip and the Making of In Flagrante (2017); Ishiuchi Miyako: Postwar Shadows (2015); Josef Koudelka: Nationality Doubtful (2014); and Japan's Modern Divide: The Photographs of Hiroshi Hamaya and Kansuke Yamamoto (2013).

Seifollah Samadian is an accomplished Iranian artist, photographer, and cinematographer based in Tehran, Iran. Highly-regarded internationally as an art director with experience working with directors like Martin Scorsese and Abbas Kiarostami, Samadian came to the forefront of critical attention in a wave of Iranian photography in the 1980s that gained momentum during the years following the Iran-Iraq War. He is the founding director of the Annual Image Visual Arts Festival and Tassvir Film Festival, and publisher and editor of the magazine Tassvir. He has taught photojournalism at Tehran University and Islamic Azad University in Iran.

Babak Tafreshi is an Iranian photographer, science journalist, and amateur astronomer based in Boston, MA. He is the creator and director of The World at Night (TWAN), an international program in which photographers from around the world capture images of night skies as seen above notable landmarks of the planet. As a contributing photographer to National Geographic, he is a leading artist in nightscape imaging by merging art, culture, and science. He serves as a member of the board of advisors of Astronomers Without Borders and is a photo ambassador for European Southern Observatory. For his global contribution to night sky photography, he received the 2009 Lennart Nilsson Award, the world's most recognized award for scientific photography at the time.

Maryam Zandi is an Iranian documentary photographer and author known for her photographs of the Iranian Revolution. A graduate of Tehran University's School of Law and Political Science, she began pursuing photography in 1970. She has held prominent photography positions with Iranian national television and radio, as well as the cultural magazine Tamasha. She has published over ten books of photography, most notably The Revolution of Iran 79 and Chehreh-ha, a series of portraits of contemporary Iranian cultural figures. She is the founder and first chairperson of the National Iranian Photographers' Society (NIPS).

JUDGING CRITERIA
Technical excellence
Content (i.e. how well the work relates to the theme)
Composition
Impact

RULES OF ENTRY
Open to international artists, 18 years of age and older.
Only digital format photographs and videos are eligible.
Please include statement of how the entry relates to the theme.
Photograph size maximum: 36 inches on the longest side. Photograph size minimum: 12 inches on the shortest side.
Video length: 9 minutes or less
Video works with spoken Farsi should have subtitles.
Maximum of one (1) photographic work OR one (1) video/new media work per artist is accepted.
Each entry must be the original work of the participating artist, and they must be the sole owner of the copyright of such entry.
Employees and their immediate families (defined as spouses, parents, siblings, children, grandparents and in-laws) and any members of their households employed by CAFAM or Farhang Foundation, or any of its affiliates, parent corporations, subsidiaries, advertising and promotion agencies, are not eligible to participate.
All entries must be received between 12:01AM MST (Mountain Standard Time) on June 11, 2018 and 11:59PM MST (Mountain Standard Time) on August 24, 2018. Any entries and/or payments submitted before the competition start or after the final deadline automatically will be void.
Please do not send your entry directly to CAFAM or Farhang Foundation, or you will be disqualified.

ARTIST NOTIFICATION

Finalists will be notified by email on or approximately October 15, 2018. Selected photographs and videos will be produced by CAFAM for exhibition display. Selected artists will be required to send a high-resolution copy of their selected work to Focus Iran's Hightail account.
Photographs must not exceed 36-inches on the longest side (i.e. 36x20, 36x24, or 36x36) at 300dpi, saved either as a TIFF or a Photoshop file.
Videos must be saved and uploaded as MP4 or MOV files @720p resolution with h.264 encoding.
All works must be uploaded to Hightail no later than 11:59PM MST on October 30, 2018; a late submission may result in disqualification.
Finalists who are unable to meet the above requirements must contact Sasha Ali (sasha@cafam.org) at CAFAM to make alternative arrangements. Non-compliance with this time period or with these Rules of Entry may result in disqualification.
RETURN OF ARTWORK

Upon the completion of the exhibition at CAFAM, the Artist can elect one of the following options:
Donate the work to Farhang Foundation for fundraising purposes towards Focus Iran 4 support.
Request for the work(s) to be destroyed.

CALENDAR
Submission period: Between 12:01AM Pacific Time on June 11, 2018 and 11:59PM Mountain Time on August 24, 2018
Judging period: September 12 – October 3, 2018
Digital delivery of selected artworks via Focus Iran's Dropbox/Hightail by 11:59PM PST on October 15, 2018.

SPONSORSHIP OPPORTUNITIES
Please contact Alireza Ardekani, executive director of Farhang Foundation, for sponsorship opportunities at focusiran@farhang.org.
QUESTIONS AND INFO
For further information about Focus Iran 3: Contemporary Photography & Video, please see Terms & Conditions and FAQ or contact us at focusiran@farhang.org.