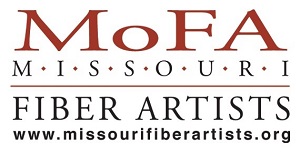 Speaking of Fibers 2019! Stories of Importance
Kacey Cowdery
623 Westborough Place,
Webster Groves, MO 63119
Contact Email:
candyce54@gmail.com
Call Type:
Exhibitions
Eligibility:
National
State:
Missouri
Entry Deadline:
5/26/19
Application Closed
REQUIREMENTS:
Media
Images - Minimum: 2, Maximum: 6
Total Media - Minimum: 2, Maximum: 6
Entry Fee (Entry Fee): $30.00

Exhibit will be held at Maryville University, Morton J. May Gallery, 650 Maryville Dr., St. Louis, MO 63141.
October 31 through Decembr 13, 2019

Exhibition Timeline
Entry Deadline: May 12, 2019
Notifications Emailed July 10, 2019
Delivery of accepted works October 8 & 9, 2019
Exhibit Dates October 31 thru December 13, 2019
Reception October 31, 5:00-7:00 PM,
Juror Talk 6:00 PM
Pick up at Maryville December 14, 2019, 11:00 – 1:00
Return Shipping: Within three business days, items will be delivered to shippers.Prepaid labels required.
Eligibility:
Open only to current MoFA members. To join MoFA, submit on-line at
www.missourifiberartists.org
Restrictions: All pieces must be artists' original concept. No ceiling hung work, no perishable organic material. Components must fit through a standard door. All pieces to be ready to install with clear instructions – no exceptions.
All accepted pieces are expected to be in the show, and remain in the show from beginning to end.
Entry Fee: An entry fee of work by an individual (up to 3 pieces) is $30.
An entry fee for collaborative work (up to 3 pieces) is a separate $30.
Entry Specifications: Primarily fiber artworks, 2D & 3D. Artists may submit one, two or three artworks. Include artist statements for each piece. Collaborative works will be accepted.
Submissions must comply with rules in order to be presented to the juror.
Awards: Best of Show, will be awarded at the reception. Additional awards may be given determined by juror.
Publicity: Missouri Fiber Artists and Maryville University reserve the right to photograph the gallery, and use your submitted photographs, for reproduction in color or black and white, of all artworks submitted to Speaking of Fibers 2019!, for educational and publicity purposes, regardless of copyright.
Delivery:
Accepted works are to be shipped or hand delivered in sturdy boxes to Kacey Cowdery: Address provided with acceptance letters.
Attach your name and title to the back of each accepted piece or segments of each piece, hanging devices, boxes and packing materials.
Work is shipped at the artist's expense. Artists who wish to have their work shipped back to them, must include prepaid shipping labels or stamps for return shipping. Shipped artwork submitted without pre-paid return shipping, will not be shipped without prior compensation.
Pick up at the end of the show: ALL work is to be picked up December 14, 2019, Saturday 11:00 – 1:00 at Maryville University's, Morton J May Gallery, 650 Maryville Drive, St Louis, MO 63141.
Or, arrangements should be made before the pick-up date, by artists who cannot pick-up at this time. Inform the Exhibitions Committee, if someone will pick up for you.
Artist Statement: Your Artist Statement (max 1000 characters total, separate statement for each entry) is to be written about your thought process, a narrative, not a description of your process. What do you wish to convey to the juror and to your viewers, what is your work saying to them? What were your inspiration and concept? Did you change your thoughts about your subject as you worked on this piece?
All works for this show must be connected to the theme, "Stories of Importance".

Images: 2 images of each entry - full view and detail required. Descriptions of the artwork technique and materials should be entered with the images.Label all images with artist name and title. Follow Cafe guildelies for image size.
MoFA strives to present challenges to our members. Artists add importance to their artwork by using a theme. Our theme is an opportunity to study a subject that affects everyone, allowing you to make visual artistic statements. Transform your inspiration into fiber art for this thought provoking theme.
You may depict realistic images of situations, or you may show no realistic forms. When you show no discernable image, your statement, or narrative, becomes the connection to our theme, "Stories of Importance".
Consider using complexity of methods in your works. Embellish with non-fiber elements. Paper is considered fiber, could be used solely or combined with textiles. Fiber methods, such as crocheted wire are considered fiber art. Invent new methods for yourself and be challenged by your materials.
You are encouraged to stretch yourselves, by producing larger works. Collaborations are a method to make bigger artwork.
Print this Page
View Legal Agreement