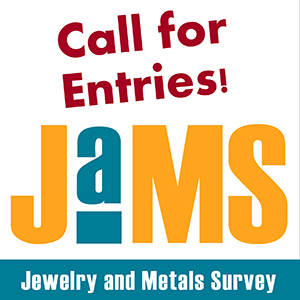 Call for Entry for Jewelry and Metals Survey (JaMS) Publication
PO Box 1355
Eugene, Oregon 97440
Contact Email:
ezilber@snagmetalsmith.org
Call Type:
Exhibitions
Eligibility:
International
State:
Oregon
Entry Deadline:
9/18/18
Application Closed
REQUIREMENTS:
Media
Images - Minimum: 1, Maximum: 3
Video - Minimum: 0, Maximum: 3
Total Media - Minimum: 1, Maximum: 3
Entry Fee (Call for Entry for Jewelry and Metals Survey (JaMS) Publication): $45.00

The Call for Entries for Jewelry and Metals Survey (JAMS) 2018 Volume 2 opens July 5, 2018. This exciting annual publication highlights an international selection of the best new work being made in the field of jewelry and metals. After the success of volume 1, SNAG is excited to welcome applicants for the new edition of JAMS, which will propel the field forward by presenting a wide range of objects, creative approaches, and artistic voices.
JAMS is an annual survey of jewelry and metals in contemporary art, architecture, craft, and design created in the previous year by emerging and established artists, as well as students, selected by a jury of experts including curators, artists, designers, gallery owners, and historians. In showcasing approximately 200-juried objects made in the previous year, each publication highlights the wide range of current ideas and making practices in the field of jewelry and metals.
Objects included can be in any form that engages these materials and forms, including traditional or art jewelry, functional or non-functional objects, sculpture, architecture, public art, design, as well as video, photographic, or performance works in which metals and jewelry play a critical role. Essays by the jurors provide context by exploring what they have seen during the evaluation process, identifying significant themes and trends in the work selected.
This year's jurors are:


Hoss Haley is an American sculptor living and working in western North Carolina. A Kansas native, Haley studied blacksmithing for many years in New Mexico and Texas before turning his focus to sculpture. Despite a long career and many travels, his creations clearly depict the power and influence, both conceptual and aesthetic, of the western landscape of his youth.
Through decades of sculptural exploration, Haley's work has evolved from literal to theoretical, simultaneously shifting in scale from intimate to monumental. Master metalworking and expertise in creating large format sculpture has culminated in several major collections and commissions in the public art sector.
In addition to multiple solo exhibitions presented by prestigious galleries and universities nationwide, Haley's work has been featured in several museums including: New Mexico Museum of Art, (NM); Mint Museum of Craft + Design (NC); California Crafts Museum (CA); North Carolina Museum of Art; Bechtler Museum of Modern Art (NC); Huntsville Museum of Art (AL).
In tandem with a full-time art career, Haley has consistently participated in the intellectual/academic aspects of visual art and contemporary craft through over 40 positions as: artist in residence, keynote speaker, instructor, and presenter throughout the country. Venues include: John Michael Kohler Arts Center, (WI); Society of North American Goldsmiths Conferences, Chicago and Boston; Cranbrook Academy of Art (MI); National Ornamental Metals Museum, Memphis; Visual Arts Center (VA); Penland School of Crafts (NC); Haystack Mountain School of Crafts, (ME); Anderson Ranch Arts Center, (CO).


Todd Reed is an American artisanal luxury jewelry company renowned for creating works of art using recycled metals and sustainably-sourced raw and fancy-cut diamonds. Todd Reed creations are all one-of-a-kind, hand-forged and finished by master jewelers in the Boulder, CO studio. Todd Reed creates an alchemy of precious metals and stones that merge rugged natural beauty with refined sculptural elegance - Raw Elegance. It is a vision that fuses the iconoclastic spirit of an artist, the unwavering, handmade ethos of an artisan, and the sustainable methods of a modern-day steward.


Jennifer Scanlan is Jennifer Scanlan is the Exhibitions and Curatorial Director at Oklahoma Contemporary in Oklahoma City, where she has curated a number of exhibitions, including: Melvin Edwards: In Oklahoma; Jeffrey Gibson: Speak to Me; and ArtNow 2018. From 2013 through 2015 she was a New York-based independent curator focusing on contemporary art and design. Her exhibitions included Pathmakers: Women in Art, Craft and Design, Midcentury and Today at the Museum of Arts and Design in New York City and the National Museum of Women in the Arts in Washington, D.C.; Made for You: New Directions in Contemporary Design at the Samuel Dorsky Museum of Art at SUNY New Paltz; and Back to Eden: Contemporary Artists Wander the Garden at the Museum of Biblical Art in New York.
Prior to working independently, for twelve years, she was Associate Curator at the Museum of Arts and Design in New York City. Scanlan has lectured internationally, including at the 2010 Conference of the International Committee of Design History and Design Studies in Brussels, Belgium; Taiwan Craft Research and Development Institute in Taichung, Taiwan; the 2007 Adornment Magazine conference at the Fashion Institute of Technology, New York; and the 2005 Glass Art Society Conference in Adelaide, Australia. She has taught at Courtauld Institute of Art Summer School in London, England, and at Parsons The New School for Design. She has a BA in art history and Italian from Vassar College, Poughkeepsie, New York, and an MA in the history of decorative arts, design, and culture from the Bard Graduate Center, New York, New York.
This survey publication will be judged on the following criteria:
Creative and inventive use of medium

Innovation in style and concept

Technical proficiency, construction, and craftsmanship

Form and aesthetics of the piece

Consistency of the quality of the piece

Other considerations as determined by the jury
SNAG invites artists, craftspeople, designers, public artists, and architects worldwide to submit images of new works focusing on metal and/or jewelry. Everyone from any sector of the field at any level of experience is encouraged to apply. Curators are also welcome to submit recent work purchased by their institution.
Submissions may be entered beginning July 5, 2018 and close September 1, 2018.
In late September and October, the jury will select approximately the top 100 images from the submissions; each juror will get to select up to an additional 33 images to be published.
JAMS will be published and available in print format in December 2018.
Print this Page
View Legal Agreement