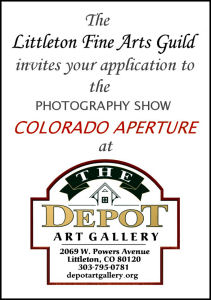 Colorado Aperture Photography Show


The Depot Art Gallery
2069 W Powers Ave
Littleton, CO 80120


Entry Deadline: 8/12/18
Application Closed

REQUIREMENTS:

Media
Images - Minimum: 1, Maximum: 4
Total Media - Minimum: 1, Maximum: 4

Entry Fee (Colorado Aperture Photography Show): $37.00



The Entry Fee of $37.00 covers 1 to 4 entries.

The exhibit will run from Tuesday, September 11 through Sunday October 7, 2018.
The reception and awards presentation will be held on Friday September 14th from 5 to 8pm.

REQUIREMENTS:

Eligibility:
Open to any living photographer residing in Colorado.

Submissions must be original creations of the submitting photographer, current within the last 3 years, and shall not have appeared in a previous show at the Depot Art Gallery that was open to any Colorado entrant, e.g, the All Colorado Show.

All entries shall be for sale.

Size limitation: the sum of length of all sides of the work cannot exceed 123", including framing.

There is no subject theme for the show.

Traditional and digital photography, whether or not modified, are acceptable. Images framed under glass or printed on metal or canvas are acceptable.

Deadline: Entries must be entered into CaFÉ, (https://www.callforentry.org), by Midnight, Sunday, August 12, 2018.
Presentation Guidelines:
Accepted Items must be appropriately framed, mounted and wired in a professional manner or, if unframed, have edges that are adequately finished.

Pictures must use sturdy wire as the hanging medium. No saw-tooth hangers or metal eyelets are accepted. Frames must be free of defects.

The Littleton Fine Arts Guild, Inc. (hereinafter also referred to as "the Guild") reserves the right to reject any work not matching its submission requirements or which is not properly presented for exhibit, or which it deems inappropriate for the Guild or its clientele.
Entry Requirements:
Check Out: Pay the $37 entry fee online with PayPal or a credit or debit card.

Entry fee is non-refundable.

The identity of the photographer must not appear in the entered image but may appear in the accepted photographic work when delivered.

Each photograph accepted for display must match the image submitted for it exactly except that it may contain the signature of the photographer.

This is a juried show. Notification of accepted and uninvited entries will be made by email through CaFÉ.
CaFÉ photo submission guidelines are as follows:
File format: JPEG only

File dimensions: No smaller than 1200 pixels on the longest side

File resolution: 72 ppi/dpi (standard web resolution)

File size: 5 MB maximum

A tutorial on preparing files for upload can be found at: https://www.callforentry.org/image_prep.phtml
Juror: Bill Youmans
"I've been a professional photographer for 40 years and am grateful for the wonderful experiences my cameras allowed me to share. I currently work as the Multimedia Journalist for Littleton Public Schools but along the way, I've also worked in medical, nature, advertising and corporate photography. I taught photojournalism at Wichita State University and yearbook photography in the Littleton Public schools. While my early photography was film-based, I love how the digital revolution helps more people discover photography.
"Early in my career, I was taught that a good photographer must master the elements of composition and the quality of light as well as the technical aspects of the craft. I appreciate photography that makes the viewer feel something - whether its an image that captures the emotion of the moment, or an image that was created to reflect the photographer's vision. I really don't worry about how the final photographic image was created, whether straight from the camera or via digital or subsequent non traditional photographic processes. To me, the broad appeal of photography rests in its ability to create images that make the viewer feel what the photographer was seeing and feeling."
-- Bill Youmans --
Awards and Commissions:
The Guild will offer over $1000 in cash awards to photographers selected by our juror. These awards will be presented at the reception on Friday, September 14 from 5:30 to 8 PM. A 30% commission will be charged on ALL sales.

Liability Disclaimer
All submitted work will be handled with reasonable care. However, among other things that could go wrong, accidents may occur as well as events beyond our control. Neither the Depot Art Gallery nor The Littleton Fine Arts Guild, Inc. or any of its members, nor the City of Littleton will be responsible for, or reimburse you for, any theft or loss of or to any photographic work accepted for display, including its framing. Photographers are encouraged to maintain their own insurance covering losses or damages that may occur during the transport or display of their work.

Agreement

By submission of an entry, the photographer agrees to all terms and conditions stated herein, including the disclaimer of liability, and:
Agrees that the Guild has the right to make final decisions as to marketing, display and other conditions of and for the show.

Authorizes the Depot Art Gallery and the Guild to use any image submitted into the show for purposes of advertising or promoting the show.

Agrees to deliver accepted photographic work in person (or by a designated representative by prior arrangement with the Guild) to the Depot Art Gallery, between 9 and 11:00am on Monday, September 11, 2018, and to pick up unsold work on Sunday, October 7, 2018 between 1:30-3:30pm.

Agrees to provide an accurate inventory sheet describing all work delivered for the show, including up to 4 pieces of bin work, as described below, and two labels for each piece. Both the inventory sheet and the labels should give the name and phone number of the photographer, the title of the piece and the sales price of the piece. The labels should be placed on the back of each of the pieces with one of them being removable. If desired, downloadable templates are available at http://depotartgallery.org/membership-forms/

Agrees to submit only works that are original works completed within the last 3 years.

Submitted work must not be a copy of other artistic or photographic work or consist of work produced in a class or workshop.

All works must remain on display for the entire exhibition.

Agrees that artwork left more than 5 days after the close of the show becomes the property of the Guild.

Agrees that the Guild will manage all sales and retain a commission of 30% on all sales.

Bin Work:

Up to 4 pieces of bin work will be accepted from every photographer who submits entries to the show, whether or not he or she had pieces juried into the show. The size of each piece of bin work cannot exceed 72 inches as measured by the sum of the length of each of its sides.

Bin work shall be neatly enclosed in acetate, and labeled with the photographer's name, email address, and inventory number, corresponding to the inventory sheet.

Bin work will not be juried. but is still subject to the reservation of the right of the Guild to reject any work which is not properly presented for exhibit, or which the Guild deems inappropriate for its setting or its clientele.

An inventory sheet for bin work will be provided at drop off.

Bin pieces shall be labeled with photographer's name and numbered to correspond with the inventory sheet.

Additional Information:
The Littleton Fine Arts Guild, Inc. operates the Depot Art Gallery. Regular hours are Tuesday through Saturday, from 10 am to 5 pm and Sundays from 11am to 4pm.

Please DO NOT contact the Depot Art Gallery with any questions. Instead, please contact Joe Bonita by phone at 303 730 1346 or by email at jbnbqz@comcast.net, or Nancy Myer by phone at 303 368 1472 or by email at nemyer1115@aol.com.

Show Sponsor Contact Information:
The Littleton Fine Arts Guild, Inc.
c/o Depot Art Gallery
2069 W. Powers Ave
Littleton Co, 80120
303-795-0781
depotartgallery.org

About the Depot Art Gallery:
The historic Depot Art Gallery is a restored 1885 Santa Fe Railroad train station opened as a gallery in 1978. Located on a site near the railroad tracks, the gallery is a unique marriage of community spirit and the arts. The gallery is under the administration of the Littleton Museum and the City of Littleton and is operated by The Littleton Fine Arts Guild, Inc. which holds regular monthly exhibits by its members.

Important Dates for the Show

Sunday, August 12: Deadline for all entries via CAFÉ

Sunday, August 26: Jury Notifications sent by email.

Monday, September 10: Delivery of accepted artwork and bin pieces to The Depot Art Gallery, 9 am – 11am. Gallery telephone is 303-795-0781.

Tuesday, September 11: Show opens at 10 a.m.

Friday, September 14: Reception 5-8pm and awards presentation.

Sunday, October 7: Show closes at 4 p.m. Artist pick up from 1:30 to 3:30pm. No artwork may be left at the Depot Art Gallery.