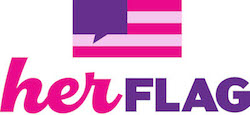 HER FLAG: A collaborative project to celebrate 100 years of voting for women in the USA.
Contact Email:
info@herflag.com
Call Type:
Public Art
Eligibility:
National
State:
Oklahoma
Entry Deadline:
1/25/19
Application Closed
REQUIREMENTS:
Media
Images - Minimum: 4, Maximum: 9
Audio - Minimum: 0, Maximum: 1
Video - Minimum: 0, Maximum: 1
Total Media - Minimum: 4, Maximum: 9
WE NEED AN ARTIST/ILLUSTRATOR FROM ALL 36 STATES THAT GAVE WOMEN THE RIGHT TO VOTE.
ARIZONA, ARKANSAS, CALIFORNIA, COLORADO, IDAHO, ILLINOIS, INDIANA, IOWA, KANSAS, KENTUCKY, MAINE, MASSACHUSETTS, MICHIGAN, MISSOURI, MINNESOTA, MONTANA, NEBRASKA, NEW HAMPSHIRE, NEW JERSEY, NEW MEXICO, NEW YORK, NEVADA, NORTH DAKOTA, OHIO, OKLAHOMA, OREGON, PENNSYLVANIA, RHODE ISLAND, SOUTH DAKOTA, TENNESSEE, TEXAS, UTAH, WASHINGTON, WEST VIRGINIA, WISCONSIN, WYOMING
DO YOU WANT TO BE ONE OF THEM?
We are seeking 36 female/self-identifying collaborators in 36 states to help with the creation of a printed flag to celebrate the anniversary of the ratification of the19th Amendment that gave women the right to vote. The participating artists will represent each of the 36 states that helped pass the 19th Amendment.
You need to be currently living in the state you are applying to represent. See the list of states below. You will need to be able to travel to the capital city of your state on a specific date to hand over your completed stripe and be a part of the public performance while your stripe is added to the flag. Selected artists will receive a $1,000 stipend.
The finished flag will be 18 feet by 26 feet. There will be 36 stripes, one to represent each state that ratified the 19th amendment. The selected 36 pieces of art will be sent to Her Flag in a digital format.
We will have all 36 separate stripes professional printed on commercial grade fabric ready for the assemble on the road. Each stripe will be sewn onto the star field and other stripes in each state by Marilyn Artus. NO SEWING IS REQUIRED FOR THE 36 ARTISTS.

TINY DETAILS WILL NOT SHOW WELL IN THIS PROJECT. LARGE BOLD ART WILL BE THE MOST STRIKING.

THERE IS A DOCUMENTARY FILM IN DEVELOPEMENT AND SELECTED ARTISTS MUST BE OK WITH BEING FILMED.

The most important part of Her Flag is the travel to each state, meeting each of you and having you present your stripe for me to stitch onto the developing flag in your capital city in a public location. Educating the public about this important anniversary is a goal of this art project.
WHAT I WANT YOU TO BE THINKING ABOUT IF YOU CHOOSE TO APPLY.
This is a positive project. I would like you to celebrate this important anniversary in American history with your art making in a hopeful way. It is important to me that a diversity of political beliefs are included in this experience. I am interested in things that unite us. I want to celebrate and educate with this project.
WHERE WILL THE FLAG BE EXHIBITED?
We are working on securing venues for the exhibition of the final artwork in 2020. If you have a suggestion of where this could be displayed, please share any potential leads with me. Indoor and outdoor locations are both possible. The most important part of Her Flag is the actual making of the flag and collaborating with the selected artists. Where it will be displayed will evolve along the journey.
APPLICATION SPECIFICATIONS:
-On your application you will be asked to select a Category, please select the state you live in and wish to represent.

-NO NEED TO MAKE ANYTHING NEW FOR THE CALL APPLICATION. JUST ATTACH IMAGES OF YOUR PAST WORK SO WE CAN SEE YOUR STYLE AND GET A FEEL FOR WHAT YOU WILL MAKE IF SELECTED.

-No need to be able to sew to be included in this project.

-BOLD GRAPHIC WORK WILL TRANSLATE BEST FOR THIS PROJECT.
DETAILS ABOUT THE ART YOU WILL MAKE IF SELECTED:

-Artwork will be 80% red or pink, see additional information for the color your state has been assigned
-All 2D media is accepted
-The name of the state you are representing needs to be worked into the artwork
-Artwork must be 6" tall and can be any width
-Artist will send a high resolution image of your finished artwork by 11:59 p.m. Central Standard Time on April 26th, 2019
-Artwork will be edited by an experienced digital editor
-We will have all 36 stripes individually printed on outdoor commercial grade banner material
-Artwork will be repeated as needed to create the printed stripe
-See list below for the date of the stripe sewing performance in each state that the selected artist must attend
TIMELINE:
-Call to artists open July 19th, 2018 to January 25, 2019 at 11:59 p.m. Mountain Time Zone
-Selected artist notified February 8th, 2019
-Artwork due from artists April 26th, 2019
-Travel and making of the flag on the road begins June 8th, 2019
-Travel ends and flag is complete August 18th, 2020
FINAL SIZE STRIP AND COLOR BY STATE:
Artwork should be 70-80 percent the suggested color. The artwork can be created in black and white allowing the digital editor to color the artwork the final color.
6 INCH BY 165 INCH PINK STRIPE
Wisconsin, Michigan, New York, Pennsylvania, Texas, Missouri, Montana, Minnesota, Utah and Maine
6 INCH BY 165 INCH RED STRIPE
Illinois, Kansas, Ohio, Massachusetts, Iowa, Arkansas, Nebraska, New Hampshire and California
6 INCH BY 312 INCH PINK STRIPE
South Dakota, Kentucky, Oregon, Wyoming, New Jersey, Arizona, Oklahoma and Washington
6 INCH BY 312 INCH RED STRIPE
North Dakota, Colorado, Rhode Island, Indiana, Nevada, Idaho, New Mexico, West Virginia and Tennessee
IMPORTANT DATES FOR PARTICIPATING ARTISTS:
July 19th, 2018:
Call for artists released
February 8th, 2019:
Artists notifications
March 15th, 2019:
Mid point art review with curators
April 26th, 2019:
Completed artwork due
June 8th, 2019:
Her Flag creation tour begins

THE DATES EACH STRIPE WILL BE SEWN IN EACH CAPITAL CITY:
1) MADISON, WI JUNE 10, 2019
2) SPRINGFIELD, IL JUNE 12, 2019
3) LANSING, MI JUNE 14, 2019
4) TOPEKA, KS JUNE 17, 2019
5) ALBANY, NY JULY 17, 2019
6) COLUMBUS, OH JULY 21, 2019
7) HARRISBURG, PA JULY 23, 2019
8) BOSTON, MA JULY 25, 2019
9) AUSTIN, TX AUGUST 10, 2019
10) DES MOINES, IA AUGUST 24, 2019
11) JEFFERSON CITY, MO AUGUST 26, 2019
12) LITTLE ROCK, AR AUGUST 28, 2019
13) HELENA, MT SEPTEMBER 21, 2019
14) LINCOLN, NE SEPTEMBER 24, 2019
15) ST PAUL, MN SEPTEMBER 26, 2019
16) CONCORD, NH OCTOBER 12, 2019
17) SALT LAKE CITY, UT NOVEMBER, 6, 2019
18) SACRAMENTO, CA NOVEMBER 9, 2019
19) AUGUSTA, ME JANUARY 11, 2020
20) BISMARCK, ND JANUARY 28, 2020
21) PIERRE, SD JANUARY 30, 2020
22) DENVER, CO FEBRUARY 1, 2020
23) FRANKFORT, KY FEBRUARY 12, 2020
24) PROVIDENCE, RI FEBRUARY 15, 2020
25) SALEM, OR FEBRUARY 28, 2020
26) INDIANAPOLIS, IN MARCH 19, 2020
27) CHEYENNE, WY MARCH 22, 2020
28) CARSON CITY, NV MARCH 25, 2020
29) TRENTON, NJ APRIL 10, 2020
30) BOISE, ID APRIL 25, 2020
31) PHOENIX, AZ APRIL 28, 2020
32) SANTA FE, NM APRIL 30, 2020
33) OKLAHOMA CITY, OK MAY 16, 2020
34) CHARLESTON, WV JUNE 11, 2020
35) OLYMPIA, WA JULY 17, 2020
36) NASHVILLE, TN AUGUST 18, 2020

The New York Foundation for the Arts is a fiscal sponsor of Her Flag LLC.
Print this Page
View Legal Agreement