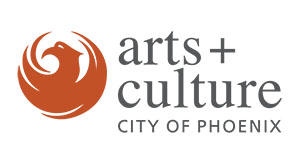 City of Phoenix Well Site Projects Artist Pool
200 W Washington Street
Phoenix, AZ 85003
Contact Email:
kati.stegall@phoenix.gov
Call Type:
Public Art
Eligibility:
Unspecified
State:
Arizona
Entry Deadline:
8/21/18
Application Closed
REQUIREMENTS:
Media
Images - Minimum: 3, Maximum: 10
Audio - Minimum: 0, Maximum: 3
Video - Minimum: 0, Maximum: 3
Total Media - Minimum: 3, Maximum: 10
CITY OF PHOENIX
OFFICE OF ARTS AND CULTURE
200 W. Washington St., 10th Floor Phoenix, AZ 85003
CALL TO ARTIST FOR CITY OF PHOENIX WELL SITE PROJECTS ARTIST POOL
DEADLINE FOR RECEIVING SUBMISSIONS
Monday August 20th
11:59 PM (local Arizona time)
PRESUBMITTAL MEETING (NOT MANDATORY)
Burton Barr Library, 4th Floor Lecture Hall
Thursday July 19th, 2018 at 6:00 PM
Assistive Hearing Technology Available
PROJECT MANAGER: Kati Stegall
SECTION I – PROJECT DESCRIPTION
The Phoenix Office of Arts and Culture's Public Art Program is requesting qualifications from professional artists to collaborate with other design professionals to design aesthetic improvements to promote safety and security for multiple City of Phoenix Water Services Department well sites. Located in different residential neighborhoods throughout the city, the well sites are essential components of Phoenix's drinking water delivery system. Some locations are lightly fenced vacant lots with inactive pumps and other equipment. Others have substantial fencing and walls protecting working equipment. The sites include street frontage and offer the opportunity to increase tree and shade coverage, reducing the urban heat impact of exposed vacant lots and hard surfaces.
The projects offer artists in all media opportunities to work with the community to enhance the locations with landscaping, pathways, fencing, walls, gates, sculpture, shade, interpretive information and other improvements. Artists will be expected to collaborate on a design team with landscape architects and possibly other design professionals, including architects, engineers, planners, and city staff from such city departments as Water Services, Neighborhood Services and the Office of Arts and Culture.
This RFQ is open to professional artists with a variety of experience levels. Applicants to this RFQ may be considered for multiple City of Phoenix public art projects. Arizona artists are strongly encouraged to apply.
SECTION II –TRANSPARENCY POLICY
Beginning on the date the Call to Artist (hereinafter referred to as "Call") is issued and until the date a contract is awarded or the Call withdrawn, all persons or entities that respond to this Call for the services outlined below, including their employees, agents, representatives, proposed partner(s), subcontractor(s), joint venture(s), member(s), or any of their lobbyists or attorneys, (collectively, the "Respondent") will refrain, from any direct or indirect contact with any person (other than the designated procurement officer) who may play a part in the selection process, including members of the evaluation panel, the City Manager, Assistant City Manager, Deputy City Managers, Department heads, the Mayor and other members of the Phoenix City Council. As long as the solicitation is not discussed, Proposers may continue to conduct business with the City and discuss business that is unrelated to the solicitation with the City staff.
Respondents may discuss their proposal or this Call with the Mayor or one or more members of the Phoenix City Council, provided such meetings are scheduled through Romeo Rabusa procurement officer, conducted in person at 200 West Washington, Phoenix, Arizona 85003, and are posted as open meetings with the City Clerk at least twenty-four (24) hours prior to the scheduled meetings. The City Clerk will be responsible for posting the meetings. The posted notice shall identify the participants and the subject matter, and invite the public to participate. Romeo Rabusa's contact info is romeo.rabusa@phoenix.gov.
This policy is intended to create a level playing field for all Respondents, assure that contracts are awarded in public, and protect the integrity of the selection process. RESPONDENTS THAT VIOLATE THIS POLICY SHALL BE DISQUALIFIED.
SECTION III – RESPONSE INFORMATION
1. Requirements and Deadlines for Submitting a Response to Call
Deadline: Monday August 20th, 2018, 11:59 PM , local Arizona time.
Submissions will be accepted via CaFE at www.callforentry.org. No e-mailed, mailed, or hardcopy submissions will be accepted.
To be considered for this commission opportunity, artists must create an account on the CaFE website and follow the directions to submit the following via the online application form:
a. Write a one-page letter of interest, including a description of any past design team experience and how you have worked to develop past projects. 1000 words max.
b. Email and phone contacts for three professional references. If selected as a finalist, your references will be contacted before the final interview.
c. A current resume that is no more than 3 pages and in no less than 10 point font, .doc, .docx, or .pdf files only.
Upload up to ten digital images or media files documenting previously completed artwork.
Digital images must be JPEG or JPG only
1200 pixels or greater on longest side. Anything larger than 1200 px will be resized to fit the limitations.
File Size: under 5 MB
Do not include more than one image in each JPEG
Do not superimpose your name, logo, or any other identifying characteristic on the JPEGs.
d. An image list for each of the images/media provided: Title of artwork, Dimensions (H x W x D), Date of completion, Estimated budget and brief description of the artwork. List must identify artist's role if the project involved a team effort.
Questions about the project or submittal should be directed to Romeo Rabusa via email romeo.rabusa@phoenix.gov or phone at (602)534-8334.
DO NOT SEND ORIGINAL ARTWORK. Applicants are strongly encouraged to retain a complete copy of their application for their records. Late applications will not be considered.
The City contact for this Call is Romeo Rabusa, Procurement Officer, (the "City Contact"). Any questions relating to this Call to Artist shall be directed, in writing, to: Romeo Rabusa via email (romeo.rabusa@phoenix.gov) or phone (602)-534-8334. To be considered, such questions must be received by Monday, August 13th, 2018, 12:00 noon (local Arizona time).
If a Respondent believes that any portion of this Call is ambiguous, inconsistent or contains an error, the Respondent shall promptly notify the City Contact of the apparent discrepancy before July 27th, 2018. If the Respondent fails to notify the City Contact of the discrepancy before that date, the Respondent' shall be deemed to have waived any such claim of ambiguity, inconsistency or error in this Call.
2. Scope of Work
Selected artists will collaborate with landscape architects hired by the City of Phoenix to develop these projects. The design teams will be expected to research the unique needs and opportunities of the sites and develop integrated design concepts for enhancing them. Because the projects are located in residential areas, the team also will be expected to work closely with the community to design enhancements that suit the site and its surroundings. In addition to review by the community, the designs will be considered by the Water Services Department, the Phoenix Office of Arts and Culture, and the Phoenix Arts Commission.
Opportunities:
A selection panel will be convened to select artists potentially for six Well Site opportunities. Two are inactive Well Sites. Four are active. At the abandoned well sites, artists will collaborate closely with a landscape architect to re-design the entire site. At the four active Well Sites, the public art may be integrated into the walls, gates, and fences that protect the city property. At all sites, the design teams will be encouraged to develop holistic landscape concepts to add trees and create shade. Project construction (and contracts related to it) will hinge on the successful completion of design development documents. The projects are expected to involve extensive community work.
Estimated Budget
The amount available for the design of each site will depend partly on the scope of design services for the specific location, but is not expected to exceed $35,000. This amount covers the artist design fee and all costs associated with the design process (insurance, fax, mileage, research, community engagement, materials, etc.). Fabrication and construction oversight costs will be determined as each project moves towards construction.
Applicants to this project may also be considered for additional public art project opportunities advertised by the Phoenix Office of Arts and Culture in the coming year.
3. Estimated Timeline of Project
July 16, 2018 - Call is open for submissions.
July 19, 2018 - Pre-submission meeting in Phoenix (optional, see cover sheet)
July 28, 2018 - Open RFQ Application work session (optional, see cover sheet)
August 16, 2018 - Open RFQ Application work session (optional, see cover sheet)
August 20, 2018 - Application Deadline 11:59 pm (local Arizona time)
August 2018 - Selection panel recommends finalists for the project.
Finalists will receive a comprehensive packet of information about the project.
September 2018 - Finalist interview and proposal review
October 2018 - Contract awarded to selected artist
4. Special Requirements
City of Phoenix employees and Phoenix Arts and Culture Commissioners and their immediate family members, and selection panelists and the panelists' immediate families are excluded from participating in this project.
SECTION IV – EVALUATION AND SELECTION
A selection panel will be convened by the Phoenix Office of Arts and Culture. Members of the panel will include artists, arts professionals, city staff, and community members. Non-voting advisors to the panel may include additional city staff. The panel will review the work of all applicants before recommending finalists. The selection panel will have the authority to invite finalists to be interviewed or to develop concepts for the projects.
Responses to this Call should be concise and well-organized according to the requested information. Responses that are not written specifically in response to this request will not receive consideration.
Evaluation Criteria
Stage 1
During the first stage of the selection process, qualified applicants will be ranked on the basis of a 20-point system. Qualified applicants will be scored based upon the following distribution of possible points:
Demonstrated quality of art and design in past built projects - 8 points
Potential to create innovative design for public spaces generally - 8 points
Experience in collaborative design work - 4 points
After evaluating submissions, the City, at the request of the Evaluation Committee, may ask some, or all, of the Respondents to submit supplemental information and concepts, or to participate in interviews.
Stage 2
If the Evaluation Committee recommends holding a second stage of the selection process, qualified applicants (hereinafter referred to as "Finalists") will be evaluated on the basis of a 20-point system. Finalists will be scored, and awards will be recommended, based upon the following distribution of possible points:
Demonstrated quality of art and design in past or proposed projects - 8 points
Potential to create innovative design for the proposed site - 8 points
Potential to be an effective design team and community partner - 4 points
Finalists will be given approximately four weeks to produce a proposal, and will be given detailed information on selection criteria for each opportunity. They will be expected to present their proposal to the selection panel before the panel recommends artists for the commissions.
Finalists will receive an honorarium for their proposals, the amount and nature of which honorarium will be determined by the City in its sole and absolute discretion. The final recommendation(s) of the selection panel will be reviewed by the Public Art Committee; the Phoenix Arts and Culture Commission; a subcommittee of the City Council; and the Mayor and City Council prior to the award of contract.
Print this Page
View Legal Agreement