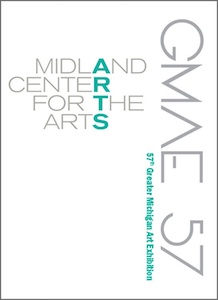 The 57th Annual Greater Michigan Art Exhibition


1801 West Saint Andrews Road


Event Dates: 9/22/18 - 11/4/18
Entry Deadline: 8/20/18
Application Closed

REQUIREMENTS:

Media
Images - Minimum: 1, Maximum: 3
Total Media - Minimum: 1, Maximum: 3

Entry Fee (The 57th Annual Greater Michigan Art Exhibition): $40.00

ABOUT THE EXHIBITION:
The 57th Annual Greater Michigan Art Exhibition is one of the few remaining statewide visual arts competitions in Michigan. Organized by Alden B. Dow Museum of Science & Art (ABDM) at Midland Center for the Arts, this exhibition provides a forum for the most recent developments by Michigan artists. The gallery spaces at Midland Center for the Arts provide a dramatic stage for the display of contemporary work and are especially suited for the exhibition of large-scale works. Each year we bring to Midland reputable arts professionals from around the country to serve as jurors for the exhibition. From leading artists, to curators, to directors to galleries and museums, our jurors bring their experience and knowledge about the contemporary art scene into the curatorial selection and awards designations. Cash awards and exhibition awards underscore the formal and expressive accomplishments of the artists included in the exhibit.

JUROR:
Deborah Rockman, Professor of Art in BFA & MFA Drawing Programs
Kendall College of Art & Design, Grand Rapids, MI

AWARDS:
Best of Show $1000
First Prize $ 500
Second Prize $ 300
Third Prize $ 200
Alden B. Dow Museum Solo Exhibition Award $ 300
Delta College Artist Award $ 300
Saginaw Valley State University Artist Award $ 250
Northwood University Artist Award $ 250
ELIGIBILITY:
OPEN to all Michigan artists 18 years of age or older. Works in all media and mixed media are eligible. Only original works completed within the past three years will be accepted. NO GICLEES, REPRODUCTIONS OR COPIES OF ORIGINAL ART WORK WILL BE ACCEPTED. Digital files submitted for jurying must be a non-altered representation of the actual works to be considered for exhibition.

JURY FEE:
$40.00 for up to three images
This is a two-phased jury process. Please take note!
If you are accepted through the first jury process you are guaranteed inclusion in the exhibition with a minimum of one work after the final jury.

ENTRY PROCEDURE FOR PRELIMINARY JURY:


Entry Process: All applications will be processed online through CaFÉ™ at

CallForEntry.org

.

CaFÉ™ is free to participating artists and includes detailed tutorials. After reviewing our prospectus AND the CaFÉ™ tutorial, if you have questions contact us via phone @ 989-631-5930 x.1299, or email, brandt@midlandcenter.org and we will assist you.

SALES
Works for sale should include 30 percent commission and 6 percent sales tax. If work is not for sale, list as NFS and state an insurance value.

DELIVERY OF ARTWORK FOR FINAL JURY:
All aritsts selected for final jury must deliver their work to Alden B. Dow Museum of Science & Art on Friday, September 7 or Saturday, September 8 between 10 a.m. and 3 p.m. Mailed entries must be received no later than September 5 and must include pre-paid returned postage and a reusable protective carton or crate. Please, no packing peanuts, Works shipped with packing peanuts will be automatically disqualified. Work must be exhibition-ready. Two-dimensional work must be equipped with provisions for hanging; three-dimensional work must be ready for presentation with written instructions for special installations. Artists will be required to set-up complex installations before 2 p.m. on the delivery days.

PICK UP OF NON-ACCEPTED ARTWORK:


All

non-accepted

work must be picked up Thursday September 13 or Friday September 14, between 10 a.m. – 3 p.m or by special arrangement during the Opening Reception (Saturday, September 22nd). If work must be returned by mail, artist must send pre-paid shipping labels.

Our museum cannot be responsible for storing work.

PICK UP OF EXHIBITED ARTWORK
All exhibited works must be picked up November, 5, 6 or 7, 2018 between 10 a.m. and 3 p.m. or Saturday, November 10, 11 a.m. – 2 p.m. Our museum cannot be held responsible for work left beyond this date. If work must be returned by mail, artist must prepay all shipping charges. Work not picked up after November 10, 2018 will be charged a $25 storage fee unless pre-arranged by approved communication.

JUROR'S TALK: (selection criteria)
Sunday, September 9 @ 2 p.m. in the galleries at Midland Center for the Arts

OPENING RECEPTION & AWARD PRESENTATION:
Saturday, September 22, 2018 from 7 p.m. to 9 p.m.