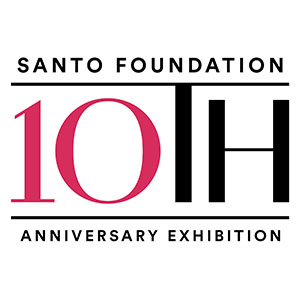 The Santo Foundations 10th Anniversary Exhibition
Arcade Contemporary Art Projects
Attn: Francesca Passanise
812 Olive Street
Saint Louis Missouri 63101
Contact Email:
francesca@santofoundation.org
Call Type:
Exhibitions
Eligibility:
International
State:
Missouri
Event Dates:
6/1/19 - 8/10/19
Entry Deadline:
12/8/18
Application Closed
REQUIREMENTS:
Media
Images - Minimum: 0, Maximum: 10
Audio - Minimum: 0, Maximum: 6
Video - Minimum: 0, Maximum: 6
Total Media - Minimum: 6, Maximum: 10
Entry Fee (The Santo Foundations 10th Anniversary Exhibition): $45.00

Media Fee (per sample over minimum):$5.00

THE SANTO FOUNDATION 10th ANNIVERSARY EXHIBITION CALL
Our first exhibition since 2010, Santo Foundation is excited to celebrate the 10th year of our operating to support and celebrate the emerging visual artist with our Santo Foundation 10th Anniversary Exhibition Call.

An expansion of our existing model that we use for our Santo Foundation Individual Artist Awards, process of the Santo Foundation 10th Anniversary Exhibition call is one that encourages and nurtures the ecology of the contemporary fine art world in its best sense. The exposure of the work of cutting-edge emerging artists to exceptional curators who otherwise may not have ever seen their work, provides both the artists and the curators (Distinguished Curator) with a rich and authentic experience of where the industry and the state of our artistic cultural expression exists.


Two Month Exhibition in Downtown St. Louis Awarded to Three 2-D and Video Visual Artists:
Exhibition Awards: Three top artists will be selected to have a group exhibition in Arcade Contemporary Art Projects' 6,029 square foot gallery in the historic Arcade Building in dowtown St. Louis, Missouri, opening on Saturday, June 1, 2019 with a celebratory exhibition reception, and on view until Saturday, August 10, 2019.

Publication Awards: Each of the three selected artists will receive three complimentary copies of the full-color catalog documenting the works selected for the exhibition and featuring a forward by the Distinguished Curator regarding commentary and unique value of the selected artists and their respective work.

The Santo Foundation is honored to announce our Distinguished Curator, GRETCHEN WAGNER, Saint Louis Art Museum's Mellon Fellow for Prints, Drawings and Photographs.

Exhibition Call Description: Open to all 2-D and video artists, the three artist exhibition will occur in the The museum-quality gallery now comprises over 6,000 square feet that can be divided in various distinct exhibit spaces of varying proportions and sizes, due to the six 12'x12' floating walls. Total gallery running wall length is approximately 56 feet with all walls being no less than 12' in height. All exhibit spaces are appropriately track-lit. The Gallery has street-facing windows nearly floor to ceiling providing excellent public exposure on downtown St. Louis' 8th and Olive Streets, for the artwork 24/7.

The Exhibition will be open to the public four days a week for a total of ten weeks on view. Images from recent past Santo Foundation Individual Artist Awards and from "Marks of Absence," our 2010 Inivitational can be found in our website here and on our Instagram account. (Please remember, the nature of works previously shown should NOT be considered indicative of what Santo Foundation future Distinguished Jurors for the Individual Artist Awards or what will our Distinguished Curator will select to exhibit in the 10th Anniversary Exhibition or otherwise in the future. We and our jurors and curators are genuinely open to surprise, diverse and innovative approaches to visual art.)

About the Distinguished Curator: The Santo Foundation is honored that Gretchen Wagner, Saint Louis Art Museum's Andrew W. Mellon Fellow for Prints, Drawings and Photographs, serves as Distinguished Curator for the 10th Anniversary Exhibition Call.
The history of printmaking and the role of artist's editions in contemporary practice is a primary focus of Wagner's research. She has, for example, explored the worlds of 1970s conceptual art, Eastern European printmaking and the print as public art.

Wagner received a master's degree in art history from Williams College and a bachelor's degree from the University of Wisconsin-Madison. She has held curatorial positions at the Museum of Modern Art, the Pulitzer Arts Foundation and the Oklahoma Contemporary Arts Center/Marfa Contemporary.
Highlights from the numerous exhibitions Wagner has curated and co-curated on topics ranging from German Expressionism to Fluxus Editions include: "Artist's Artists: James Siena, Josh Smith and Charline von Heyl Collect Prints" at the International Print Center New York (2014) and "Art of Its Own Making" at the Pulitzer Arts Foundation (2014); as well as the MoMA exhibitions "Projects 98: Slavs and Tatars" (2012); "Thing/Thought: Fluxus Editions, 1962-1978" (2011); and "Gabriel Orozco: Samurai Tree Invariants" (2009).
Most recently, Wagner co-curated the 2018 exhibition "Graphic Revolution: American Prints 1960 to Now."
To apply:
Artists may submit online only through Call for Entry.org (CaFÉ).

Graduate School candidates are eligible. Students at earlier levels are not eligible.

Emerging, mid-career and mature artists are eligible and encouraged to apply.

All mediums of 2-D and video visual art are eligible including images, audio, video and performance.

This is an International call and all artists are welcome to apply regardless of country, state or residency status.

Please submit (minimum and maximum) 6 files of original work and a current artist cv/resume.

No artist statements.

Please do not submit other materials.

Application fee of $45.00 USD.

Call for Entry dates: September 1, 2018 through EXTENDED DEADLINE of December 8, 2018.

Distinguished Curator will review work samples and exhibition proposals. Santo Foundation staff is NOT a part of this process.

Work samples and application materials are electronically reviewed, rated and selected.

Winning Artists will be announced on Facebook, Instagram and on santofoundation.org in January 2019. The three winning artists will be personally contacted upon selection.

Please note if you have questions regarding technical aspects of callforentry.org please contact their help desk. Please do not contact the juror.

If you have questions that do not involve Call for Entry technical issues, contact francesca@santofoundation.org.
Application Components & Things to Include or Consider:
Work Samples Upload 6 images (jpg) and/or video/sound files (mp3, mp4, wav, mov, mpg).

$45 for an application submission of up to 6 files.

Additional files (up to a total of 10) can be submitted to your application for a $5 additional fee per file.
IMAGE MEDIA
File format: JPEG or JPG only

File dimensions: 1200 pixels or greater on the longest side.

File size: under 5 MB
AUDIO MEDIA
File formats: AIFF, WAV, XMF, MP3

Bit rate: minimum 96 kpbs–maximum 320 kbps

Codec: aiff, wav, au

File size: under 10 MB

VIDEO MEDIA
File formats: 3GP, WMV, AVI, MOV, ASF, MPG, MP4, M2T, MKV, M2TS

Resolution: minimum 640 x 480, maximum 1920 x 1080

Aspect ratio: 4:3 or 16:9

Bit rate: recommended above 240 kbps

Frame rate: minimum 12 fps, recommended 30 fps.

Codec: h.264, h.263, mpeg-1, mpeg-2, mpeg-4, Windows Media Video, and motion jpeg mpeg-1 muxed, Apple Lossless

Container: 3gp, asf, avi, mov, mpeg, mpeg-2, mp4, ogg

File size: under 100 MB.

Currently, linked media from YouTube, Vimeo, etc. is not accepted. Please use upload-ready media files only.

Artist CV/Resume: Upload 1 artist CV or resume (Should provide context for "where you are" in your art career. Should not be too long [no more than three pages] and should include art-career or other relevant info only).

Image Credits or Short Descriptions: If applicable, write a brief credit line or short description for each image, video, or sound file uploaded.

Select works that are no more than five years old, if possible.

Select works that show your best talents in one area (Depth over breadth).

"Clarity of Vision": curate your work samples to create a cohesive identity for yourself as an artist to the Juror.

The Distinguished Curator will select the artists for exhibition via Jury by art piece/work* (Each image entry will be individually scored, including detail images. Beneficial if you are looking to select by artwork as 1 artwork* = 1 application). *a work is one image, audio, or video file
Print this Page
View Legal Agreement