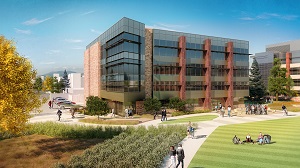 Colorado State University, Health Education Outreach Center: RFQ
Contact Email:
ruth.bruno@state.co.us
Call Type:
Public Art
Eligibility:
National
State:
Colorado
Entry Deadline:
9/16/18
Application Closed
REQUIREMENTS:
Media
Images - Minimum: 6, Maximum: 8
Total Media - Minimum: 6, Maximum: 8
Qualifications are requested from artists and/or artist teams interested in creating a site-specific exterior public artwork or series of artworks for Colorado State University's new Health Education Outreach Center, located along its Science Quad.

DEADLINE FOR SUBMITTAL: September 10, 2018
TOTAL ART BUDGET: $130,000
ABOUT COLORADO STATE UNIVERSITY
Founded in 1870 as the Colorado Agricultural College, Colorado State University is now among the nation's leading research universities, with annual research expenditures above $300 million. Located in Fort Collins, Colorado's land-grant university currently enrolls about 33,000 total students, including 4,000 graduate students and 580 Professional Veterinary Medicine students, and has more than 1,800 faculty members working in eight colleges. More information is available at www.colostate.edu.
PROJECT DESCRIPTION – ABOUT THE HEALTH EDUCATION OUTREACH CENTER
The National Western Center Health Education Outreach Center will be located on Colorado State University's Main Campus. The proposed project will add approximately 39,600 square feet of new space that will include student study areas, anatomy computer lab, gross anatomy lab, neuro-anatomy lab, office space for an outreach coordinator, support spaces and cooler space. The four-story project will connect to the existing Anatomy/Zoology building on the east and south sides. The extension will join the Chemistry and Biology buildings on the new Science Quad, and is slated for completion in December 2018. Labs will include space for human gross anatomy, neuroanatomy, digital anatomy, and virtual reality, and will include large windows to allow natural light. These state-of-the-art laboratories will advance the university's longstanding expertise in subjects central to human medicine. The building will also house Department of Biomedical Sciences' offices, the Colorado State University STEM Center, and a first-floor outreach center designed to bring science to life for students age K-12 and visitors of all ages. The space for public outreach, continuing education, and virtual and augmented reality are all designed to facilitate student engagement, active learning and outreach. The 2nd floor will have a large graduate student lounge, which will also allow for continuing education opportunities.
CSU's involvement at the National Western Center (NWC) is a vital component of continued growth in solving complex problems facing the globe, creating research and development opportunities, showcasing Colorado's innovation economy on the national and international stages, and creating public-private partnerships with major industries to advance STEM disciplines. This facility is a critical piece of a larger strategy to make in-depth science exploration available to diverse students, and to connect CSU's efforts in Denver at the National Western Center and at the CSU System's flagship campus in Fort Collins. Students whose interest is sparked by visiting the National Western Center in Denver could have the opportunity to continue their education with a weeklong "Anatomy Camp" at CSU's Fort Collins campus. In this way, the NWC's programming and facilities become a pathway for engaging diverse students and exciting their passion for STEM subjects.
BUDGET: $130,000
All costs associated with the public art project including, but not limited to, artist design fee, structural engineering, insurance, materials, fabrication, transportation, installation, building or site modifications, travel to and from the site, per diem expenses, project documentation, contingency to cover unexpected expenses and any other costs related to the project are covered by this budget. Selected semi-finalists will be invited to propose artwork for the location listed below. Out-of-state semi-finalist artists will receive $1,500 and in-state semi-finalists will receive $1,000 as an honorarium for the creation of a design proposal.
OPPORTUNITIES FOR PUBLIC ART
The Art Selection Committee is looking to commission an artwork for the exterior of the new Health Education and Outreach Center building. The committee is interested in an artwork or artworks that operate on campus scale and can activate the exterior of the building in an engaging fashion. One possible site that the committee has pinpointed is outside the main entrance, located on the south side of the building. The entrance is more hidden from the Science Quad and could benefit with an artwork to assist with wayfinding and enhance the sense of arrival as visitors approach the building from the parking lot to the south. This entrance will be heavily trafficked by a variety of users, including CSU students and staff, as well as community members, including school groups.
The other exterior site is located on the east side of the building along the Science Quad. An artwork in this location will speak to quad area, and could create a relationship with other science buildings and present and future artworks located in the Quad. The committee is open to both a single, large scale artwork for one of the locations and multiple artworks in a series that utilizes both of the selected sites.
The Selection Committee will consider the following:
Artistic excellence

Technical competence

Conceptual compatibility

Scale, material, form and content

Appropriate relationship to the function of the site and the campus as a whole

Resistance to general wear, vandalism, or theft

Ease of maintenance, minimal and low cost maintenance, including the ability of work to withstand the intense sun and snow, wind and temperature extremes and fluctuations characteristic of Colorado's climate.
Full RFQ and images of building available here.
APPLICATION PROCESS
All applications for this project are being accepted through the online platform, CaFÉ™ (www.callforentry.org ). No hard copy or emailed submissions will be accepted. The applicant will be asked to submit digital images of art (see below for more information), a resume, and a brief statement of interest. There is no application fee to apply or to use the CaFÉ™ online application system. Assistance in using the CaFÉ™ system is available during regular business hours by calling 303-629-1166, 1-888-562-7232 or email cafe@westaf.org.
Digital Images. In order to be considered for this project, the applicant must electronically submit, via the CaFÉ™ system, no less than six (6) and no more than eight (8) digital images of previously completed artworks. Instructions on how to use CaFÉ™ and format images can be found at www.callforentry.org/image_prep.phtml.
Resume: Submit a current résumé, via CaFÉ™, that outlines professional accomplishments as an artist. If applying as a team, please submit a resume for each artist, with the lead artist's resume first.
Statement of Interest: A statement of interest of 500 words or less must be submitted via CaFÉ™. It should briefly outline the interest in the specific opportunity and applicable experience.
COLORADO ART IN PUBLIC PLACES PROGRAM
In 1977, the Colorado General Assembly passed the Art in Public Places Act requiring that 1% of the construction costs of new or renovated state-owned buildings be used to acquire works of art for permanent installation at the project site. Colorado Creative Industries is responsible for implementation of the law. All works of art commissioned pursuant to this request are owned by the State of Colorado via Colorado State University. De-accession of the public art, if necessary, will follow the policies and procedures established by Colorado Creative Industries.
ELIGIBILITY
All applicants must be legal residents of the United States. The artists or artist teams must have the skills and experience commensurate with the responsibility of successfully completing a major public art installation. The Program is open to all artists regardless of race, color, creed, gender, gender variance, national origin, age, religion, marital status, political opinion or affiliation, or mental or physical handicap.
SELECTION PROCESS AND SCHEDULE
The Art Selection Committee will review all complete submittals. A short list of semifinalists will be invited to prepare and present a final proposal in person and be paid an honorarium of $1,000 for in-state artists and $1,500 for out of state artists. Final selection(s) will be made from the semifinalists' proposals. The schedule is as follows:
Monday, September 10, 11:59 pm MST - Deadline for receipt of submittal via CaFÉ™ system
September/October 2018 – Selection committee meets to select Semi-Finalists
October 2018 - Notification of Semi-Finalist selection
December 2018 – Building scheduled for completion
Spring/Summer 2019 – Artwork installation will be arranged in correlation with CSU's Academic Calendar
QUESTIONS
If you require more information or clarification, please contact Ruth Bruno, Public Art Program Manager, at 303-892-3813 or ruth.bruno@state.co.us .
ADDITIONAL SOURCES OF INFORMATION
http://www.colostate.edu/
http://csu-cvmbs.colostate.edu/academics/bms/Pages/health-education-outreach-center.aspx
https://www.fm.colostate.edu/node/191
https://source.colostate.edu/health-education-outreach-center-will-connect-students-clinicians-community/

Print this Page
View Legal Agreement