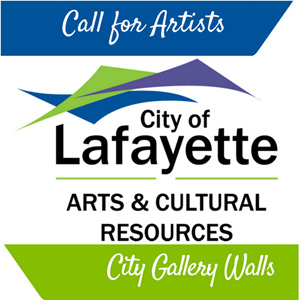 City of Lafayette Gallery Walls
The Collective
201 N. Public Road
Lafayette. CO 80026
Contact Email:
rachel.hanson@cityoflafayette.com
Call Type:
Exhibitions
Eligibility:
Regional
State:
Colorado
Entry Deadline:
3/1/19
Application ClosedNumber of Applications Allowed:
3
REQUIREMENTS:
Media
Images - Minimum: 5, Maximum: 15
Total Media - Minimum: 5, Maximum: 15
The City of Lafayette Arts and Cultural Resources Department invites Colorado artists and arts organizations to submit work to be displayed in one of three city facilities. Artwork will be selected by a panel of city staff. Work will typically hang for a two-month time period. Artists showing their work at the Library or Senior Services may request permission to hold a reception. The artist or a proxy must be available to hang his/her own work. Guidelines for hanging work and hosting receptions will be provided at the time your show is confirmed.
Lafayette has a substantial art community, and a dynamic citywide arts program. This is a no-fee, juried exhibition. Local artists, as well as artists from other regions are encouraged to apply for these free opportunities to display work in a unique and eclectic art environment where community members are appreciative and encouraging and tourists and visitors come for a special opportunity to share in Lafayette's art scene.

Artists are asked to submit their work for review. All works must be suitable to be hung in a public space. 2-dimensional media is preferred. Wall-hung 3-dimensional media will be reviewed on a case by case, and space available basis. Artwork will be selected by a panel of city staff members. The work will be hung, by the artists, in one of three city facilities, City Hall, the Library, and the Senior Center. Artists should complete the application form submit 5-15 examples of their work. The rolling call is open until February 28, 2019. Preference will be given to artists who apply by January 1, 2019.
How to submit:
Submit artwork and information via CaFE. You will be asked to submit the following:
5-15 images

Image list (size, date, media, etc)

Artist's statement (focus on the work submitted)

Artist's contact information
Guidelines for Artwork Submissions
All art must be display ready, including framing, matting & hanging. Please ensure that your work is:
Framed

Assembled

All artwork must have hanging wire, so that it may be compatible with the city galleries hanging system.

Please provide an artist's statement either framed and able to be hung , or in a clear acrylic stand
Suitable for public display.
Gallery Walls sizes:
City Hall – 10' wide by 6' high & 8' wide by 6' high – two wall sections
Senior Services - 16' wide by 10' 3" high – one wall
Library – Brick wall, north end 26' wide by 6' high
Library – Brick wall, south end 48' wide by 6' high
RESPONSIBILITIES OF THE PARTIES
Artwork. Artists are responsible for installing and hanging their shows; it is recommended that a colleague be present to assist with artwork hanging. The City of Lafayette will give objects left in its custody the same care provided similar property of its own. Evidence of damage to objects at the time of receipt or while in custody will be reported immediately to the Lender.
Labels. The artist is required to provide their own labels with title, media, and price and contact information.
Sales. The artist will provide contact information and handle the transactions of all sales of any work. It is not required that works are for sale. "NFS" should be used on all works not for sale. If any work is sold, however, it must remain in place until the end of the show or an appropriate work must be hung in its place. All sales transactions exist solely between the artist and the buyer; the City of Lafayette does not facilitate or participate in any sales on behalf of private parties.
Insurance. Artists are responsible for insuring their art. The City of Lafayette does not insure art nor is it liable for any theft or damage. The City of Lafayette is not responsible for artworks or materials left after the agreed-upon time.
Value of objects loaned. The value of the object(s) loaned under this agreement needs to be established by the Lender. The Lender declares this value in good faith and, upon request, can provide evidence to support this assertion.
Publicity and Photography. Unless the City of Lafayette is notified in writing to the contrary at the time the object(s) is/are loaned, it is understood that the object(s) on loan may be photographed and reproduced exclusively for publicity purposes connected with the exhibition, for exhibition documentation and for educational purposes.
Return of loans. Upon expiration of the loan, the object(s) will be released to the lender. The lender agrees to pick up the artwork at the end of the exhibition. Unclaimed art becomes the property of the Cultural Resources Division of the City of Lafayette.
Taking down your show. The artist is responsible for dismantling on the previously agreed upon day. Since shows are tightly scheduled, you are requested to give as much notice as possible if the date must be changed.
Additional information will be provided upon selection for display.
Print this Page
View Legal Agreement