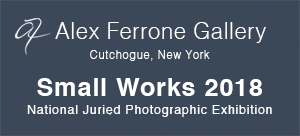 Small Bites - Small Works 2018 (Juried Photographic Exhibition)
Alex Ferrone Gallery
25425 Main Road
Cutchogue, New York 11935
Contact Email:
AlexFerroneGallery@gmail.com
Call Type:
Exhibitions
Eligibility:
National
State:
New York
Entry Deadline:
10/22/18
Application Closed
REQUIREMENTS:
Media
Images - Minimum: 1, Maximum: 3
Total Media - Minimum: 1, Maximum: 3
Entry Fee (Small Bites Small Works 2018 (Juried Photographic Exhibition)): $40.00

IMPORTANT DATES:
Digital Submission deadline extended:
October 22, 2018
Notification of accepted works:
October 27
Framed Works due at Gallery:
November 14-16
Opening Reception & Awards Presentation:
Saturday, November 24, 2018 from 6-8pm.
Unsold works picked up/returned:
January 24-26, 2019
Juror:
Jim Lennon – Professional Commercial Photographer.
About the Exhibition:
Small Bites, Small Works 2018:
This national juried exhibition welcomes entries of photographic based works about
food
. Interpretations are endless - from seed to consumption, farm to table, from fields or trees, food from nature, artistic still lifes, commercial settings, the art of cooking, art of the table, social or political, from the chef's kitchen, scrumptious desserts, bountiful harvest, abstract, or representational. Please, just no instagram posts of your lunch. Our Juror will be looking for thought provoking, creative images.
This Small Works competition is open to national artists and photographers 18 years or older. All works must be framed white - maximum 12x12 inches or smaller (see framing guidelines). Fifty works will be chosen for the exhibit.
About the Juror:
Jim Lennon, Professional Commercial Photographer
Jim Lennon has been creating advertising photography for regional and national companies for over 42 years. His photographs have been featured in thousands of ad campaigns and corporate communications. He has been recognized with prestigious awards from Kodak, The Association of the Graphic Arts, The Long Island Advertising Club, and Graphic Design Magazine; and he has been profiled in Studio Photography, Industrial Photography, and The Photo District News magazines. Jim has taught photography at Adelphi University, C.W. Post University, Stony Brook University, Nassau Community College, and many regional art and photography organizations such as East End Arts. With his studio on Long Island, Jim sits on the advisory board for the photography program at Suffolk County Community College, and has served as President on organization boards including Long Island Cares (The Harry Chapin Food Bank), American Society of Media Photographers Long Island (ASMP) and East End Arts.
Juror's Awards:
•
Participation in our exhibit, "Small Bites, Small Works 2018"
from November 24, 2018 – January 21, 2019.
•
Grand Prize:
"A Day in the Studio with Jim Lennon" in Hauppauge, New York. Tag along with Jim and observe the workings of a professional studio photographer. Explore invaluable practices from being on set to production, prepping, estimating, editing, retouching, and many other daily studio procedures. (Date to be determined. Travel and other expenses will be the responsibility of the recipient).
•
First Place:
$300.
•
Second Place:
$200.
•
Third Place:
$100.
Submission Guidelines:
Only photographic based works depicting our theme will be considered.
Entries must not have been previously shown at, or submitted to, Alex Ferrone Gallery.
Submission fee is $40 for up to three works to be considered and is non-refundable.
Payment: credit card (through CallForEntry.org).
Submitted work must be available for the duration of the exhibit November 24, 2018 – January 21, 2019.
No changes to information can be made once submitted.
Framed works may not exceed 12"x12" including frame. Any pieces exceeding this will not be considered.
WHITE Frames: Accepted works must be properly framed using braided wire and frame bumpers, professionally presented, and ready to hang. For exhibit uniformity, accepted works must be center-weighted in the frame, and framed using Bright WHITE solid core mats and flat finish WHITE frames – maximum front profile width 1" (no exceptions; no off-white, colored core, or double border mats). Additional framing and hanging requirements will be emailed to accepted artists.
All works must be for sale. Commissions on works sold: Artist 50%, Alex Ferrone Gallery 50%, net less credit card fee split.
Submission process: visit CallForEntry.org
• Deadline for online image submission is Monday, October 22, 2018 by 11:59pm MST.
• Images must properly reflect original artwork.
• Framed works cannot exceed 12"x12" (including frame).
• Submitted images must be JPEGS and must be oriented properly (top of image is top of artwork).
(See image file size compliance with CallForEntry.org)
• Each image file should be labeled with artist's last name, entry number, and title. All info must correspond with your entry form.
For example:
Smith1Trumpet; Smith2Drums; etc.
• Please include an artist statement about the works and short bio with your application.
Notification
Accepted entries will be notified by email and posted on the Gallery's website by the end of the day October 27. If you do not receive a notification on this date, please contact the Gallery: AlexFerroneGallery at gmail . com or 631-734-8545. Awards will be presented at the reception (awards will be mailed to those not present at the reception).
Drop off/delivery of accepted works to Gallery:
• Shipping instructions will be sent by email. Shipping all works
to and from
the Gallery is the responsibility of the artist.
•
Framed works must arrive at the Gallery between November 14-16, 2018. Please prepare in advance for shipping arrival times. Any works shipped to the gallery must have proper return documents, insurance, and pre-paid return labels. The Gallery will not return ship C.O.D.
• Unsold works must be picked up between January 24-26, 2019.
The Gallery will not hold works past January 26, 2019.
Unsold works with return documents will ship back at that time.
Agreement:
• Entry into this competition constitutes an understanding that although the utmost care will be exercised, Alex Ferrone and Alex Ferrone Gallery assume no responsibility or liability for damage or loss of any work while in their possession. Entry also constitutes an agreement with all conditions of this exhibit. Alex Ferrone Gallery reserves the right to use submitted images and photographs of accepted works for publicity purposes for the Small Works exhibit (images will always be properly credited). The Gallery has the right to exclude works that are not suitably prepared or received, or works that do not properly resemble the submitted image.
About the Alex Ferrone Gallery, Cutchogue, New York
In its sixth year on the East End of Long Island, New York, Alex Ferrone Gallery exhibits and sells contemporary fine art works by mid-career and emerging photographers and photographic artists. See more here: AlexFerroneGallery.com
Print this Page
View Legal Agreement