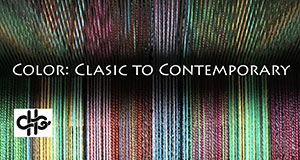 Color: Classic to Contemporary
The Hudgens Center For Art & Learning
6400 Sugarloaf Parkway, Building 300
Duluth, GA 30097
Contact Email:
juriedexhibits@chgweavers.org
Call Type:
Exhibitions
Eligibility:
National
State:
Georgia
Entry Deadline:
2/1/19
Application Closed
REQUIREMENTS:
Media
Images - Minimum: 1, Maximum: 4
Total Media - Minimum: 1, Maximum: 4
Entry Fee (For up to two works. CHG members and students use coupon code): $35.00

Color: Classic to Contemporary

EXHIBITION:
The Chattahoochee Handweavers Guild is pleased to present Color: Classic to Contemporary, an exploration of the fearless use of color in fiber arts. Founded in 1955, the Chattahoochee Handweavers Guild has a rich history of supporting and promoting excellence in textiles and fiber arts. The guild's Biennial of Textiles exhibit is the longest, continuous running juried show in the Southeast. The 2019 exhibition, open to artists working in all fiber media, will be held at the Hudgens Center For Art & Learning in Duluth, Georgia, from May 4, 2019 - July 27, 2019. There will be an opening reception on May 11, 2019, from 2:00 - 4:00 pm. The exhibition includes monetary awards. Entries may be submitted online November 1, 2018 – February 1, 2019.
GOAL:
Color: Classic to Contemporary will allow artists to explore the many ways that color influences life and the world around them. Color influences how we feel but it can also impart a sense of time, place, and culture. Smoky grays and blacks may make the viewer think of the industrial age; rich purples and golds could imply royalty; use of color could impart a sense of serenity, a sense of fantasy or something more unsettling. Do the colors in your work suggest: playfulness, seriousness, richness, scarcity, drama, a sense of solitude, a sense of risk, or a sense of safety? The artist is free to explore any use of color that represents something important to them. Accepted works will be created with care, attention to detail and with consideration for the intended use of the piece. Artists working in all fiber arts media are encouraged to apply. Works should be completed on or after November 1, 2016.

JUROR:
Kathrin Weber has been living in the NC mountains as a full time, self employed fiber artist since 1980. In her weaving and dyeing life Kathrin is known as Blazing Shuttles. Kathrin has marketed through national level craft shows, galleries, and commissions and is known for her colorful hand-dyed yarn and handwoven fabrics. She has nurtured a thriving Facebook community in which she sells her hand-dyed yarn to weavers from all parts of the world. Kathrin teaches weaving and dyeing workshops throughout the US at guilds, conferences, retreats and personal studios. She has a fearless approach to using color and guides her students into informative play while designing, weaving and dyeing.
ELIGIBILITY & ENTRY FEES:
This exhibition is open to all fiber artists residing in the United States. You may enter up to two works. Size of your entries is limited to no more than 60" in any direction and no more than 50 pounds. Work must have been completed since November 1, 2016. Work must be of original design, executed by the entrant, and one of a kind. $35 entry fee for non CHG members, $25 entry fee for CHG members, $20 entry fee for students. CHG members and students contact juriedexhibits@chgweavers.org for entry fee coupon code.
ENTRY PROCEDURE
:
Entries are to be submitted online.

The following information is required for submission:
1. Name, address (and shipping address if different), telephone, e-mail.
2. Up to 2 works total may be submitted; with up to two images allowed per work, one full view and one detail view.
3. Images - full and detail - JPEG only.
5. A brief artist statement (50-100 words, maximum).
SHIPPING
:
Complete shipping instructions will be sent with the acceptance notification to the hanging exhibit. Artists are responsible for shipping costs both to and from The Hudgens Center, including insurance during transit. All artwork must arrive at The Hudgens Center no later than April 19, 2019. Works will be returned in their original packaging no later than August 10, 2019. Artworks must be shipped in sturdy, reusable containers with appropriate packing material. More specific shipping instructions will be provided with acceptance letters. Shipping address: The Hudgens Center For Art & Learning, 6400 Sugarloaf Parkway, Building 300, Duluth, GA 30097.
PHOTOGRAPHIC GUIDELINES:
Artists are strongly encouraged to submit images for this call for entry that present your work to best advantage. Your photographs should give a sense of how your piece "sits" or "hangs." Detail photographs are important to show the technical excellence of the work; they can highlight special areas that might not be obvious in the full shot of the work. Work accepted in the exhibition must be available to be photographed individually or in exhibition installation shots for advertising and publicity during the entire run of the exhibition.
AWARDS:
First Place: $600 | Second place: $400 | Third place: $200 | Student: $150
SALES:
Please note that price and/or value of an accepted entry may not be changed after it is set. There is a 30% gallery commission on works for sale. Work should be marked "NFS" if it is not available for purchase. Include value of work for insurance purposes. The Hudgens Center For Art & Learning will handle sales transactions while work is on exhibit. All sold objects must remain with the exhibition for the duration of the exhibition and will not be forwarded to the purchaser until the end of the show. Payments to the artist for all sold pieces will be made at the close of the exhibition. Shipment of all sold objects will be paid by the purchaser.
IMPORTANT DATES:
November 1, 2018 - February 1, 2019: Entries submitted through CaFE
April 19, 2019: Selected artwork due to The Hudgens Center For Art & Learning
May 11, 2019: Opening reception, juror remarks and award announcements, 2 – 4 p.m.
July 27, 2019: Exhibition closes
August 10, 2019: All unsold work returned to artists
For questions, contact
juriedexhibits@chgweavers.org
or call 404-855-1244.
Visit us at www.chgweavers.org.
PERMISSION AND COPYRIGHT:
By submitting an entry, the Artist grants permission for The Chattahoochee Handweavers Guild and The Hudgens Center For Art & Learning to use the accepted image on their websites at https://chgweavers.org and https://thehudgens.org, for brochures, promotional materials, and publicity about the exhibition, both physical and virtual. Every effort will be made to maintain quality true to the submitted image, recognizing that the print or electronic medium may affect how the viewer receives the image. Artist will be given attribution for the work.
The Artist hereby certifies that he or she holds the copyright for this material and the copyright remains with said Artist. Chattahoochee Handweavers Guild will display a notice that material must not be "downloaded" or copied, but will not be held responsible if artwork is copied.
The Artist also certifies that the work submitted is original, has been completed after 11/1/16 and does not infringe on any existing copyright. If artwork includes image of any person, artist certifies that a model release for such people has been obtained.
Furthermore, if the accepted work differs dramatically from the image submitted, CHG reserves the right to return the work to the Artist without hanging in the exhibition.
Print this Page
View Legal Agreement