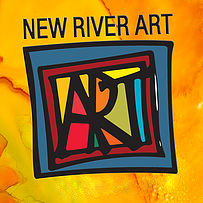 New River Art Juried Biennial 2019
BRAA
P.O. Box 525
Blacksburg, VA 24063
Contact Email:
braaarts@gmail.com
Call Type:
Exhibitions
Eligibility:
Regional
State:
Virginia
Event Dates:
6/13/19 - 8/3/19
Entry Deadline:
3/1/19
Application Closed
REQUIREMENTS:
Media
Images - Minimum: 1, Maximum: 9
Video - Minimum: 0, Maximum: 6
Total Media - Minimum: 1, Maximum: 9
Entry Fee (New River Art Juried Biennial 2019): $40.00

New River Art Biennial 2019 Juried Exhibition
Moss Arts Center
Virginia Tech
190 Alumni Mall
Blacksburg, Va. 24061
APPLICATION PERIOD: Sept. 18, 2018 – Mar. 1, 2019

IMPORTANT NOTICE as of 2-20-2019: PLEASE DO NOT ENTER IF YOU LIVE OUTSIDE OF 170 MILE RADIUS OF BLACKSBURG, VA. ALSO...ONLY 3 DIFFERENT ARTWORKS OR VIDEOS CAN BE ENTERED, NOT 9, AS SOME APPLICANTS HAVE INTERPRETED. THE NUMBER 9 REFERS TO ADDITIONAL DETAIL PHOTOS BEING ALLOWED FOR THE 3 ENTRIES. DETAIL PHOTOS ARE NOT REQUIRED. NO REFUNDS WILL BE GIVEN FOR APPLICANTS NOT FOLLOWING THE INSTRUCTIONS. PLEASE READ ALL ENTRY DETAILS CAREFULLY!

This is the 15th New River Art Biennial Exhibition. This exhibit traditionally rotates every two years between the Floyd Center for the Arts, the Fine Arts Center for the New River Valley (FACNRV) in Pulaski and the Blacksburg Regional Art Association (BRAA). The 2019 exhibition is sponsored by BRAA and hosted by the Moss Arts Center at Virginia Tech for the first time! The BRAA, established in 1950, created this juried biennial in 1991 and remains the driving force behind the event.
ABOUT THE MOSS ARTS CENTER:
Located at the very crossroads of Virginia Tech and downtown Blacksburg, the Moss Arts Center provides a community center in the grandest sense, a place where the arts are a catalyst for engagement, inspiration, and discovery. With a robust and diverse visual exhibition program, the Moss Arts Center galleries present renowned artists from around the globe and close to home. Learn more at artscenter.vt.edu.
ABOUT THE JUROR:
Emily Smith is the Executive Director of 1708 Gallery, a non-profit contemporary art space in Richmond, Virginia. She has served on the Virginia Commission for the Arts grants review panel and is a statewide speaker for the Virginia Museum of Fine Arts. From 2007-2010 Smith was the Curatorial Fellow in Modern and Contemporary Art at the Virginia Museum of Fine Arts. Prior to her work at the VMFA, she was Director of Exhibitions at Piedmont Arts in Martinsville, Virginia (2004-2007) and the Assistant Director at Second Street Gallery, Charlottesville, VA, (2003-2004). Smith was also an adjunct faculty member in art history at Patrick Henry Community College, Martinsville, VA, and was a critic for a Charlottesville, VA, weekly paper. Smith received an MA in Art History from the University of Virginia in 2002.
PRIZES:
Grand Prize: $650 Nadine Allen Memorial Fund and Blacksburg Regional Art Association
First Award of Excellence: $300 Blacksburg Regional Art Association
Second Award of Excellence: $200 Floyd Center for the Arts
Third Award of Excellence: $200 Fine Arts Center of the New River Valley
People's Choice: $100 – The Artful Lawyer
More prizes may be awarded.
ARTIST ELIGIBILITY:
Open to all artists 18 years of age or older living within 170 miles of Blacksburg, VA. This is the largest area of eligibility ever chosen for the biennial, a decision influenced by our splendid host facility.
ELIGIBLE WORK:
· Artists may submit up to three (3) artworks for consideration.
· Work must be original and executed within the past two years.
· All fine arts and fine craft media including painting, sculpture, graphics, ceramics, textiles, mixed media, video, and photography are accepted.
· Sound and performance works will not be accepted for this exhibition.
· Handicrafts are not eligible.
· 2D work must be ready to hang with secure hanging hardware attached (picture wire D-rings). No saw tooth hangers accepted.
· 2D and 3D works must be able to safely pass through an opening measuring 80"w x 100"h.
· 3D works must be self-standing and stable.
· The Moss Arts Center reserves the right to reject any work that cannot be installed or exhibited safely and/or requires special care or equipment beyond current staff and facility resources.
· No works can be hung from the ceiling.
ELECTRONIC IMAGE/VIDEO REQUIREMENTS: Please refer to image requirements section on CAFÉ. Image Requirements. To name the photo files for your submission, please use the following format: Title of work, your first and last name.jpg. For example: Sunset, Tom Smith.jpg
SALES: Sales will be arranged directly between buyer and artist. The hosting gallery cannot facilitate sales. Sold works must remain in the gallery through the closing of the exhibition.
PROMOTIONS: The Moss Arts Center and Blacksburg Regional Art Association reserve the right to use art images for the purpose of promotion and marketing including on web and social media.
ENTRY FEE:
A fee of $40 is required to submit artwork(s) for consideration in this exhibit. Fee is payable online through CAFÉ (callforentry.org). Blacksburg Regional Art Association members will be able to use a $5 coupon inside the CAFÉ application to lower the fee to $35. Payment can be made by credit card or PayPal through CAFÉ or by personal check made out to BRAA and mailed to PO Box 525, Blacksburg, VA 24063
TO APPLY:
· Visit http://www.callforentry.org to apply. You MUST open free CAFÉ personal account, and load your artwork photos before continuing to complete entry for the exhibition.
· Artists may submit up to nine (9) total images of submitted work(s), allowing up to three (3) images per work for up to three (3) works. All works must be shown in their entirety in at least one image. Submitted digital images should represent the quality and nature of the work. Work considerably different than the submitted images may not be accepted.
· Applicants must also submit a brief biography and statement about the submitted work(s), max of 1000 characters.
CONDITIONS OF DELIVERY for accepted works:
Delivery to Moss Arts Center is required. Hand delivery only. No artworks will be accepted by mail. Delivery dates and location will be provided to all accepted artists.
LIST OF SPONSORS KNOWN AS OF SEPTEMBER 2018:
The Moss Arts Center
Blacksburg Regional Art Association
Fine Arts Center of the New River Valley
Floyd Center for the Arts
The Artful Lawyer
The Nadine Allen Family
More awards and sponsors may be forthcoming before exhibition.
KEY DATES:
Application period: September 18, 2018 - March 1, 2019 (closes midnight March 1, Mountain Standard Time)
Notifications sent no later than April 1, 2019
Hand delivery of works: May 22-24 10am-5pm; May 25 by appointment.
Exhibition opening reception: June 13, 2019, 5-7pm
Exhibition dates: June 13-August 3, 2019
Pickup of works: August 4-5, 10am-5pm, or by appointment
FURTHER INFORMATION:
newriverart.net
Facebook @NewRArt
blacksburgart.org
artscenter.vt.edu
floydartcenter.org
facnrv.org
1708gallery.org
Print this Page
View Legal Agreement