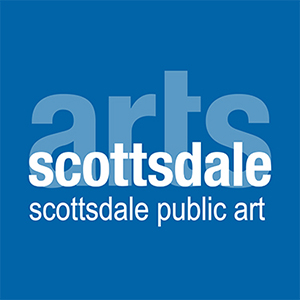 Scottsdale Gateway Makers Public Art Project
7380 East 2nd Street, Scottsdale, AZ 85251
Contact Email:
tanyag@scottsdalearts.org
Call Type:
Public Art
Eligibility:
International
State:
Arizona
Entry Deadline:
2/22/19
Application Closed
REQUIREMENTS:
Media
Images - Minimum: 5, Maximum: 7
Total Media - Minimum: 5, Maximum: 7
Scottsdale Public Art
Call to Artists/Call for a Preliminary Design & RFQ
Scottsdale Gateway Marker Public Art Project

Application Deadline: February 22, 2019

Total Project Budget: $97,500
Scottsdale Public Art is accepting preliminary design proposals from artists for a public art opportunity to create new, iconic gateway markers for Scottsdale, Arizona. The thirteen locations of the markers will be at high-traffic-volume entry points into the City. There may be more than one successful design proposal awarded. Artists who have experience designing projects with a similar budget and scope are encouraged to apply. Applications are due by February 22, 2019.
Up to six finalists will be selected to further develop their proposal and be invited to Scottsdale for interviews. Additionally, final selection will require a public comment process. Finalists will be paid a $2,500 honorarium, including travel costs.

Background Information and Site Locations
Existing gateway monument signs were placed in 1993 at major entry points to the City. The successful design(s) will update their look to reflect Scottsdale's unique character. Consequently, there may be more than one design awarded as Scottsdale's character can change depending on location.

Project Description and Scope
The scope for this public art project is to select an artist or artist team to design one or more gateway marker(s). A successful design for this project should address and creatively reflect the spirit of Scottsdale with respect to its history, its future, and its unique urban setting.
The gateway markers are located in the right-of-way at high-traffic-volume entry points to Scottsdale. There are parameters that artists should follow in order to conform to site desires and restrictions. They include:
· The gateway markers should bring awareness to the City's entry points and show the character(s) of Scottsdale.
· The markers should be easily identifiable from a distance but should not be not distracting to the drivers.
· The markers cannot exceed 5 feet tall and should be 6 to 10 feet wide.
· Text, such as the words "City of Scottsdale" or "Welcome to Scottsdale" will need to be included on the markers (but does not necessarily need to be designed by the artist). The graphics/copy cannot exceed 24 square feet and should contrast against the background surface of the markers.
· There will be no lighting of any type (solar or electric) incorporated into the markers.
· There will be no electricity or plumbing/water incorporated into the markers.
· The markers will not move in any way or have animation.
· The composition of the markers should be fit for outdoor installation and have a life expectancy of 20 years.
· The markers should be made of materials that are not painted. They should require minimal to no maintenance and must be able to withstand Arizona's extreme climate conditions.
The budget for the project is inclusive of all costs associated with the design phase of this project, including the artist selection process and design costs. The budget includes all costs for travel for site visits, community meetings, and meetings between the artist and affected stakeholders. The budget also includes all taxes and insurance.

Scottsdale Public Art
In 1985, Scottsdale adopted a one percent for art ordinance and established Scottsdale Public Art with the goal to enhance the quality of life afforded area residents and visitors. Since that time, more than 60 permanent, 26 temporary and 86 private developer-funded public artworks have been commissioned throughout the community. Presently, 50 new works are in various stages of design and construction. Scottsdale Public Art's projects have won local, regional, and national awards. Public art has taken many forms, ranging from the walls of the Pima Freeway to James Turrell's Skyspace at the Scottsdale Museum of Contemporary Art. The Scottsdale Public Art Collection includes traditional sculpture in the public square, such as Ed Mell's Jack Knife; Carolyn Braaksma's groundbreaking freeway project, The Path Most Traveled, and a signature pedestrian bridge by Paolo Soleri. The Scottsdale Public Art collection includes work by acclaimed artists such as Ilan Averbuch, Kevin Berry, James Carpenter, Cliff Garten, Laura Haddad and Tom Drugan, Larry Kirkland, Laurie Lundquist, Merge Conceptual Design, Dennis Oppenheim, and James Turrell. Projects underway include work by Phillip K Smith III (The Art Office), Marc Fornes and THEVERYMANY Studio, and Jody Pinto.
Scottsdale Public Art seeks to incorporate the highest quality art in Scottsdale's public places in order to enhance the City's cultural and artistic identity and presence. Scottsdale Public Art seeks to instigate a renewed commitment to the public domain by way of such projects that may invigorate social, cultural, historical, or environmental issues. Projects may possess a direct social relevance that is community referential, or they may push the "place making" envelope and involve the viewer in the complexities of the urban desert experience. Public art in Scottsdale is meant to combine a spirited perspective of traditional and new iconographies as well as celebrate and invigorate the vitality of public life.
Scottsdale Public Art advocates, promotes, and enables the integration of the work and ideas of artists into many facets of planning, design, and building in the community. Public art effectively invites community participation at all phases, from artist selection to dedication. During the design process, an average of 250 people may review each public art project. Artists compete for a commission at a specific location; a project panel comprised of city residents and art and design professionals chooses the artist; and the artist's design is then presented at public meetings prior to approval and fabrication. In many cases, the artist becomes an integral member of the project design team.
Scottsdale Public Art is managed by Scottsdale Arts, a private, non-profit 501(c)3 management organization that administers the arts and cultural affairs of the City of Scottsdale, Arizona, and also manages Scottsdale Center for the Performing Arts and Scottsdale Museum of Contemporary Art.
Scottsdale, Arizona
Scottsdale is the major resort center of the Phoenix metropolitan area. Although not all of the local major resorts are located in the city, the city contains the core of specialty shopping, art galleries, recreational facilities, and many of the cultural and sporting events that attract and sustain the local tourism industry. Because of the lack of services in most areas adjacent to the city, Scottsdale's retail centers, parks, employment centers, and libraries are heavily used by residents outside of the city. The high quality of the visual environment and character areas in the city is an important component of maintaining the tourism industry and civic framework.
In his 2000 study, "Scottsdale City Image" (a report to the City of Scottsdale's Urban Design Studio), Todd Bressi reported that "Scottsdale is a city whose visual character is especially important to its residents, and where the sense of landscape and openness in the city are valued." He suggested specific values that would contribute to a strengthened identity of Scottsdale's civic framework and primary spaces of public experience: recognize the importance of the pedestrian scale of Scottsdale's civic framework; celebrate the places that make Scottsdale great; strengthen the design of the arterial grid; and reconnect with the Sonoran landscape. These values hold true today and motivate the efforts of Scottsdale Public Art.

Selection Process and Criteria
The artist selection panel will evaluate artist qualifications based on the following criteria: the applicant's professional qualifications; proven ability to complete projects of a similar scope; artistic merit, as evidenced by the submitted materials; and demonstrated ability to work with government agencies and stakeholders in the creation of a permanent public art project.
The artist selection panel will identify up to six finalists. Short-listed finalists will interview where a proposal and budget is required as a part of the interview. Finalists will receive a $2,500 honorarium to cover proposal development and travel for an interview.
The artist selection panel, taking into consideration commentary by the City of Scottsdale along with the residents of Scottsdale, will choose one or more artists for the project and forward that recommendation to the Scottsdale Public Art Advisory Board. Upon approval by the Board, the recommended artist designs will be provided to the City of Scottsdale, which will then develop an implementation plan for the event fabrication and installation of the new gateway markers, contingent upon City budget.
The Advisory Board reserves the right to reject any and all applications.

Timeline
February 22, 2019 Deadline for response to Preliminary Design Proposal & RFQ (Midnight MST)
Early March, 2019 Anticipated artist selection panel of finalists
March 15, 2019 Selected artists notified
Early May, 2019 Anticipated city and public review
May 2019 Selection of winning design(s)
2019-2020 Implementation of designs
Eligibility
All artists residing nationally or internationally are eligible to apply.

Application Delivery
Applications are being accepted via the callforentry.org website.
Specific proposals are not requested at this stage in the process, only a preliminary design idea. If you are selected as a finalist, then you will be asked to develop your proposal.
All materials submitted become the property of Scottsdale Public Art.
Submission Requirement
· Statement of Intent and Design Idea: Address how the applicant's previous experience and current artistic direction will result in a successful public art project and provide a narrative about the applicant's design idea for the project. No more than two pages.
· Digital Images: Up to 5 digital images of previously completed artwork and 1-2 digital images of design idea. Do not collage multiple images into one image. Each image should include: artist's name, title, year, media, location and project budget, dimensions, commissioning agency, collaborators or design professionals (if applicable).
· Resume or CV: Current professional resume or curriculum vitae (CV) including artist address, email, and phone number. Teams must submit one resume/CV per team member.
· Three Professional References: Include name, title and affiliation, phone number, and email address. References should be able to speak to your ability to provide services for a public art project of similar size and scope.
For Further Information
All questions regarding this Request for Qualifications are to be directed to Tanya Galin, public art coordinator, Scottsdale Public Art, at TanyaG@scottsdalearts.org. Please include artist name and contact info in all correspondence.
Print this Page
View Legal Agreement