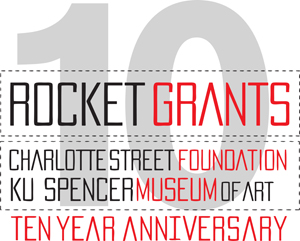 Rocket Grants 2019-2020 Call for Proposals
PO Box 10263
Kansas City, MO 64171
Contact Email:
info@charlottestreet.org
Call Type:
Grants
Eligibility:
Local
State:
Missouri
Entry Deadline:
3/11/19
Application ClosedNumber of Applications Allowed:
2
REQUIREMENTS:
Media
Images - Minimum: 5, Maximum: 10
Audio - Minimum: 0, Maximum: 3
Video - Minimum: 0, Maximum: 3
Total Media - Minimum: 5, Maximum: 13
To download a complete application guide and budget forms please go to: http://rocketgrants.org/apply/
VISION:
Rocket Grants provide opportunities for Kansas City area artists to make and share experimental work and ideas in public spaces around the region - by providing direct support for exceptional, under-the-radar, artist-driven, and artist-centered projects. These grants receive support from the Andy Warhol Foundation for the Visual Arts, and are developed and implemented by a partnership between the Charlotte Street Foundation in Kansas City, MO and the Spencer Museum of Art, at the University of Kansas in Lawrence, KS.
The Rocket Grants program sees diversity, inclusion, and equity as a related set of approaches that build on one another and lead to the fair sharing of the benefits and services that our partnering organizations offer. We envision a future in which people of all races, religions, genders, and abilities are able to fully participate in the performance, presentation, and enjoyment of the many styles of public-facing art.

Rocket Grants fund projects that:
• happen in unexpected places
• are visually engaging, and involve any media or practices, singly or combined
• challenge mainstream methods of thinking, making or presenting
• add energy and diversity to the arts in our region
• encourage the development of new kinds of audiences

The proposed work may address and provide creative growth for either of two audiences:
1. Other regional artists, in venues appropriate for the work;
2. The general public – defined as specific communities, large or small. These projects MUST happen in carefully chosen public venues – ones that are designed to introduce new and surprising experiences to this chosen audience in a compelling and meaningful way. Established arts institutions, venues or districts will be excluded in almost every circumstance.
Artists, curators, collectives, collaborative groups, partnerships, and artist-run spaces residing within an 80-mile radius of the Kansas City metropolitan area are eligible to apply. Awarded artists should remain resident for the entire period of their award. See map at: https://tinyurl.com/y7bmvyvq
Rocket Grants are specifically not available for non-profit, 501c3 organizations, or for current or recently graduated students.
Proposals that bridge geographic or cultural communities are strongly encouraged.
The Rocket Grants program for 2019-20 will provide grants in the amount of $60,000 total. These will include:
• Full Project Awards: Cash grants of up to $6,000 each, to area artists, performers, curators, and writers - as individuals or groups - to support the creation and presentation of NEW work/projects. Artists with ongoing projects or practices are welcome to apply, providing the application proposes significant evolution or adaptation that will open up entirely new directions in the work – even if for only one year. The majority of grants are awarded at or near the $6000 level.
• Research & Development Awards: Cash grants of $2,000 each, to support research and development for ambitious new projects that require a longer period of planning. The selection panel may also award this grant to a proposal that they find compelling, but which seems to require more development and/or funding.
• Completion or implementation of previously selected R & D Awards: Cash grants of $4,000. Any individual or group receiving the Research & Development Award, and completing their preparatory work in a timely and exciting manner, may request an additional $4,000 the following year in order to complete, implement or extend their project. This award is made by submitting a report to the partner institutions, rather than by a full reapplication process.
Applicants will be considered for both levels of funding (Full Project Award and R & D Award), UNLESS they say they DON'T want to be considered for the smaller award (check box on the Budget form). Declining an R&D Award MAY reduce your chances of receiving a grant. The selection panel will ultimately determine which level of grant is awarded, based on their assessment of the project's needs and merits.
Supported projects may include visual art, performance, film screenings, video, new media, writing, public programming, social practice and interdisciplinary projects. Performing artists and writers are eligible to apply, but all work should include a compelling visual component, and performers/authors are encouraged to form collaborations with visual artists to achieve this end.
TIMELINE FOR ROCKET GRANTS 2019-2020:
Monday, January 14, 2019 –Applications open via http://www.callforentry.org
Monday, March 11, 2019 – Applications close online, at 11.59 PM CST
Wednesday, April 17, 2019 – Artists' presentations at Selection Panel meeting in Kansas City*
Monday, April 22, 2019 – Award recipients notified
Tuesday, April 30, 2019 – Public Announcement of 2019 Awards
Thursday, May 16, 2019, 6.00 PM – Awards gathering, funds released
Friday, May 14, 2020 – All projects must be complete
* If you progress to the final round of the selection process, ALL individual artists, or AT LEAST ONE TEAM MEMBER (maximum 3) of each artist group, MUST be present at the Selection Panel meeting, in Kansas City on April 17. You will be asked to give a 5-minute illustrated presentation of your proposal with a 5-minute question and answer period immediately following. Selected artists and teams will be notified on Friday April 5 if they have been chosen to present their application materials to the Selection Panel on Wednesday April 17. Please hold this date open (9 AM-3 PM). More details will be supplied if you are selected.
For a complete description of funding priorities, eligibility criteria, selection process, artist responsibilities, application instructions, FAQs, application tips, budget forms and budget instructions, please visit http://rocketgrants.org/apply/.
You are strongly encouraged to view work by previous award winners on the Rocket Grants website https://rocketgrants.org/rocket-grants-projects/ to make sure that your idea is a good fit for this opportunity.
You will also find information on this website about free outreach sessions. These will help you find answers to questions you may have about your application.
Print this Page
View Legal Agreement