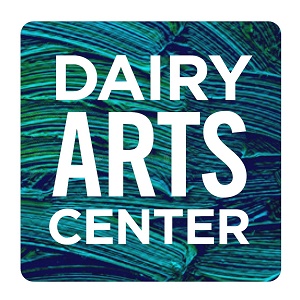 Dairy Arts Center 2020
Dairy Arts Center
2590 Walnut St.
Boulder, CO 80302
Contact Email:
jkparker@thedairy.org
Call Type:
Exhibitions
Eligibility:
International
State:
Colorado
Entry Deadline:
1/15/19
Application ClosedNumber of Applications Allowed:
2
REQUIREMENTS:
Media
Images - Minimum: 4, Maximum: 6
Audio - Minimum: 0, Maximum: 1
Video - Minimum: 0, Maximum: 1
Total Media - Minimum: 4, Maximum: 7
Entry Fee (Entry Fee): $35.00

In addition to accepting applications from artists and arts organizations, a curator may submit a proposal for an exhibition of work by a group of artists. The person submitting the curated exhibition proposal will be considered the exhibitor and will be responsible for the exhibition as described in the "Legal Agreement" section of this prospectus. If a submission for a curated group exhibition is invited for exhibition the curator of the exhibition proposal will work closely with the Dairy's Curator of Visual Arts on the exhibition and the Dairy's Curator will have final approval of all matters, including hanging and curation of the exhibition.
The Dairy's Visual Art Jury is a ten-member committee comprised of artists, curators, university faculty, and art collectors. Following the close of this call, applications will be reviewed by the Dairy's Curator of Visual Arts and the Visual Arts Jury to select individual artists and groups of artists to exhibit in the Dairy's four galleries during the period defined above. A floor plan of the Dairy's exhibition spaces has been provided for review by potential applicants, however, if selected for exhibition the Dairy's Curator of Visual Arts will select the gallery or galleries that are most appropriate for the display of invited artist(s) work.
Founded in 1992, the Dairy Arts Center is a multi-disciplinary, not-for-profit, cultural arts organization housed in the historic Watts-Hardy Dairy building in Boulder, Colo. which operated as a dairy storage and processing plant in the 1960's and 70's. Since 1997 when the Dairy Arts Center's original three galleries were built, the Dairy's visual art program has grown in recognition throughout Colorado and the United States. A major renovation of the building from August 2015 - August 2016 provided a fourth gallery along with improved lighting and exhibition facilities in the existing three galleries. In addition to the galleries the Dairy Arts Center also manages three live performance spaces, an art house cinema, and rents office and rehearsal space to local arts organizations. Each year, the Dairy hosts over 200,000 arts experience for people of all ages who come to experience visual art exhibitions, artists' talks, and art workshops, as well as theater, dance, music, and film.
Artists may not bring an exhibition to the Dairy that has been shown in the Boulder area in the 12 months prior to a Dairy exhibition. However, individual works that have been shown at other venues in the area may be included in a different exhibition at the Dairy within a 12 month period. It is encouraged that work exhibited at the Dairy shall be no more than two years old at the time of exhibit although exceptions may be made by the Dairy's Jury and/or Curator. Please note that the Dairy Galleries are not equipped to exhibit art jewelry at this time. For additional information or any questions contact Jessica Kooiman Parker, Curator of Visual Arts at jkparker@thedairy.org or 303-440-7826 ext 107.
Print this Page
View Legal Agreement