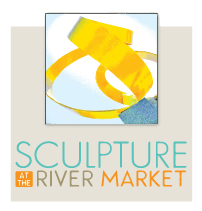 City of Little Rock: 2019 Sculpture at the River Market $60,000.00 Monument Sculpture Commission
Contact Email:
peytonw@swbell.net
Call Type:
Public Art
Eligibility:
National
State:
Arkansas
Entry Deadline:
2/1/19
Application Closed
REQUIREMENTS:
Media
Images - Minimum: 6, Maximum: 6
Total Media - Minimum: 6, Maximum: 6
2019 SCULPTURE AT THE RIVER MARKET FINE ART SCULPTURE SHOW & SALE
Phone: (501) 960-0539 Peyton Woodyard, Show Administrator
Show Dates: May 3rd-5th, 2019
Location: River Market Pavilions located in Riverfront Park
400 President Clinton Avenue - Little Rock, Arkansas

ARTIST FINANCIAL REQUIREMENT
Jury Fee: Free to apply
Booth Fee: $50.00 when selected. Booth fee includes table-height pipe and drape, 10 x 15 artist space in permanent pavilion, electricity, three 6' tables and one chair. Also included: breakfast for the artist and one guest; two Preview Party tickets with dinner, open bar, and entertainment; Saturday night dinner party for the artist and one guest and a hospitality room with refreshments.

DETAILS
2019 Sculpture at the River Market Fine Art Sculpture Show & Sale will be the 11th annual event. Each year the attendance has increased, as have the artist's sales. Every artist at the Sculpture at the River Market Fine Art Show & Sale will exhibit their work in a magnificent outdoor setting (but protected under permanent pavilions) overlooking the Arkansas River and First Security Amphitheater in Little Rock's Riverfront Park. The venue boasts indoor restroom facilities and a hospitality room specifically for artists and their representatives. The Clinton Presidential Library is located just east of the River Market and brings tens of thousands of visitors to Little Rock each year. Sculpture at the River Market, through generous donations of its patrons, has placed over 85 large public art sculptures along the Riverfront Park. The Vogel Schwartz Sculpture Garden, an intimate and beautiful garden is also located in Riverfront Park. This most unique Sculpture Garden showcases award-winning pieces.

The Preview Party, a private ticketed event, will kick off the weekend show on Friday night. Last year, over 500 sculpture enthusiasts enjoyed libations, dinner, and entertainment while viewing and purchasing sculpture. To view video from a past Preview Party, visit http://sculptureattherivermarket.com

ELIGIBILITY
The Sculpture at the River Market Fine Art Sculpture Show & Sale is open to all fine art sculptors who are residents of and/or working in the United States. The sculpture should be created primarily as an aesthetic expression, no craft. Work must be produced by the sculptor or under their personal supervision. Work should be made by hand or with appropriate tools and casting techniques. Eligible media categories include metal, ceramics, glass, wood, resin, and stone.
SALES
All sculpture sold at the show will be processed through the Sculpture at the River Market Treasury. Sculpture at the River Market's commission is 33.33% of each sale.

EVENT CALENDAR
Thursday, April 21, 2019
Artists inventory lists for the Show & Sale due
Thursday, May 2, 2019
Set up of large monument-sized sculpture (1:00 pm – 5:00 pm)
Artist must make an arrangement with show director, Peyton Woodyard, in advance
Friday, May 3, 2019
Breakfast (8:00 am) Mandatory Attendance
Show set-up (9:00 am – 3 pm)
Jury show – awards (3:00 pm – 5:00 pm)
Preview Party (6:30pm – 9:30pm)
The announcement of three semi-finalists for the $60,000.00 commission
Saturday, May 4, 2019
Show hours (9:00am – 5:00pm)
Dinner Party for the artist and one guest (7:00 pm)
Sunday, May 5, 2019
Show hours (10:00am – 4:00pm)
Announcement of $60,000 public art commission winner
Dismantle booths (4:00pm – 6:00pm)

Proceeds from the Show & Sale will benefit the City of Little Rock's
public art program.

ENTRY SUBMISSION AND AGREEMENT
By submitting an entry to this show, the artist agrees to the conditions set forth in this prospectus and allows Sculpture at the River Market Fine Art Show & Sale and the City of Little Rock the right to reproduce submitted images for promotional and sale of purposes.

A Note about the COMMISSION OPPORTUNITY: When the artists are selected through the jury process and accept the invitation, a prospectus of the commission will be emailed to the artist.
Print this Page
View Legal Agreement