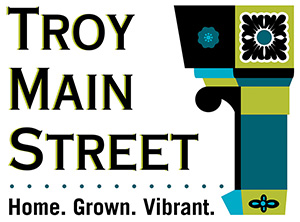 2019 Troy, OH Regional Public Art Sculpture
Troy Main Street
405 SW Public Square
Suite 231
Troy, Ohio 45373
USA
Contact Email:
nicole@troymainstreet.org
Call Type:
Public Art
Eligibility:
Regional
State:
Ohio
Entry Deadline:
1/28/19
Application ClosedNumber of Applications Allowed:
3
REQUIREMENTS:
Media
Images - Minimum: 1, Maximum: 10
Video - Minimum: 0, Maximum: 2
Total Media - Minimum: 1, Maximum: 12
Description:
As part of Troy Main Street's 2019 Sculptures on the Square three-month long event, we are inviting artists to submit letters of interest and qualifications to create site-specific outdoor sculpture artwork. Premier Health Upper Valley Medical Center has generously sponsored this project.
Troy Main Street's biennial Sculptures on the Square has been taking place since 2003 and regularly attracts thousands of visitors from the surrounding communities and states.
Located just 20 miles north of downtown Dayton, OH, off of Interstate 75, Troy is an easy drive from Cincinnati, Columbus, and Cleveland, OH; Detroit, MI; Lexington, Frankfort, and Louisville, KY; Indianapolis, IN; Chicago, IL, and Pittsburgh, PA.
The 2019 Sculptures on the Square event, scheduled to run from June 13 - September 13, 2019, is expected to include public displays of approximately 20 Seward Johnson figures, the selected Regional Sculpture Artist, and art located in and around downtown businesses.
This call is for artwork to be installed outdoors, either on city sidewalks or on public green space. The selected artwork will be installed at a featured location in the Sculptures on the Square event and included in marketing materials alongside the Seward Johnson sculptures.
The Selection Committee is looking for a sculpture that is around 4 feet wide x 4 feet deep x 8 feet tall. If the sculpture being proposed significantly differs from these dimensions, please contact the email identified in the call.
The artwork must be family- and community-friendly in design, nature, and content.
The Selection Committee suggests the artist(s) might consider the history, region, and cultural aspects of Troy, Ohio. Artwork not Troy-specific will not be penalized in the judging process.
For artists looking for some information about Troy's history and culture, we offer these starting points.
Some aspects about Troy:
The Troy Local History Library (http://www.thetroyhistoricalsociety.org/troy/troy-lib.htm) offers an archive of the history of Troy.
Call for Proposal details:
The submitted call for proposal will need to include:
Artist(s) contact information, including name, mailing address, email address, website

Resume or CV showing a history of on-budget and on-schedule public art projects. If this is the first public art proposal, a professional resume or CV showing a history of exhibited artwork is acceptable.

A exhaustive schedule detailing the creation and installation of the artwork

If an existing artwork, photographs of the artwork in multiple angles, base and installation methods, and photographs of it installed publicly if available.

If a new artwork, detailed conceptual drawings depicting the size, scale, and details of the artwork and installation methods. If the artist(s) has created similar artworks but is creating a new artwork for this call, include photographs of previous artworks along with the conceptual drawings of the new artwork.

A budget detailing the costs for conception, creation, delivery and shipping, installation, insurance, and de-installation and shipping of the artwork.
Total Project Budget:
$2,000 USD
Selection Information:
The Troy Main Street Sculptures on the Square committee will designate a jury to review the submissions to determine which artwork will be selected for display.
Entries will be judged by a selection committee including select members of the Sculptures on the Square committee including artists and administrators and representative(s) from Premier Health Upper Valley Medical Center. Entries will be reviewed on the following criteria:
Adherence to community- and family-friendly content

Adherence to appropriate size

Inclusion and adherence of adequate budget, schedule, and installation details that meet city requirements for items installed on public sidewalks (such as no puncturing or removal of concrete for installation.)
If the artist requires partial funding during the creation and delivery of the sculpture, those details should be included in the proposed budget and schedule.
The selection committee reserves the right to reject delivered artwork if the final work fails to adhere to the proposed content, size, budget, schedule, and installation requirements.

Application Requirements:
This project is open to resident American and legal resident artists / artist teams residing and/or working in the Midwest states to include: Ohio, Kentucky, Indiana, Michigan, West Virginia, and Pennsylvania. If you reside or work in another state, feel free to email the address below for consideration.
How to Apply:
Applicants must create a free account on callforentry.org to apply. Existing callforentry.org users can use their existing account to apply.
For Questions, Please Contact:
Troy Main Street
Website: https://troymainstreet.org/
Email: nicole@troymainstreet.org (subject line: SOS Regional Sculpture)
Phone: (937) 339-5455
Facebook: https://www.facebook.com/troymainstreet/
Sponsors:
Troy Main Street's 2019 Sculpture on the Square Public Art projects, including the Regional Sculpture Artist project, are generously funded by Premier Health Upper Valley Medical Center (https://www.uvmc.com/)
Print this Page
View Legal Agreement