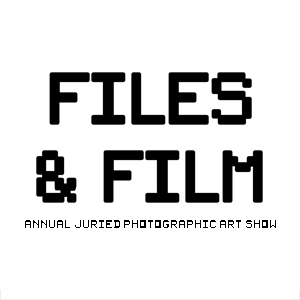 Files & Film 2019 - 6th Annual Juried Photographic Art Show
PO Box 20082
St. Petersburg, FL 33742-0082
APPLY NOW
Contact Email:
filesandfilm@gmail.com
Call Type:
Photography
Eligibility:
Regional
State:
Florida
Entry Deadline:
3/3/19
Days remaining to deadline: 13
REQUIREMENTS:
Media
Images - Minimum: 5, Maximum: 10
Total Media - Minimum: 5, Maximum: 10
Entry Fee (Files & Film 2019- 6th Annual Juried Photographic Art Show): $35.00

Media Fee (per sample over minimum):$5.00

ENTRY FEE
$35 for up to 5 entries
$5 each for up to 5 additional entries
Limit – 10 entries

TO SEND LESS THAN THE MINIMUM OF 5 IMAGES, SIMPLY SUBMIT WHITE BLANK IMAGES. BLANK IMAGES WILL BE REMOVED FROM JURY. Sorry for the inconvenience. Cafe is working on changing this feature in their system.


2019 CALL TO ARTISTS
Call to Photographic Artists residing in FLORIDA. Files & Film Annual Juried Photographic Art Show is excited to showcase the 6th exhibition at MIZE Gallery in St. Petersburg, Florida.
Files & Film is proud to showcase an exhibition representing a full scope of photographic work spanning from traditional film, instant, to alternative methods like cyanotype, various chemical developing, hybrids, to mixed media including fiber, resin, collage, paint, to digital formats and new media. Submissions come in an incredible variety of format, medium, subject and style. Artwork is eligible to submit as long as there is an element of photography.
IMPORTANT DATES
Submission Deadline: March 3
Artist List Announcement and Email Notifications: March 16th
Drop Off: Saturday April 27th 12-4, Sunday April 28th 10-2, and Monday April 29th 12-8
Art Shipping Sent By Deadline: Friday April 19th
Opening: May 4th, MIZE Gallery St. Pete

Pick up starts May 27th - required by June 8th
JURORS - learn more CLICK HERE
Gallery Director of ARTicles Art Gallery and Custom Framing & Leslie Curran Gallery, Fine Art Photographer
Catherine Bergmann
Curator of Dunedin Fine Art Center
Amanda Cooper
Curator of Morean Art Center


AWARDS - Each of these awards include supportive prizes from our sponsors. To see the full list of prizes CLICK HERE.
Best of Show – $500 Cash +
2nd Best of Show - $300 Cash +
3rd Best of Show - $200 Cash +
People's Choice - $100 Cash +
3 Awards of Excellence +
3 Awards of Distinction +
1 Student Award +


THANK YOU TO OUR SPONSORS
Articles Art Gallery & Custom Framing
FMOPA - Florida Museum of Photographic Art
SUBMISSION GUIDELINES
1. Resident of Florida. Files & Film 2019 is limited to residents of Florida. Artists will be required to upload proof of residence. Artists previously exhibited by Files & Film who are not residents of Florida are exempt from this requirement.
2. Originality. Images must be 100% by the artist. If any element of unoriginal photography is discovered – the artist is disqualified.
3. Final Selection. Images selected are the final decision. Files & Film will not accept other art at drop off.
4. Quality. ALL artwork must be professionally presented. Final presentation is very important to us, and may make or break an award. Pieces must be ready to hang at drop off. Art work must be WIRED. No loose prints. No mounted to foam core or pvc. If you plan to print on giclee canvas please note that in your description. No cheap plastic frames. Files & Film reserves the right to deny artwork that does not follow these guidelines.
5. Size. Size limit is 60 inches on the long. Gallery space is limited - if your oversized art is not made yet and you are flexible on your size please note 'flexible size' in your description. Oversized art must follow the same quality guidelines.
6. Range of mediums. Please give a detailed short description of your format/medium and known presentation details in the description of your images. For example: digital macro photography on wood panel resined, Polaroid matted framed, Digital Photography fine art print matted framed, mixed media (digital print transfer) on canvas, daguerreotype framed, cell phone image matted framed, 4 x 5 film to silver gelatin (self darkroom) matted framed, 35 mm to C print framed, photo prints collaged on canvas with medium coating, mixed media found objects with fine art print on wood panel, ect.

Files & Film is open to accepting new media and motion photography. For example a timelapse playing on a tablet in a frame or a projector. No film - anything with a plot / story. Any questions about whether or not your art applies email xina@scuderistudios.com. You will be provided with instructions if your art applies.
7. Date created. Please no images created prior to January 1, 2017. We are excited to have an exhibition representing the NEW or RECENT work of artists and photographers in the area.
8. FOR SALE. All artwork exhibited must be for sale. Commission to MIZE Gallery is 40%.


STUDENT AWARD
Pinellas County Students home, private or public school grades 9-12 are eligible to submit work to be exhibited for the new Student Award Program. Photography must be created after January 1st, 2018. Student Award SPECIAL INSTRUCTIONS CLICK HERE!
Print this Page
View Legal Agreement