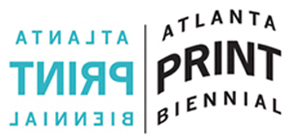 2019 Atlanta Print Biennial
Atlanta Printmakers Studio
675 Metropolitan Pkwy SW #6026
Atlanta, Georgia 30310
Contact Email:
kgarrou@atlantaprintmakersstudio.org
Call Type:
Exhibitions
Eligibility:
International
State:
Georgia
Entry Deadline:
1/14/19
Application Closed
REQUIREMENTS:
Media
Images - Minimum: 1, Maximum: 3
Total Media - Minimum: 1, Maximum: 3
Entry Fee (2019 Atlanta Print Biennial Entry Fee): $35.00

Atlanta Print Biennial

The Atlanta Print Biennial is an international juried exhibition open to all artists working in hand-pulled printmaking processes. The exhibit was established in 2011 by Atlanta Printmakers Studio to showcase distinguished artists from around the world and is exclusively dedicated to fine art printmaking, its artists and its techniques.
Kai Lin Art has graciously agreed to once again host the exhibit from March 8 - April 6, 2019. Kai Lin Art is a contemporary art gallery located in the vibrant Westside District of Midtown Atlanta, GA.
We are honored to have Eun Lee as juror for the 5th Atlanta Print Biennial. Her expertise in the field of printmaking is well known among printmaking colleagues. Lee was born in Seoul, Korea and has had many roles in academia and service. She was the program coordinator for the printmaking minor at SCAD in Savannah and served as the Conference Coordinator of SGC International, the largest printmaking organization in North America. Also, during her tenure with SGCI, she has served as President, Vice President of External Affairs, Chair of the Nominations Committee, Chair of the Awards Committee and Student Representative. She has also served the prior SGEO organization as President and Vice President. Eun received her MFA from the University of Notre Dame and her BFA from the University of Tennessee, Knoxville.
As a conceptually driven artist, Eun is constantly exploring new marks and images. The work is most often a materialization of her personal diasporic cultural experiences as a continually evolving conscious being. Utilizing a combination of extreme and subtle visual language in order to preserve a controlled disclosure, Eun's work reveals the unavoidable dichotomies of any and all situations. "I am interested in simultaneously portraying the controlled and uncontrolled, perceived good and bad, acceptable and unacceptable, balanced and unbalanced, and the philosophy that perfection must always be fluid."


ENTRY DEADLINE: January 14, 2019

SUBMISSIONS GUIDELINES:
All submissions must be made online via callforentry.org.

The Atlanta Print Biennial is open to all artists over the age of 18 working in print media.

Artists may submit up to 3 pieces at the $35 application fee on callforentry.org.
Atlanta Printmakers Studio members receive a $10 discount. Contact info@AtlantaPrintmakersStudio.org for coupon code or to become a member.

Please make sure that submitted images are clear, professionally presented, and accurately represent the work.

Work must incorporate at least one hand-pulled printmaking process. Mixed media works are welcome. No exclusively digital prints or photographs will be accepted.

Framed measurements may not exceed 30 x 40 inches (76.2 x 101.6 centimeters).

Entry deadline is Monday, January 14, 2019 at 12 Midnight in Mountain Time Zone.

ACCEPTED ENTRIES:
Artists will be notified of their selection after January 30, 2019.

Accepted work will be exhibited at Kai Lin Art and must remain on display for the duration of the exhibition.

Any work that differs significantly from the entry images or suffers from poor presentation will be disqualified.

All work must be professionally framed, wired and ready to hang. Atlanta Printmakers Studio and Kai Lin Art have the right to refuse any work that is too fragile or not properly ready for display.

By submitting artwork, the artist agrees that Atlanta Printmakers Studio and Kai Lin Art can use images of selected artwork and the submitted text for promotions and publications.

DELIVERY:
All work must be received between February 20-23, 2019 and be ready to install.

Artwork may be hand delivered or shipped via common carrier to Kai Lin Art.

Artwork will be available for pick up or return shipping after April 6, 2019.

All shipping and insurance costs are the responsibility of the artist. Return shipping must be paid for and arranged by the artist. Atlanta Printmakers Studio or Kai Lin Art does not provide insurance.

Each work must have a label attached to the back that includes name, phone, email, title, price, and media. Value listed on CaFÉ should be the amount of the final framed print that the gallery will use to sell the artwork.

When packaging work for shipping please keep in mind the non-paid interns who will have to repack the work. Please pack with reusable bubble wrap and cardboard. No styrofoam peanuts.

Detailed Shipping/Delivery instructions will be sent to accepted artists.

AWARDS:
Purchase awards, gift certificates and cash prizes will be announced during the opening reception.

SALES:
Sales will be encouraged. Artists will receive 50% of retail price, consigned with Kai Lin Art.

CALENDAR:
January 14, 2019: Entry Deadline
January 31, 2019: Notifications sent by email
February 20-23, 2019: Artwork due at Kai Lin Art
March 8 – April 6 2019: Exhibition Dates
March 8, 2019: Opening reception
The Atlanta Printmakers Studio offers memberships, studio access, outreach programs, emerging artist residencies, scholarships, exhibition opportunities and an international competition - The Atlanta Print Biennial. The mission of the Atlanta Printmakers Studio is to nurture the practice of printmaking as an original art form among professional artists and everyone who wants to learn. APS exists to provide studio space and equipment for artist renters and offers community outreach through classes, workshops and exhibitions in order to enhance the understanding of and appreciation for fine art printmaking.
Print this Page
View Legal Agreement