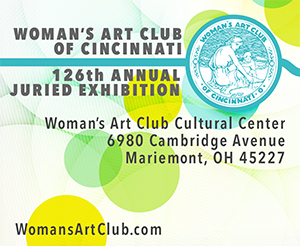 WACC 126th Exhibition of Women's Art


The Barn/ WACC Juried Exhibition
6980 Cambridge Ave.
Mariemont, OH 45227


Entry Deadline: 3/31/19
Days remaining to deadline: 71

REQUIREMENTS:

Media
Images - Minimum: 1, Maximum: 2
Total Media - Minimum: 1, Maximum: 2

Entry Fee (WACC 126th Annual Juried Exhibition): $65.00



WOMAN'S ART CLUB OF CINCINNATI
126th Annual Juried Art Exhibition May 10 - 26, 2019
Woman's Art Club Cultural Center, 6980 Cambridge Avenue, Mariemont, OH 45227, 513-272-3700

OPENING RECEPTION & AWARDS PRESENTATION
Friday, May 10, 6—9 PM

The Woman's Art Club of Cincinnati is the oldest existing Woman's Art Club operating without interruption in the United States. Distinguished early members include Bessie Wessel, Elizabeth Nourse, and founders Dixie Seldon and Henrietta Wilson.
The goal of this exhibition is to showcase fine art works produced by women from Ohio, Indiana, and Kentucky. The focus of the jurying process will be on craftsmanship, color, and composition with an emphasis upon diversity in style and subject. Computer-generated art will not be accepted.
Jurors: The exhibition will be selected and judged by our prestigious jurors Jim Glover and Mark Gingerich. Glover is a nationally recognized oil painter with 30 years' experience in wildlife illustration and graphic design for the Ohio Department of Natural Resources. Gingerich is a contemporary impressionist painter from Ohio. He is a founding member of the Ohio Plein Air Society and a signature member of the American Impressionist Society.
Eligibility: Women only. Must be at least 18 years of age and reside in Ohio, Indiana, or Kentucky. Note: accepted artwork must be hand delivered.
Awards total more than $3500. Best of Show Award — $1500.

Call for Entries
Deadline for entries on CAFE is March 31, 2019
Fees paid by check must be received by March 31, 2019 for the entry to be eligible
• Entries must be submitted online
• All work must be of original concept and design.
• Work created in an instructional setting, including, but not limited to, workshops and art classes, are not considered original artwork.
• Maximum entries, two (2); however, only one (1) may be accepted. (Entrance fee is the same for one or two entries.)
• Work must be for sale. Not-For-Sale (NFS) works will not be accepted. A 20% commission from sales will be retained by the Woman's Art Club of Cincinnati (WACC).
• Work must have been created within the last 3 years and not have previously been in a juried exhibition.
• Frames are required for most 2-D pieces — exceptions are gallery-wrap stretched canvas showing no bare or stapled edges, wall-mounted pieces designed to be displayed without frames (for example: fabric pieces, works on panels, wall sculptures, 2-D glass art, etc.) All works must be delivered ready-to-hang with all appropriate hanging hardware — saw-tooth hangers are not appropriate and will not be accepted.
• Size of wall art, including frame, must not exceed 40" x 40".
• Sculpture, glass, and other 3-D art work must be of a measurement to be exhibited atop a pedestal measuring 20"x20"x39".
• Photography entries cannot be digitally enhanced, manipulated or altered.
• Small items such as jewelry must include display props.
• Accepted work must be hand-delivered and retrieved. No shipped works will be accepted.
For more information, go to our website: WomansArtClub.com

Liabilities and Responsibilities: All entries will be made at the risk of the entrant. Care and caution will be exercised in the handling of all art work. Neither WACC nor The Barn may be held responsible for loss or damage. Insurance is the responsibility of the artist.

Submission Fee for up to two entries (only one can be accepted)
$50 — WACC members in good standing as of 12-31-18
$65 — Non-members
Payment Option #1
Fees are collected through PayPal with any major credit or debit card at the end of the submission process. Please do not send payment via PayPal outside of this application.
Payment Option #2
Checks can be sent to The Woman's Art Club of Cincinnati. Make check payable to WACC, and mail to the address below. Checks must be RECEIVED by the deadline of March 31 for the entry to be eligible. The artist will be notified when the check is received.


2019 Exhibition Calendar
Deadline for Entry on CAFE and any fees paid by check must be received — March 31, 2019
Acceptance Notification — email by April 15
Delivery of Entries — Hand Delivery Only
Tuesday, April 30, 4 - 7 PM
Wednesday May 1, 10 AM - 2 PM

Woman's Art Club Cultural Center (The Barn) 6980 Cambridge Avenue, Mariemont, OH 45227

Exhibition Opening Reception — Awards Presentation
Friday, May 10, 6 - 9 PM — Awards Presented at 7:30 PM
Closing Reception
Sunday, May 26, 1 - 4 PM
Weekday Gallery Hours — Tuesday-Friday, 10 AM - 2 PM
Weekend Gallery Hours — Saturday & Sunday, 1 - 4 PM

Pick up Art
Sunday, May 26, 4 - 5 PM
Tuesday, May 28, 10 AM - 2 PM

Art work remaining at The Barn after June 28, 2019 becomes the property of the Woman's Art Club of Cincinnati.