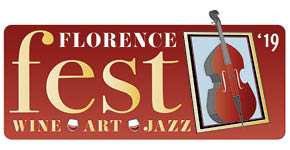 FlorenceFest 3rd Annual Jazz, Art & Wine Festival in Florence Oregon
PO Box 305, Florence OR 97439 (Mailing)
120 Maple Street, Florence, OR 97439 (Physical Address)
Contact Email:
FRAAFlorenceFest@gmail.com
Call Type:
Exhibitions
Eligibility:
Unspecified
State:
Oregon
Entry Deadline:
2/25/19
Application Closed
REQUIREMENTS:
Media
Images - Minimum: 1, Maximum: 3
Total Media - Minimum: 1, Maximum: 3
Entry Fee (FlorenceFest 3rd Annual Jazz, Art & Wine Festival in Florence Oregon): $35.00

Media Fee (per sample over minimum):$15.00

Florence Regional Arts Alliance (FRAA) is very excited to invite all artists to participate in the 3rd Annual "Florence Fest" to be held at the Florence Events Center on April 26 and 27, 2019. The event continues to grow and we expect over 800 people to attend. It is also a great opportunity to sell your work, as about 35% of the artwork is sold during the show. This year's event, which will feature two days of Jazz, Art and Wine, will be highlighted by talented jazz musicians and outstanding wine from some of the best wineries throughout the state.

Selection for the exhibit will be made by Karin Clarke, the owner and director of Karin Clarke Gallery in downtown Eugene for the past sixteen years, establishing herself as a respected figure in the Oregon art scene. More information about Karin Clarke is listed at the end of the call information.
$2,500 in cash prizes are awarded. We will select three overall winners with the following cash prizes:
1st Place = $1,000
2nd Place = $500
3rd Place = $250
In addition, three separate cash awards of $250 each will be given for outstanding work in 2D, 3D, and photography. There will also be a "People's Choice" selection, which will be awarded based on votes of those in attendance.
Selected Artists can also continue to exhibit their work at the Florence Events Center in Galleries 1 and 5 through the end of May.
For additional details and to submit an entry, please go to the Café website: callforentry.org. This is a well-respected and professional site for managing entries. It is easy to register and there is no charge for artists to use Café's website.
The deadline for entries is 11:59pm on February 24, 2019 (Mountain Time Zone (Denver, CO, USA).
This is an opportunity to be part of a very successful event. After reviewing the entry information, if you have any questions, please contact FRAAFlorenceFest@gmail.com
ENTRY INSTRUCTIONS
Applications should consist of original, well-conceived, and expertly executed works made by the applicant in the last 5 years.

Entries are to be 2D art and 3D work.

Size: 2D entries maximum size is 48" (height) X 36" (width), including frame. 3D work can be no more than 20 pounds in weight and 20" in width. There is also limited space for "free-standing" 3D work that is not more than 30" at its widest point. It is important that artists adhere to these guidelines or their work will not be accepted.

2D art must be wired and ready for hanging – Gallery Ready.

Accepted work which differs significantly from work represented in entry will be disqualified.

Applicant can submit up to three entries. Images submitted should be high-resolution (between 1400 and 4000 pixels at the largest dimension) and 72 dpi. The file should be in jpeg format and the file size should be limited to 3mg.

Entry fees: There is a non-refundable entry fee of $35 for the first entry (referred to as Entry Fee), $15 for the second and $15 for the third (referred to as Media Fee).

For 1 entry it will be $35 (Entry Fee)

For 2 entries it will be $50 (Media Fee)

For 3 entries it will be $65 (Media Fee)

Payment: All entries must be made through PayPal/Credit Card. There are no other payment options. Do not select "Check" when completing your submission. PayPal is a simple and secure method. You may pay by credit card or PayPal. This is explained when you finalize your entry.

All work must be for sale and reflect the artist's current pricing structure.

Sales commission of 25% will be retained by the Florence Regional Arts Alliance (FRAA) on all works sold.
The deadline for entries is 11:59pm on February 24, 2019 (Mountain Time Zone (Denver, CO, USA).
IMPORTANT DATES AND INFORMATION
Show dates: Friday, April 26 (2-8 pm) and Saturday, April 27, (2-10pm).

February 24 – Deadline for all online entries (10:59pm Pacific Time/11:59 Mountain Time Zone).

Week of March 4– Acceptance/rejection notices are sent by e-mail.

Wednesday, April 24 – Selected works must be delivered on this date by 4pm to the Florence Events Center.

Thursday, April 25 – 6-8pm – Artist's Reception & Prize winners announced:

1st Prize = $1,000

2nd Prize = $500

3rd Prize = $250

1 "Award of Merit" Prize each of $250 for 2D, 3D, and photography

Tuesday, May 28th – final deadline for pick-up of all work for those who elected to continue to display at the Florence Events Center.
ENTRY INFORMATION NEEDED
Artist Biography

For each entry submit the following information:

Image Title

Title of Art

Medium

Size (Height, Width, Depth for 3D)

Date Created

Price
It is recommended that you create a Call for Entry Account on Café before applying to this call, if you don't already have an account. Once you have an account, upload your images for submission to your portfolio first. Then search and apply to this call. Simply type in Florence Fest and it should pop up to "Apply for This Call."

INFORMATION ABOUT JUDGE
Karin Clarke
Karin Clarke, the owner and director of Karin Clarke Gallery in downtown Eugene for the past sixteen years, establishing herself as a respected figure in the Oregon art scene. Karin opened the gallery with the goal of creating museum quality shows to recognize regional artists, including the work of her parents, artists Margaret Coe and the late Mark Clarke. In that time, she's organized over 200 exhibits, and the gallery has gained a stellar reputation for showing major contemporary artists of Oregon. In addition, Karin regularly curates from the estates of some of Oregon's most sought-after artists, like Rick Bartow, Nelson Sandgren, David McCosh, Carl Hall, and numerous others. In 2016, she founded the very successful Eugene Biennial regional juried show.
Karin has a strong background in studio arts, art history, exhibit design, and art appraisal. She has exhibited her own artwork, and in July of 2018, had a solo show of her recent plein-air oil paintings of Italy.
Karin serves regularly as an art juror and on art selection committees in our region, including Art About Agriculture, All Around Oregon Annual, and The Eugene Biennial. In 2017, she supported the Jordan Schnitzer Museum of Art curators in preparation for a six-month exhibit of her parents' work called Our Lives in Paint. She has won awards for her own artwork as well as in her business, including the Down-Town Eugene Excellence for Arts & Culture Award (2007) and Lane Community College's Distinguished Alumni Award (2011).
Print this Page
View Legal Agreement