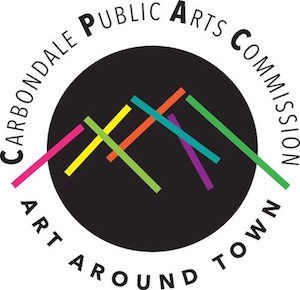 Art Around Town 2019
Carbondale Public Arts Commission
Town of Carbondale
Laurie Lindberg
511 Colorado Ave.
Carbondale, CO 81623
Contact Email:
sarafina1212@gmail.com
Call Type:
Public Art
Eligibility:
National
State:
Colorado
Event Dates:
12/8/18 - 1/31/19
Entry Deadline:
1/31/19
Application ClosedNumber of Applications Allowed:
3
REQUIREMENTS:
Media
Images - Minimum: 3, Maximum: 6
Total Media - Minimum: 3, Maximum: 6
The Town of Carbondale, CO Public Art Commission is seeking fifteen (15) outdoor street sculptures for its annual rotating "Art Around Town" sculpture show. The sculptures are located throughout the Town of Carbondale, with several locations on Main St, the library and along the Rio Grande Trail. The annual show begins Thursday, June 6th, 2019, at which time the Carbondale Public Arts Commission will host a public/patron artist reception and for all new artists selected for the 2019-2020 show. Installation of chosen sculptures will begin mid-May until the opening on June 6, 2019. Each artist chosen must be present for delivery and installation of sculpture during that time-period.
Selected artists will be awarded a $900 honorarium, and the sculpture that is voted "Best-In-Show" by the community will be awarded an additional $1,000 bonus.
All selected sculptures for "Art Around Town" will be mounted on random sized marble bases. The Carbondale Public Arts Commission received 40 tons of marble in 2015 and 2016, donated by Colorado Stone Quarries in Marble, CO. The marble bases are an artistic statement in itself, as it represents the cultural environment of the Roaring Fork Valley. It enhances the uniqueness of each sculpture that is placed on the marble. For more information about the marble and the Quarry, please visit the Colorado Stone Quarries documentary.

PLEASE READ ALL FOLLOWING INFORMATION CAREFULLY. ANY INCOMPLETE APPLICATIONS WILL BE MOVED INTO INCOMPLETE STATUS AND WILL NOT BE CONSIDERED FOR JURY UNTIL COMPLETED!!

Submission Requirements: PLEASE READ REQUIREMENTS HAVE CHANGED
Interested artists must submit three (3) high resolution, publishing ready views of one image marked "Proposal Image", which is an image of the piece being submitted for display. Please submit separate applications for additional proposed pieces. Please DO NOT include images of any body of work that is NOT being submitted for this show. Submitted entries must be of completed work or a maquette with exact representation. Please describe sculpture materials in detail and durability to withstand outdoor, year-round conditions. We can accept no substitutions, this includes color or size!
Please provide contact information including phone, email, mailing address, and current location of proposed sculpture. Installation requirements must be included (please see attached questionnaire for installation requirements). The Town of Carbondale is not able to receive sculpture shipments, on behalf of an artist, and each artist must attend the installation or have an artist representative attend on their behalf.
Selected artist's will be required to sign a contract with the Town of Carbondale, CO identifying liability requirements, installation and de-installation requirements, and specific information related to the sculpture being on location for one year.
Deadline for entries through CAFÉ is January 31st, 2019. Notification of selected artists will be made by February 10, 2019.
For CAFÉ questions, please contact Sarah at sarafina1212@gmail.com.
IMPORTANT INSTALLATION REQUIREMENTS FOR APPLICANTS
This document is listed under "View Site Details" on the homepage to be printed and returned with the application.
Sculptures must be safe for pedestrians, of appropriate scale for street display, able to withstand high winds and/or substantial temperature changes, easy to maintain in an outdoor mountain environment and freestanding. The scculpture will be tack welded to a steel plate on top of the marble base (provided by CPAC and installed by Public Works). Public Works will provide all welding equipment, loader and labor for installation of the sculpture. Please advise in the submission if a crane is needed to unload and place the sculpture onto the marble base. No spikes, stakes or intrusions of any kind will be allowed to be installed into the steel plate or marble base.
Artist is responsible for ensuring that the sculpture is made to be installed for public display, including identifying to CPAC any and all special display and installation requirements, which include the following:

Please describe detailed installation requirements and a detailed sculpture description for the Public Works installation crew.

Sculpture Description:

Weight ___________
Will a crane, fork lift or loader be necessary to install the sculpture? How many crew members need to be available for lifting requirements?

Height ___________
What is the height of the sculpture?

Width ___________
What is the width at the widest point? Are there sharp edges, points or other design components to consider for placement? The sculpture placement locations throughout Town are in high use public areas so consideration needs to be considered for safety and access concerns.
Base requirements:
The sculpture will be tack welded to a stell plate on a marble pedestal. What are the dimensions of the base of the sculpture at each point where the sculpture will sit?
Electrical requirements:
Are there electrical components to the sculpture that need to be addressed for installation? The Town of Carbondale has a strict lighting ordinance that doesn't allow upward lighting, constant or direct lighting for art.

Contact information for Public Works installation crew:
Laurie Lindberg
llindberg@carbondaleco.net
970-510-1325

For additional information please visit the Town of Carbondale, CO website or the
"Town of Carbondale, CO Public Art Commission" Facebook page
Print this Page
View Legal Agreement