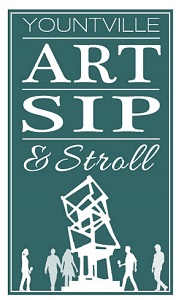 Art, Sip and Stroll 2019
6516 Washington Street
Yountville, Ca 94599
Contact Email:
yountvillearts@yville.com
Call Type:
Festivals
Eligibility:
Regional
State:
California
Entry Deadline:
1/21/19
Application Closed
REQUIREMENTS:
Media
Images - Minimum: 3, Maximum: 6
Video - Minimum: 0, Maximum: 1
Total Media - Minimum: 3, Maximum: 6
Yountville is known for its Michelin Star restaurants (French Laundry, Bottega, Bouchon, Bistro Jeanty and many more), and our abundance of tasting rooms, (Hill Family, Hestan, JCB, Hope & Grace, Silver Trident, Jessup Cellars, Stewart) many of which will join us for this day by offering tastings.
Yountville Arts promotes this event heavily with ads in the SF Chronicle as well as rack card distribution throughout the Bay Area and online marketing. It is also a part of the valley wide Arts in April promotions and with full marketing coverage this event has grown in stature and attendance each and every year.
If you are interested in setting up a sales and display booth of your work please consider joining us by submitting your application to be a part of Art, Sip & Stroll 2019 and show off your talent in the charming village like setting of Yountville.
We are open to all mediums; painting, photography, ceramics, jewelry, sculpture, and more. If you are selected, the booth fee of $200 includes a 10' x 10' peaked festival tent (No Walls), one eight foot table and two chairs. Booths will be located in an outdoor location in central Yountville. The planning committee will assign artists to booth locations.
Rules of Participation
Approval: Artists who wish to participate must submit an application describing all types of products or services to be shown or sold. All products and services must be handmade by the artist. If accepted, exhibitors agree to follow all Rules of Participation.
Payment: Booth payment of $200 must be received in order to reserve your spot.
Check-In: Check in will begin at 8 a.m. on Saturday, April 27. You will receive your booth packet with map and a parking permit the week prior via email. If you are not able to receive email, please let us know and we will mail you a packet. Your booth needs to be set up and ready for sales at 11 a.m.
Exhibitor Set-Up/Break down Hours: Exhibitors can set-up their booth Saturday, April 28 beginning at 8 a.m. Breakdown hours cannot begin until 5 p.m. Early breakdown is not permitted. Artists who break down early will not be considered for future events.
Exhibitor Space /Regulation: Each artist will receive a 10X10 tent as well as one 8-foot table and two chairs.
Miscellaneous:
Signs may be used as desired within the booth. Signs must be of an appropriate nature.

Loud or offensive exhibits are not permitted.

Open flames are not allowed.

Exhibitors are solely responsible for compliance with event policies, rules and regulations.

Products not approved are subject to immediate removal.

Terms and Conditions for Participation
If exhibitor manufactures or causes to be manufactured its own event related merchandise, said merchandise can be sold at the event. Exhibitor represents and warrants that such merchandise shall be free from defects, merchantable, and fit for it's particular purpose.
The Town of Yountville reserves the right to cancel this Event at any time prior to the date of the Event with refund of all amounts paid by participants. Otherwise, all payments are non-refundable.
Product/Service exclusivity is not available through this reservation.
The Town of Yountville makes no claims and assumes no responsibilities for the amount of sales or success of its exhibitors. Exhibitor is solely responsible for meeting its/his/her obligations at the event.
The relationship between Town of Yountville and the Exhibitor shall remain solely that of independent contractor and shall not be deemed a partnership, joint venture, principle and pal-agent or employer-employee relationship for any purposes.
Artists are responsible for their own sales and retain 100% of their proceeds. We encourage artists to demonstrate their creative methods whenever possible for a live expression of their talent is a proven method to better engage the visitors for conversation and sales.
Print this Page
View Legal Agreement