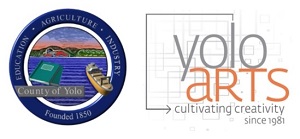 Tuli Mem Park
PO Box 8250
Woodland, CA 95776
Contact Email:
aflory@yoloarts.org
Call Type:
Public Art
Eligibility:
National
State:
California
Entry Deadline:
1/23/19
Application Closed
REQUIREMENTS:
Media
Images - Minimum: 4, Maximum: 6
Total Media - Minimum: 4, Maximum: 6
The County of Yolo wishes to expand the public's experience with the visual arts; to make available artwork of the highest quality to enhance the quality of life and to help create a more visually pleasing and humane environment. The County of Yolo is seeking artists or artist teams with experience in the design, fabrication, and installation of public artworks. Artists are asked to submit their qualifications along with a design proposal to be considered for a public art project to be integrated into Tuli Mem Park in Esparto, CA.
YoloArts, as the Art in Public Places (APP) consultant, is soliciting applicants on behalf of Yolo County for the potential commissioning of the project and is interested in the highest quality artwork that is site-specific and is aligned with the project criteria.
The commission is open to artists in the U.S. Applications will only be accepted through CaFÉ at www.callforentry.org. Deadline for entries is January 23rd, 2019.
Budget: $52,000 is available for all related expenses of this commission(s) including, but not limited to, artist fees, fabrication, insurance, shipping, travel, installation, documentation, etc. The budget of $52,000 is all inclusive, a proposal should NOT exceed the stated budget amount. The County of Yolo intends to review qualifications and design proposals before determining the total number of pieces to be commissioned. Therefore, artists can submit proposals amounting to less than the total budget.
YoloArts and the County of Yolo reserve the right at any time to supplement, amend, or otherwise modify this RFP as needed.
Prospectus:
The County of Yolo, in an effort to further their community vision to create a more visually pleasing environment, is seeking permanent work(s) of public art to be integrated into Tuli Mem Park in Esparto, CA.
The Esparto - Capay Valley region is in western Yolo County. The region is home to the communities of Brooks, Guinda, Rumsey, Madison, Esparto and the Yocha Dehe Wintun Nation (https://www.yochadehe.org/), a Patwin Tribe. The Cache Creek watershed, the region's primary natural resource, supports diversified agriculture and large rural areas that are home to native flora and fauna. The Tuli Mem Park project has been developed in partnership with community stakeholders across the region. Tuli Mem, translated from the native Patwin language, means swimming water park.
In March 2012, the County of Yolo was awarded a grant from the California State Department of Parks and Recreation as part of Round Two of the Statewide Park Program for the Tuli Mem Park project. The site is an 8.67 acre new park off of State Route 16 at the corner of Yolo Avenue and Plainfield Street. The location serves as the gateway into the Esparto - Capay Valley and will offer a beautiful visual entrance to the region off State Route 16. The park is close to downtown Esparto, adjacent to a public transportation route and within walking distance of the high school, elementary, and middle schools.
The Tuli Mem project, to be completed in January 2019, provides many amenities to the community. These features include little league baseball/softball field, multi-use playing field, full outdoor basketball court, two public swimming pools, aquatics building with restrooms, meeting room and snack bar, pedestrian bridge, walking trail, and central gathering area.
Project Criteria:
The art work selected for the project shall:
· Draw inspiration and context from the place and people of Esparto and the Capay Valley;
· Be reflective of the diverse partnerships within the community that contributed to the development of Tuli Mem Park;
· Inspire play and general enjoyment of outdoor activities among a diverse and multi- generational community;
· Instill community values of respect and appreciation for the indigenous people called the Patwin and their past and continued cultural contributions and preservation of the region's natural resources;
· Consider the design and architecture of the site;
· Meet the scale of the surrounding buildings.
Proposed Locations (See attached diagram)
Three publicly accessible areas of the new facility have been identified by the Art Advisory Committee for public art enhancements within the budget guidelines of this project. These are considered the most suitable for placement of artwork to aesthetically enhance the project for the patrons of the facility. A proposal can address one or all three locations.
Aquatics Building Exterior Front Façade
Aquatics Building Entry Landscaping
Pedestrian Bridge- North Pedestrian Entrance to Tuli Mem Park
Schedule
January 9, 2019; 2pm PT Artist Site Visit
January 23, 2019; 5pm PT RFP submittal deadline
January 28-31, 2019 Panel Review and Recommendation
February 2019 Recommendation presented to Yolo County Board of Supervisors for final approval
February 2019 Artist(s) Contracted
April 2019 Artwork(s) Installation
Artist Site Visit: The County of Yolo and YoloArts will host a site visit of Tuli Mem Park on January 9, 2019 at 2pm. Please contact Alison Flory by email at aflory@yoloarts.org for additional information and to RSVP.
RFP Selection Criteria:
Professional artists will be invited to submit qualifications and design proposal.

A selection panel will review all artists' qualifications and design proposals, determine and recommend a finalist or finalists. Artists will be chosen based on their ability to meeting the following criteria:
· Outstanding innovation, creativity and originality in the development of public art;
· A history of successfully designing and implementing permanent public projects on time and within budget;
· Design excellence in past work, including originality of concept, site contact and quality of workmanship and materials, as evidence in images of completed projects;
· The ability to respond creatively and uniquely to site-specific design challenges, including the social, physical and environmental condition and challenges inherent to each project;
· Expertise in identifying and working with permanent materials appropriate for long-term use in an interior or exterior environment that is subject to varying weather conditions and heavy public access;
· Demonstrated ability to work collaboratively positively with public agencies, public review processes and community organizations;
· Ability to design art that meets the thematic, project description with artistic merit;
· Ability to meet this project timeline for creation and installation of work.
The panel will review the submissions and recommend design(s) to the Board of Supervisors for approval.
All meetings of the Yolo County Board of Supervisors are open to the public. For meeting schedule please visit the county website at www.yolocounty.org
All insurance liabilities including liability and the worker's compensation must be met by the artist(s). The final contract(s) will be between the County and the artist(s).
Art that is inherently political, religious or otherwise exclusive of any factor of the social stratum shall be deemed inappropriate for this project.
The selected artist(s) will be required to comply with American Disabilities Act requirements and related federal, state and local codes. All artwork installations much meet stated security requirements and must meet all safety guidelines as outlined by OSHA, local fire and building codes.
Security and Safety Considerations:
The areas identified for placement of artwork in this project are locations where members of the general public will have access. Attention will be given to the safety and security of all peoples in the choice of materials and placement of artwork.
All artwork will be securely mounted in such a manner that it may not be removed or altered. Artwork must not impede movement or the functionality of the park.
Maintenance:
Consideration must be given to maintenance to assure that vandalism or deterioration is not a concern.
Submission:
To be considered, applicants must submit:
1. Standard contact information via Café online
2. A current resume (three-page maximum)
3. A narrative description- describe your proposed design, materials, and method of integration of the artwork into Tuli Mem Park.
4. Rendering of proposed design
5. Four (4) images of past work. (teams may submit up to 6 images)
6. Image list (title, media, dimensions, date, budget)
7. Budget
Questions:
All questions shall be directed to Alison Flory, Executive Director, YoloArts.
Email: aflory@yoloarts.org Phone: 530.309.6464
Print this Page
View Legal Agreement