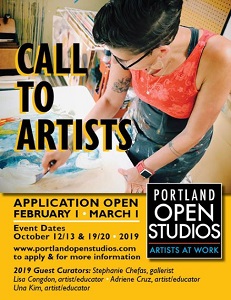 21st Annual Portland Open Studios
Portland Open Studios
PO BOX 31077
Portland, OR 97231
APPLY NOW
Contact Email:
charlotte@portlandopenstudios.com
Call Type:
Unspecified
Eligibility:
Local
State:
Oregon
Event Dates:
10/13/19 - 10/21/19
Entry Deadline:
3/1/19
Days remaining to deadline: 11
REQUIREMENTS:
Media Images:3


Entry Fee (21st Annual Portland Open Studios): $30.00

Portland Open Studios is a juried studio tour of 100+ artists in the Portland metro area, providing a unique opportunity for artists to open their studios to the public. Now in our 21st year, Portland Open Studios is an important and anticipated annual arts event that attracts visitors from the community and beyond. The Tour is a free event.
IMAGES
Required: 3 artwork images
All images need to conform to CaFE standards:
File format: JPEG only
File resolution: 72 ppi/dpi (standard web resolution)
File size: 5 MB maximum
FEES
Collected upon acceptance
Participation Fee - $250
The participation fee funds all of Portland Open Studios' advertising budget, the Tour Guide, and some general operating costs.
TIMELINE
March 1, 2019 5:00pm Pacific time, Submission Deadline
April 1, 2019 Selection Notification to artists via email
May 6, 2019 - Artists Meeting at Lagunitas – Get to know your fellow Portland Open Studios artists. Receive relevant information about the tour and other events for the year.
September 10, 2019 - Artists Meeting – General Artists Meeting at Lagunitas
October 12-13 & 19-20, 2019 Weekend dates of studio tour. Studios open 10-5.
JURY PROCESS
Four jurors from Portland's arts community view and score each applicant's submitted images. The combined scores determine which artists are invited to participate.
The percentage of previous participants admitted will not exceed 65% of total participants.
In the event of tied scores at the threshold to acceptance, past behavior as a participant may be evaluated (i.e. being a super volunteer, rules violations, etc.).
2019 Guest Curators
Stephanie Chefas
Lisa Congdon
Adriene Cruz
Una Kim
ELIGIBILITY
-Open to all visual media except film.
-Artists are required to open their studios* and demonstrate their working methods all hours of both weekends. Artists must show an educational element, such as documentation of methods or demonstrations of technical and creative processes.
-Open to residents of Clackamas, Multnomah, and Washington Counties.
-Artists may self-promote in any manner as long as any mention of their studio address includes information about Portland Open Studios.
*A studio is any workspace which the artist is permitted to open to the public and where the artist can demonstrate their working methods - Living rooms, Parent's garages, etc. are all permissible. If the artist is uncertain of where they will be in October, they should not apply.
SCHOLARSHIP
Kimberly Gales Emerging Artist Scholarship:
Artists 20–30 years of age are encouraged to apply for the Kimberly Gales Scholarship to Portland Open Studios. Recipient will have their participation fee waived and will receive a $100 stipend. See application for details about additional requirements.

BENEFITS
- The opportunity to participate in and open their art studio to the public during the second and third weekends of October
- Your contact information listed and/or associated with all Portland Open Studio Promotional Materials, tour guides and publicity (the website, the printed tour guide, community postcards, social media posts, advertising campaigns, etc.)
- Training at two artist meetings on how to best promote your open studio during the October tour
- Free tour guide materials (community postcards and citywide printed tour guides, and an online web-based tour guide)
- The option to participate in events related to promoting Portland Open Studios (preview shows, etc.)
Print this Page
View Legal Agreement