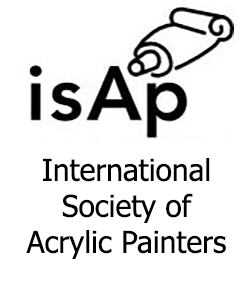 2019 International Society of Acrylic Painters Online International Open Exhibition
168 Oxford Way
Santa Cruz, CA 95060
Contact Email:
show@isap-online.com
Call Type:
Exhibitions
Eligibility:
International
State:
Wisconsin
Entry Deadline:
4/30/19
Application Closed
REQUIREMENTS:
Media
Images - Minimum: 1, Maximum: 2
Total Media - Minimum: 1, Maximum: 2
Entry Fee (2019 International Society of Acrylic Painters Online International Open Exhibition): $35.00

10th Annual International Society of Acrylic Painters Online International Open Show
Timetable:
February 1, 2019..................Entries open on callforentry.org
April 30, 2019.......................Show closes to entries
May 1 - 10, 2019..............…Jurying of entries
by May 10, 2019......……….Notice of acceptance*
by May 17, 2019.............….Posting of Show/Awards on ISAP website

*Please note! You will receive an email from CaFE indicating which of your entries was accepted.

Information on this Show:
Two paintings per artist may be entered, digital entries only.
$35 for up to two entries, payable thru PayPal.
Submitted digital image must be no smaller than 1920 pixels on the longest side, jpeg format only, 72 ppi/dpi resolution, 5 MB maximum file size. Create or log in to your account at www.callforentry.org for complete information and media preparation tutorial.

Andrew Kent-Marvick will be the juror for both show acceptance and awards.

I'm an art historian and an abstract painter — for me, the two roles are inseparable. I grew up in Los Angeles, but was fortunate to spend long periods in West Africa, England, France, Germany, Austria, and Italy. I received my bachelor's from Harvard University, my master's from UCLA, and my Ph.D. from Columbia University in New York — all were in art history. But I also followed a course of training in figure drawing at the Academia N. Simi in Florence, Italy. After years teaching at various western state universities, I joined Southern Utah University's faculty in 2005 as Professor of Art History. I also teach SUU's studio curriculum in abstract painting. In 2011 I married a brilliant and beautiful medical professional and took on parenthood to two wonderful kids. Over the years I've published about a dozen papers, most of which trace the transition from traditional to modern art in Europe and America between 1880 and 1920. As a painter, my work falls neatly into two separate groups: a traditional representational phase that lasted until about 1990, and a period of abstraction that's still going on after 20 or so years. I'm at home in both genres, and I see no basis for the conflict which some feel persists between them. For me, painting is a natural and indispensable way of responding to life. I see the formal language of art as a universal one, independent of its content.
Artist's Statement
What if the formal foundations for abstraction and non-objective art had developed organically alongside classical naturalism, beginning with the early Renaissance at the start of the 15th century?
Imagined this way, the stigmas of empty innovation for modernism's sake — so often attached to modern art of the 20th century — and empty mimetic copyworb for tradition's sake — an attack still often leveled against the western canon by modern scholars — might never have materialized, allowing instead for the gestation of a rich amalgam of these two strains of European art.
I begin each painting by considering a different period, style or school of art from the past, or the output of a single artist at a given moment in her career. I then try to identify those features of the art which are most likely to survive the transition from representation to abstraction, or from one form of abstraction to another. This is a personal process of formal response to visual prompts, not a disciplined analysis. I make no claim of accuracy, nor even of credibility for the images that result. If the viewer bears my premise in mind while viewing my paintings, however, both their differences from each other and the stylistic features they share will probably make more sense.
International Society of Acrylic Painters
Awards:
Cash Awards:
Best of Show - $1,000
First Place - $750
Second Place - $650
Third Place - $300
Fourth Place - $200
Fifth Place - $100
Honorable Mention (4) - $50 each

Plus Donor Awards (more potentially being donated)
ISEA Experimental Art Award ($500)
Artwork Archive Lifetime Membership ($1,200 value)
Cheap Joe's Art Stuff Award (USA Only - $100 value)
Creative Catalyst Productions Award (USA Only - $60 value)
Matboard and More Award (USA Only - $50 value)
Escoda Brush Award (USA Only - $200 value)
Golden Art Materials Award (USA Only - $100 value)

Important…Please read carefully!
There are no size restrictions or shipping of entries but entries can NOT have been accepted in any other ISAP show. Images can already be sold but you are encouraged to put a price on your work. This work must conform to the concept of being 80% acrylic on any surface. It is understood that the work is subject to the conditions of the show and reproduction will be archived on the ISAP website. No refunds. Pay attention to directions and digital requirements. No work completed in workshops or classes by any instructor PLEASE! Inappropriate subject matter may result in non-acceptance by either ISAP or the juror or both. All results are final.
You may check to see if your work has been accepted into a previous ISAP show on our website at , http://www.isap-online.com/wp2/exhibitor-and-awards-administration/. Set the Show ## Entries field to a 25, enter your last name in the search field, and tab. If you get entries from someone else with the same name, search for last name comma space first name (Smith, John) and tab again. Review the titles listed.

Print this Page
View Legal Agreement