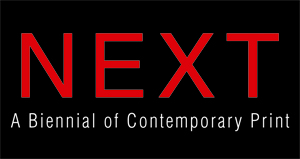 NEXT 2019
Address to be shared with selected artists.
Contact Email:
NEXT2019@printmattershouston.org
Call Type:
Exhibitions
Eligibility:
National
State:
Texas
Entry Deadline:
4/27/19
Application Closed
REQUIREMENTS:
Media
Images - Minimum: 1, Maximum: 3
Total Media - Minimum: 1, Maximum: 3
Entry Fee (NEXT 2019): $35.00

PrintMatters is pleased to announce NEXT 2019, a contemporary print biennial to be held during PRINTHOUSTON 2019. We are looking for innovative and challenging works that transcend process and materials and present printmaking as a versatile and adaptable medium.
We invite artists who are pushing the boundaries of printmaking techniques and materials to apply. We also welcome those artists who are using traditional techniques to speak to contemporary themes and audiences. In addition to lithography, relief, intaglio, monotype, or serigraphy, we are interested in artists who use printmaking to create installations, ceramics, sculpture, and artists' books. The only criteria, beyond excellent quality, is that the primary technique(s) used in the creation of the work be listed above.
ORGANIZER PrintMatters is a Houston-based Non-Profit 501(c)(3) arts organization. Our mission is to promote traditional and non-traditional printmaking, encourage print collecting, and facilitate the professional growth of our members. In 2011, we created PRINTHOUSTON, an annual summer-long celebration of original prints, the artists who create them, and the people who collect them. Exhibitions, lectures, demonstrations, workshops, and special events at galleries, museums, non-profit organizations, and commercial venues take place throughout the city of Houston, Texas.
JUROR This year, we are pleased to announce that Lyle W. Williams, Curator of Prints and Drawings at the McNay Art Museum in San Antonio, Texas, will be the juror of NEXT 2019.
In order to ensure the quality of the exhibition, the juror reserves the right to reject any work that was not accurately represented in the digital file. The juror's decision is final.
VENUE Sabine Street Studios is the latest addition to the Sawyer Yards' family of studio buildings. Just steps away from Spring Street Studios, it features 67 studio spaces available to artists, makers, and innovators. Sabine Street Studios is a fully renovated 48000-square-foot warehouse offering work and exhibition spaces for local artists and creative businesses just minutes away from downtown Houston at 1907 Sabine St, Houston, TX 77007. Sabine Street Studio is open to the public Monday - Saturday fro5m 9 AM to 5PM.
AWARDS Cash awards
ELIGIBILITY Open to all artists 18 years and older residing in the United States of America. Works must be original, not to exceed 48 inches in any direction, completed in the last two years, and not previously shown in Houston. Collaborative work should be entered under only one of the artist's name. No student work, reproductions, or photography.
FEES $35 for up to 3 entries, payable during the online entry process.
ENTRY GUIDELINES Once you have registered, follow the instructions under "Media Prep" to format your images. You may submit up to three images. If you wish to submit a detail shot, it will count as an entry. Be prepared to submit your artist statement during the submission process. We would prefer statements no longer than 250 words.
The entry deadline is 11:59 p.m. Central Standard Time, April 27, 2017.
Selected artists will be required to submit a short biography, a resume, and 300-dpi images by May, 13. This information will be submitted to NEXT2019@printmattershouston.org.
PRESENTATION OF ARTWORK
All work will be presented professionally in the gallery. Work must be shipped ready to hang: framed (matted with white or off-white mats, if applicable), with wire hangers or d-rings (no sawtooth hangers), and Plexiglass. Exceptions: oversized works, installations, 3-D, video, and artist's books.
Special display and handling instructions must be included in the package when shipped. Sabine Street Studios reserves the right to exclude any entry that presents complex hanging/exhibition problems or is not framed professionally.
SHIPPING AND INSURANCE
Shipped works are due at PrintMatters by May 25. PrintMatters will accept work beginning May 15. You may hand-deliver your work during install day to Sabine Street Studios, May 28, 12:00 – 3:00 p.m. No exceptions.
Shipped work must be packaged appropriately in a reusable carton, box, or crate for return shipping. Absolutely no packing peanuts. All works will be insured upon arrival in Sabine Street Studios. Neither Sabine Street Studios nor PrintMatters is responsible for any damage or loss during transit.
Ship to: Address to be shared with selected artists.
Hand-delivered work must be picked up July 8, 12:00 – 5:00 p.m. at Sabine Street Studios. Return shipping will begin July 9.
**IMPORTANT: Artists are responsible for the cost of shipping. You MUST include an easily located prepaid return shipping label. If you do not, your work will not be hung.
SALES & COPYRIGHTS Prints may or may not be for sale depending on the choice of the artist. The exhibition sale commission for PrintMatters is 40% of the selling price and artist commission is 60% of the selling price. PrintMatters reserves the right to offer reasonable shared discounts up to 10%. Your entry grants PrintMatters and Sabine Street Studios permission to include your image(s) in marketing and advertising and any catalogs created for NEXT 2019, PRINTHOUSTON 2019, and Sabine Street Studios.
QUESTIONS If you have any questions, e-mail us at NEXT2019@printmattershouston.org.
IMPORTANT DATES
April 27: 11:59:00 p.m. (CST) Submissions Deadline
April 28-May 5: Jury Process
May 6: E-mail notifications
May 13: Artist information and 300 dpi images due
May 15-26: 12-5 p.m. Shipped artwork due to PrintMatters
May 28: 12-3 p.m. Hand-delivered drop-off at Sabine Street Studios
May 28: 12-5 p.m. Exhibition install at Sabine Street Studios
June 01: 6-8 p.m. Opening reception
June 01: 7:00 p.m. Juror's talk and awards
July 6: End day of exhibition
July 8: 12-5 p.m. Hand-delivered pick-up, exhibition de-install
July 9: Return shipping begins
Print this Page
View Legal Agreement