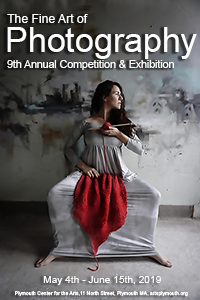 9th Annual Fine Art of Photography Open Competition & Exhibition
Plymouth Center for the Arts
11 North Street
Plymouth, MA 02360
Contact Email:
photography@plymouthguild.org
Call Type:
Photography
Eligibility:
International
State:
Massachusetts
Event Dates:
3/17/19 - 6/15/19
Entry Deadline:
3/18/19
Application Closed
REQUIREMENTS:
Media
Images - Minimum: 1, Maximum: 15
Total Media - Minimum: 1, Maximum: 15
Entry Fee (The Fine Art of Photography Ninth Annual Competition & Exhibition): $15.00

Media Fee (per sample over minimum):$10.00

The Fine Art of Photography
9th Annual Open Competition & Exhibition
2019 PROSPECTUS
Categories:
Color Photography

Black & White Photography

Non-Traditional Photography
Awards:
$500 Best in Show

$250 First Place

$100 Second Place

At least Two Honorable Mentions per category
Color and Black and White Categories: This is traditional photography. The image has conventional post-processing techniques that enhance the image appearance without changing the pictorial content. Cropping, sharpening, and removal of obtrusive artifacts such as dust specks are normal. The Black and White category include monochromatic and sepia tones.
Non-Traditional Photography
Digitally Enhanced: Edits and/or effects that changes an image's appearance from being a traditional photograph may be categorized as Digitally Enhanced.
Vintage and Alternative Printing Processes, include alternative-printing processes — the photogram, daguerreotype, tintype, collodion, Mordançage, etc.
Pinhole/Plastic Camera Imagery: This category includes analog photography, e.g. pinhole cameras and plastic cameras like the Holga, Diana, and Lomo. The supposed "defects" of these cameras — light leaks, soft focus, vignetting, diffraction.

* Judges have the final determination of which category is appropriate.

Event Calendar
Upload Images – February 10th - through March 17th via Café – Call for Entry.
Selected Titles & Artists' names will be posted on the website no later than 5:00 pm on Monday, April 1st.
Drop off & Registration of Selected Work Framed Ready for Hanging:
Saturday, April 27th from 9 am to 12:00 pm and Sunday, April 28th from 4:00 pm to 7:00 pm. (See dates for shipping artwork below.)
The Exhibition is open from Sunday, May 5th through Saturday, June 15th
Opening Reception & Awards Ceremony: Saturday, May 4th, 7 pm to 10:00 pm
Awards Ceremony, hors-d'oeuvres, live music, cash bar
ELIGIBILITY: Open to all photographers and artists submitting photography. Painted photographs, digital artwork not created through photography, or other mixed media artwork containing in part photographs will not be accepted. All work must be for sale. This is an open show, membership is not a requirement.
ENTRY SUBMISSIONS: The Exhibition only accepts digital entries through CaFÉ (Call for Entries.) There will be a link posted to our website when submissions open. CD's will not be accepted.

Entry Fee: $15.00 for the first image and $10.00 per additional image.
LIMITATIONS. You may enter as many images as you like up to a limit of 15. The limit on how many images accepted for the exhibition is one per artist. Also, only one award will be given to an artist.
NOTIFICATION OF ACCEPTANCE: Judges selections posted on the website no later than 5:00 pm on Saturday, April 1st, 2019.
Shipping: If you are shipping accepted artwork please email photography@plymouthguild.org for complete instructions. Shipping, handling, insurance, and any fees associated are the responsibility of the artist for delivery and return. Shipped works should arrive by Friday, April 26th. Photographs that arrive later than April 26st will be hung at the discretion of the Hanging Committee.
FRAMING: — Sturdy, wired, and ready for hanging. A worn, unprofessional presentation is not acceptable. Framed work should not exceed 48" in any direction. It is acceptable to have a non-wire hanging rail on metal, glass, wood prints.

AWARDS: Award winners will be notified prior to the opening reception that they have won an award but not which award. Specific awards will be announced at the Reception and Awards Ceremony. Artists are limited to one award only,
SALE: The Plymouth Guild receives a commission on all sales: Members 30%, Non-Members 40%. Become a member and save, plus exhibit in all our regular shows! Contact us at 508-746-7222, or sign up online at www.artsplymouth.org.
A selling price is required on the entry form and cannot be changed during the show. Sold work must remain in the gallery until the end of the show.
LIABILITY: The Plymouth Guild, Inc. is not responsible for fire, theft, loss, or damage. Work is submitted at the artists' risk. Please read Café legal notice with care.
USE: Artwork accepted to the show will be on exhibit to the public, offered for sale, and may be used for photo show publicity, on our website, for educational purposes, and in our show catalog.
Watch our website for judge announcements!
Print this Page
View Legal Agreement