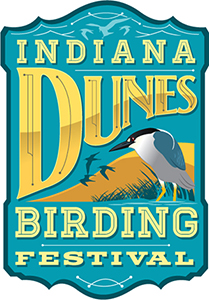 Dune Birds in Art 2019
Indiana Dunes Visitor Center
1215 N SR49
Chesterton, IN 46304
Contact Email:
dunebirdsinart@gmail.com
Call Type:
Exhibitions
Eligibility:
Regional
State:
Indiana
Entry Deadline:
4/16/19
Application Closed
REQUIREMENTS:
Media
Images - Minimum: 1, Maximum: 2
Total Media - Minimum: 1, Maximum: 2
Entry Fee (Dune Birds in Art 2019 (1 entry)): $35.00

Media Fee (per sample over minimum):$5.00

Subject: Birds of the Midwest Region and Migrating Birds of the Midwest Region

Medium: All 2D mediums including oil, acrylic, watercolor, printmaking, & photography as well as scultpural works in various media.

Restrictions: Artwork must be created in 2017, 2018, 2019. Artwork may not be created in a workshop or class and must be original in conception and execution. Artwork dimensions must not exceed 40" in any direction (including frame). No work shall exceed 50 lbs.

Criteria for submission:
A maximum of two entries may be submitted for review, but only one work
may be admitted. A maximum of one digital image per two-dimensional work and one digital image per three-dimensional work may be submitted.

Notification: All submitting artists will be notified by email of selection decisions the week of April 22nd (latest April 27th). No selection decisions will be released over the telephone or via postal service. Upon selection, packaging and shipping instructions will be sent to artist.

Artist Responsibilities: Artists are responsible for all packing and crating costs. If unavailable to deliver in-person, artist is respinsible for shipping and return shipping.
Mounting, matting, and framing are the responsibility of the artist. In the case of sculpture, the work must be ready for display.

No commission on sold works. Works can be marked NFS.

About the Jurors:

Kristina Knowski is a watercolorist depicting primarily avifauna and is best known for her portfolio of extinct bird species. As an avid birder, Kristina prefers to work from life and spends most of her time sketching and researching species in the field. In working with extinct species, she visits the Bird Collections of the Field Museum and Peggy Notebaert Nature Museum to study from skins. She enjoys using observation, anatomical references, and specimens to examine these species with an acute attention to detail. By exploring these birds in both life and in death, she hopes to bring a remembrance and sense of dignity to these lost species. Since graduating Valedictorian from the American Academy of Art in Chicago in 2012, Kristina has participated in numerous shows in Chicago and surrounding states, including Animalier: The Animal in Contemporary Art, Apocalypse 2012: Genesis 2013, and Facing Extinction. Her most notable solo show was at the Peggy Notebaert Nature Museum in Dreams of Martha, in conjunction with the 100th year anniversary of the extinction of the Passenger Pigeon.

Kimberly Beck is a fine artist who specializes in depicting midwestern birds. After graduating from The University of Michigan with a degree in English Literature, she studied drawing and illustration at The California College of Arts and Crafts in Oakland, California. She began to focus on birds and animals, working in watercolor and pencil, and created bird-themed products for The Nature Company and other print companies that sold her work nationally. Kim began working in oils in 2008. Her avian-themed paintings have been juried into the prestigious international "Birds in Art" exhibition at the Leigh Yawkey Woodson Museum of Art, Wausau, Wisconsin, selected for the museum's National Tours, and have been finalists in the Richeson 75 International Animal, Birds & Wildlife Exhibition. She is a devoted bird-watcher working from her studio in Michigan City, Indiana.

Penny Starin is an avid birder with over 40 years of experience in all things avian. It all started with a bird-banding elective at Tufts University. She has lived in the Indiana Dunes area since 1977 and has recenty been traveling the world in an effort to view and marvel at the incredible diversity of bird life with which we share the planet. So far, she and her husband have birded in over 30 countries, with a recent emphasis on South America, which hosts many of our breeding species during the North American winter. Penny is also an art lover and collector.
Print this Page
View Legal Agreement