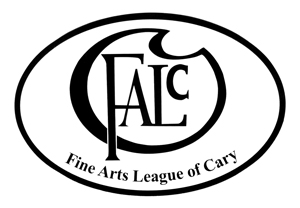 24th Annual Juried Exhibition
FALC Treasurer
P.O. Box 3361
Cary, NC 27519-3361
Contact Email:
jane.belford@aol.com
Call Type:
Exhibitions
Eligibility:
National
State:
North Carolina
Entry Deadline:
4/7/19
Application Closed
REQUIREMENTS:
Media
Images - Minimum: 1, Maximum: 2
Total Media - Minimum: 1, Maximum: 2
Entry Fee (24th Annual Juried Exhibition): $35.00

24th Annual Juried Art Exhibition
Call For Artists
MEDIA
Images - Minimum: 1, Maximum: 2
Total Media - Minimum: 1, Maximum: 2


ENTRY FEE
The entry fee is $35 for up to 2 separate pieces of art. However, only one piece of art per artist may be accepted into the exhibition.

Entry fee does not guarantee acceptance of either piece of art submitted into the exhibition.

Credit card payments are accepted online. If you wish to pay by check, please make check payable to:

Fine Arts League of Cary
and mailed to:

FALC Treasurer
P.O. Box 3361
Cary, NC 27519-3361

Open to artists within the United States.

NOTE: Please read the prospectus in its entirety as there is important information throughout. Answers to most of your questions can be found within.
BEFORE STARTING YOUR ENTRY: The images you want to use must already exist in "My Portfolio," where your images reside on CaFE. If you are submitting an image that you already have in your portfolio, you must duplicate it and rename it according to our protocol, as noted below.
To allow a blind judging of artworks, and for the call administrators to accurately keep track of entries, images must be named in the following manner:

EACH TITLE MUST INCLUDE THE ARTIST'S INITIALS AND BE NUMBERED AS IN THE FOLLOWING EXAMPLE:

If the artist's name is Mary F. Smith, each title would be named as follows:
MFS01-First Artwork Name (the actual name of the piece)
MFS02-Second Artwork Name (the actual name of the piece)

Artwork images must comply with CaFE's guidelines, which can be found at the following URL: https://www.callforentry.org/image_prep.phtml See "Media Preparation" for how to size your images.

Check the dates below carefully as entered pieces may not be withdrawn after submission. Works not meeting the requirement of this Prospectus will be rejected.

EVENT CALENDAR
Entry Deadline ----- Sunday, April 7, 2019
Notification of Acceptance ----- Friday, May 10, 2019
Deadline/Receipt of Shipped Art ----- Tuesday, May 21, 2019
Receipt of Accepted Art ----- Tuesday, May 21, 2019 (10 am to 6 pm)

Opening of Show ----- Wednesday, May 22, 2019
Reception/Awards ----- Friday, May 31, 2019
Last Day of Show ----- Saturday, June 29, 2019
Pickup of Artwork ----- Monday, July 1, 2019 (10 am to 6 pm)
Shipped Artwork Returned ----- Tuesday, July 2, 2019

Please pick up your artwork as scheduled above as storage is non-existent at the Page-Walker Art & History Center. Artworks not picked up as scheduled shall immediately become the property of the Fine Arts League of Cary (FALC), unless prior arrangements have been made with FALC. ARTWORK MAY NOT BE PICKED UP PRIOR TO THE DATE AND TIMES AS INDICATED ABOVE.

AWARDS
1st Place Award ----- $1,000.00
2nd Place ----- $ 750.00
3rd Place ----- $ 500.00

Honor Award amounts and type are dependent upon sponsorships, and vary from year to year.

ELIGIBILITY
2D works of art, including works on canvas and photography, are eligible for entry in the exhibition.

Works must be entirely the work of a single artist, and executed within the last two years.

Artists should be aware that artwork must be family-friendly and appropriate for the general public.

Works must not have been exhibited in previous FALC juried or judged shows.

Giclees of canvas art, photographs reproduced on canvas, copies of artworks, or reproductions will not be accepted.

Submission of 1 - 2 pieces of art is permitted.

SPECIFICATIONS
Dimensions of any piece of art are not to exceed 48" x 38" in any dimension, including frame.

Artworks must be totally dry, securely framed, wired, and ready to hang. NO CLIP FRAMES OR SAWTOOTH HANGERS WILL BE ACCEPTED.

Glass glazing is permitted up to 18" by 24". Please use Plexiglas/acrylic on larger pieces of art.

Maximum weight for ANY piece is 18 lbs.

Back-stapled, edge-wrapped canvases (no staples showing on sides of canvas) must have edges painted to match or complement the artwork, if not framed.

Artworks not complying with any of the stated requirements will be subject to immediate refusal at check in.

Receiving and Shipping - PLEASE READ CAREFULLY!!
See Event Calendar above for important dates.
All shipments must be sent using UPS or FedEx.
All artwork must be shipped in a container suitable to re-use for return shipping.
Container MUST include a prepaid Return Label for return!
Artists are responsible for round-trip insuring of their work.
Absolutely No Packing Peanuts!! Packaging containing packing peanuts will be immediately rejected. Crates, boxes, even small packages containing packing peanuts will be resealed and immediately shipped back to you, NO EXCEPTIONS!

Hand deliver or Ship to the address as noted below:

FALC c/o The Page-Walker Art & History Center
119 Ambassador Loop
Cary, NC 27513

Remember to pack the return shipping label in the box with the artwork!!
For those who hand-deliver the artwork and will pick up the artwork in person, it will be their responsibility to take any packing material with them when they leave after dropping off the artwork to ensure that the work is not shipped back by mistake.

SALES A 25% commission, payable to the Fine Arts League of Cary (FALC) will be charged for all sales, including purchase awards, as a result of exhibiting in this show.
Print this Page
View Legal Agreement