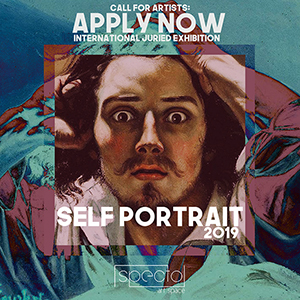 SELF PORTRAIT 2019
Contact Email:
spectoartspace@gmail.com
Call Type:
Photography
Eligibility:
International
State:
Virginia
Entry Deadline:
5/26/19
Application Closed
REQUIREMENTS:
Media
Images - Minimum: 3, Maximum: 10
Total Media - Minimum: 3, Maximum: 10
Entry Fee (SELF PORTRAIT 2019): $12.00

Media Fee (per sample over minimum):$6.00

SELF PORTRAIT 2019

As an artist, turning your gaze back on yourself can be a tumultuous relationship. Some artists love to use themselves as the canvas for their ideas, others are terrified by the experience. Each and every interaction with the self-portrait is uniquely the artist's, it is a record of experience and reflection.
We want to see any and all self-portraiture! We're looking for interesting perspectives, techniques, mediums, anything! We want you to allow us to share you with the world.
Juror: Jeremiah Morris - Curator, Founder of Specto Art Space

Deadline: May 26th***
***Due to an error on our site, applications have been extended to allow time for participants who tried to submit through our site. We appreciate your understanding!***
Application Fee: $12 for 3 images, $6 per image past 3

Media Accepted:
photography
digital art
graphic design
illustration
videography
gifs
new media
painting
drawing
printmaking
anything we can print or display digitally is considered.
Awards:
Best in Show
- Print included for sale in our booth at Superfine! DC 2019
Honorable Mention
- $100 (2 awarded)

Exhibiting with Specto:

Specto prints every exhibition for FREE. Sometimes this includes framing and mounting, other times we gear towards an experimental installation process where each piece is displayed in a unique way. Things such as viewer engagement, sculptural display of exhibtion prints, and more can be arranged as a part of exhibition. We strive to create engaging and innovative display of works.

All works are offered for sale through our site, and in our gallery space. Specto actively seeks out connections with art collectors new and seasoned to suggest work we believe they may be interested in. We work to make your work the focus.

Specto retains a 35% commission fee for all sales completed through Specto or originating from exhibtiion at Specto.

Additional Information

Notification of Acceptance:
10-14 Days after Deadline

Specto will notify all artists 10-14 days after deadline of the results of their application. Accepted artists will have 7 days to provide print ready files, after that point waitlisted artists will be substituted in. Specto will help with this process, so if you have any questions or concerns please don't hesitate to ask!

Print Info:
Specto creates your prints using an Epson SureColor P6000 archival printer, everything is color calibrated to offer the best possible, professional printing for your work. For an additional cost for the buyer, we mat your work using archival matboard, cut to your work's specifications. The works are mounted using photo corners, so that there is no damage to your print. Specto also offers framing of works for our customers. Specto offers exhibition prints up to 16" on the smallest side.

Archiving:
After each show every work is cataloged in an archive to create a resource for other galleries, curators, or purchasers to utilize. This allows Specto to continue to promote each artist on a continual basis, so that your work is being seen well beyond the dates of each specific show.

Copyright:
Artists will always retain copyright of their works. We will use your work in promotional materials to advertise for shows you're involved in, but only with your permission. Specto will never print, distribute, or sell your work without your consent. We also don't utilize clauses to require you to not show your work again for a certain amount of time or anything tricky like that. Remember, we're artists too, so we will always treat your work how we would want someone to treat ours.

Sale/Commission:
All sales at Specto will include a 35% commission, which means 35% of the sale price will go to Specto with 65% going to the artist.

Find any of this confusing?
It can be a little daunting at first, and we totally understand that. Please don't hesitate to contact us! No question is a dumb question, everyone has to start somewhere!

spectoartspace@gmail.com
Print this Page
View Legal Agreement