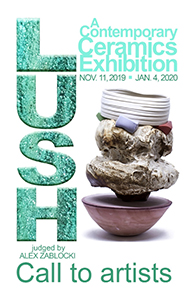 LUSH: A Contemporary Ceramics Exhibition
Janeen Mason, Curator
Lighthouse ArtCenter
373 Tequesta Drive
Tequesta, Florida 33469
Contact Email:
Janeen@LighthouseArts.org
Call Type:
Exhibitions
Eligibility:
National
State:
Florida
Event Dates:
11/11/19 - 1/4/20
Entry Deadline:
10/1/19
Application Closed
REQUIREMENTS:
Media
Images - Minimum: 2, Maximum: 6
Total Media - Minimum: 2, Maximum: 6
Entry Fee (LUSH: A Contemporary Ceramics Exhibition): $40.00

Application Fee: $40.00 for up to 3 entries

$1,500 First Prize
$1,000 Second Prize
$500 Third Prize
$250 Honorable Mention
$250 Honorable Mention

Important Dates:
• Exhibition Dates: November 11, 2019 —January 4, 2020
• Call to Artists announcement: March 26, 2019
• Call to Artists application process opens on CaFÉ: March 26, 2019
• Online application deadline: 11:59 p.m. EST, October 1, 2019
• Notification of Acceptance: October 4, 2019
• Artwork to arrive at Lighthouse ArtCenter on or before: November 4, 2019
• Exhibition opens November 11, 2019, 10 a.m.
• Artist Reception and Awards Ceremony November 21, 2019, 5:30 – 7:30 p.m. (Participating Artist and one guest are invited at no charge)
• Exhibition closes: January 4, 2020, 2 p.m.
• Unsold works packed and shipped or picked up by January 9, 2020
• Accepted artists must provide a credit card number to be kept on file for the return of unsold pieces at the close of the exhibition.

Tequesta, Florida, November 11, 2019 – January 4, 2020, the Lighthouse ArtCenter presents:
LUSH: A Contemporary Ceramics Exhibition showcasing current and innovative practices in the field of ceramics. This exhibition provides a spotlight for current works that utilize clay as the primary material. The Lighthouse ArtCenter welcomes submissions in an assortment of shapes and sizes with generous and seductive surfaces.
This juried exhibition is open nationally to all emergent and established ceramics artists who create functional, sculptural and experimental pieces in a variety of artistic expressions, subjects and techniques. All entries must be original and completed within the last two years. Weight may not exceed 50 pounds.
LUSH : A Contemporary Ceramics Exhibition provides an opportunity to feature your best pieces to influential collectors in time for the holidays in a well-respected gallery in Palm Beach County, Florida.
Artists selected for this exhibition will be juried by a panel of nationally recognized ceramics artists.
The exhibition runs from November 11, 2019 – January 4, 2020. Thursday, November 21, 2019, will be the Artists' Reception and Award Ceremony with our judge, the noted ceramist and visiting artist, Alex Zablocki. Thursday, December19, 2019, is the holiday reception.
The Lighthouse ArtCenter in Tequesta, Florida, is the oldest and largest visual arts organization serving northern Palm Beach and Martin Counties. The two building campus features a gallery with 5,000 square feet of exhibition space (producing 11 exhibitions annually) and a School of Art with 35 faculty members and master artists who serve over 2,200 adult students, 700 children, and offers outreach to underserved members of the community. Over 22,000 guests attend these world-class art exhibits and special events. The Lighthouse ArtCenter is a nonprofit 501c(3) charitable organization which has provided uninterrupted arts and cultural programming since 1964.
Please note: Artists will receive 60% on sales of their work and there will be a 40% commission to the Lighthouse ArtCenter.
All art MUST remain on display through the duration of the exhibition.
Size Restrictions:
Height: No more than 5 feet high
Width/Depth: No wider or deeper than 3 feet
Weight: No more than 50 lbs.
Eligibility:
• Consideration by digital images submitted through the CaFE (Call for Entry) website only.
• 3D Art must be delivered in pristine condition, ready to install with an appropriate base if necessary.
• Artwork may not have been previously displayed at the Lighthouse ArtCenter in Tequesta, Florida.
• All work must have been created within the last two years.
• All submitted pieces must meet the requirements in the prospectus, any accepted works that deviate from these parameters will be rejected and returned to the artist at the artist's expense.
• All work must include two labels, one securely fastened on the back or inside, the other fastened to the front.
• Each label must contain the artist's name and contact information, title of the work, dimensions, media, and price or NFS (not for sale).
• Artists are responsible for shipping and insurance of accepted works, both to and from the exhibition. Details for shipping will be provided once the jurying process is complete.
• Lighthouse ArtCenter (LAC) prefers (but does not insist) that the work be offered for sale.
• Lighthouse ArtCenter will collect and file all sales tax collected.
• By submitting your work for review you confirm that you will adhere to all of the above.
Guidelines: Digital Image submission guidelines: Failure to comply with the digital image submission guidelines may result in the rejection of your submission.
- Submit two digital images for each work: One front, one detail
- File format: JPEG or JPG only
- File dimensions: 1200 pixels or greater on the longest side. Anything larger than 1200 px will be resized to fit the limitations.
- File size: under 5 MB
Checklist of what you will need to provide:
• Artist information: The name you list is the name by which your work will be labeled for exhibition. Spelling and capitalization will be reproduced in the same manner you enter them on your application and all correspondence will be directed to the address, phone (if international please include country code) and email address provided therein.
• Information about each piece:
- Artist name
- Title
- Size: Width x Height x Depth in inches
- Materials: 25 words or less
- Techniques: 25 words or less
- Photo credit: if photo is not by the artist
- Statement about the piece, 150 words or less. (LAC reserves the right to edit statements as necessary.)
Special Note: Lighthouse ArtCenter encourages you to send the best quality photos you can. Remember the images you send are the only representations of your work the jurors will see when considering your entry. These photos are also the ones used in advertising and printed materials. Photos should be in sharp focus, showing all edges, well lit, with correct color and no distortions.
Print this Page
View Legal Agreement