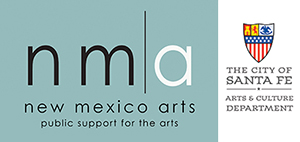 Prospectus #258 You Are Here/Estás Aquí
407 Galisteo St, Suite 270, Santa Fe, NM 87501
Contact Email:
anna.blyth@state.nm.us
Call Type:
Public Art
Eligibility:
Local
State:
New Mexico
Entry Deadline:
3/13/20
Application Closed
REQUIREMENTS:
Media
Images - Minimum: 0, Maximum: 3
Total Media - Minimum: 0, Maximum: 3
Prospectus #258
New Mexico Arts and the City of Santa Fe Arts and Culture Department are seeking original designs for a temporary public art project entitled "You Are Here/Estás Aquí: A Public Art Activation Project." "You Are Here/Estás Aquí" will feature five original mural designs to be installed on vinyl banners along the construction fences surrounding the upcoming New Mexico Museum of Art Vladem Contemporary, in a busy corridor of downtown Santa Fe which serves as an arts center, transportation hub, and home to many local residents, arts galleries, New Mexico School for the Arts, Jean Cocteau Theater, and local businesses and restaurants. The project hopes to activate a busy construction zone, express the values, cultures, and communities in Santa Fe, and engage community and visitors in the area. The committee would like the original digital designs to be at least 300 dpi and scaled to be reproduced on 5' x 7' vinyl banners. Individual artists and artist/teams based in Santa Fe County are encouraged to apply.

Project Intent
The strongest design proposals will engage an active construction area that is part of a larger revitalization effort in a downtown district that anchors the arts among local neighborhoods, businesses, and arts and cultural organizations. The mural designs should create a sense of place and celebrate the multicultural heritage of Santa Fe. The vinyl banners will be displayed as part of an exterior exhibition on the temporary fencing for a period of up to 12-months during the construction of the New Mexico Museum of Art Vladem Contemporary.

Site Information
Original designs will be reproduced on 5'x 7' vinyl banners for display on construction fences on both Montezuma and Guadalupe Streets. The banners will be hung as part of an outdoor exhibition during the construction period for Vladem Contemporary for a period of up to 12 months. Designs should encourage engagement of local users, visitors to the area, and travelers along the corridor. The designs will be sufficiently secured against high winds and outdoor conditions, but the artist understands that the banners featuring their designs may be subject to damage, vandalism or theft at any time due to the temporary nature and outdoor setting of the project. New Mexico Arts, Santa Fe Arts and Culture Department, and the Department of Cultural Affairs, will not be responsible for such occurrences.
Project Amount
Project amount is $1,000 all-inclusive to include original design and digital image preparation for scaled reproduction on a 5' x 7' vinyl banner. The local selection committee will select up to five original designs to be displayed as part of the outdoor exhibit. All selected artists will be required to enter into a Public Artist Design Agreement with New Mexico Arts. New Mexico Arts will pay for all costs associated with printing and installing the final banners.

Eligibility
The project is open to Santa Fe County residents aged 18 years and older. If applying as a team, the lead artist must be 18 or older but other team members may be younger. Local organizations may submit on behalf of an artist under 18, but the organization will be the contracting party. We will require a participation release from any minor's custodial parent and or guardian.

Timeline
Tuesday, February 11, 2020 Project Announced
Friday, March 13, 2020 Submission Deadline
Friday, March 27, 2020 Artists Notified
June 2020 – June 2021 (Approximate Project Period) Installation Featured during Construction Period.
Proposed timeline is subject to change. Selection criteria used by the Local Selection Committee shall include but are not limited to: Quality of original design, strength of concept and engagement with project intent, and proposed project's attention to the culture and history of Santa Fe.

Submission Requirements
Please read the following information carefully as incomplete or late submissions will not be accepted. Supplemental information, beyond what is requested, will not be reviewed by the Local Selection Committee. Failure to provide any of the published requirements will result in disqualification from the competition

Please provide:
Artist's statement: provide an introduction to your work, medium, and explanation of your techniques. You may discuss your conceptual approach and inspiration; the statement should be used as a marketing tool relevant to the artwork being considered.
Project description: describe your proposed project: what are you trying to communicate with your design and how does it relate to the project intent?
Artwork image(s): One (1) to three (3) images with descriptions (title, media, dimensions, year of completion, and if applicable, project description). You may submit images of an existing original work to be reproduced or a sketch of a proposed new design. Please review and follow the image preparation guide on CaFÉ.

Useful Links and information
New Mexico Museum of Art Vladem Contemporary

Questions
For more information, please contact Anna Blyth or Meredith Doborski, at: Anna.Blyth@state.nm.us or Meredith.Doborski@state.nm.us.

Selected artists will be required to enter into an agreement with New Mexico Arts. Sample copies of the agreements are available upon request. It is unlawful for artists to solicit opinions or viewings from individual members of the Local Selection Committee prior to the committee review and will result in disqualification. We reserve the right to refuse submissions, to refuse any finalist, to waive formal procedures, or to withhold the award of a purchase or commission should it be determined that submissions are not acceptable. Application to this project constitutes agreement to abide by all applicable program guidelines.
SUBMISSION DEADLINE
The submission deadline is 4:00 PM (Mountain Standard Time MST) March 13, 2020. New Mexico Arts will provide technical assistance through 4:00 PM on March 13, 2020.
Print this Page
View Legal Agreement