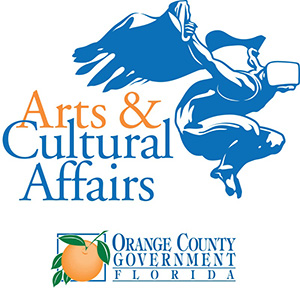 Orange County Multi-Cultural Center (MCC)
450 E. South St., Orlando, Florida, 32801
Contact Email:
terry.olson@ocfl.net
Call Type:
Public Art
Eligibility:
International
State:
Florida
Entry Deadline:
7/5/20
Application Closed
REQUIREMENTS:
Media
Images - Minimum: 1, Maximum: 6
Audio - Minimum: 0, Maximum: 1
Video - Minimum: 0, Maximum: 1
Total Media - Minimum: 1, Maximum: 6
Orange County Multi-Cultural Center (MCC)
7149 West Colonial Drive
Orlando, FL 32818
Public Art Opportunity
$48,500 available for Phase II Art

Project Description
The Orange County Public Art Review Board seeks one or more artists or artist team(s) to develop artwork for the Orange County Multi-Cultural Center Phase II development. The Orange County Multi-Cultural Center is located in Pine Hills one of Orlando's first suburbs developed in the early 1950's. This community is a diverse tapestry of world cultures from the Caribbean Islands to Asia and defined by family, faith, pride and resiliency.
The Orange County Multi-Cultural Center will serve as a hub for the community activities. A place where all are welcomed and included with opportunities to learn, connect and celebrate. An inclusive space where art and culture come together and where dreams are realized as opportunities for all generations are opened.
Phase II of the Orange County Multi-Cultural Center will house a computer lab and conference rooms, a community gallery and a large multi-purpose space for hosting social events, theatrical performances and more.
Possibilities include, but not limited to:
Art and images embedded in walls and floors

Suspended 3D art and use of light

Free-standing sculpture

Kinetic sculpture

Mosaic

Mural

Background
Orange County is a rapidly growing metropolitan area of more than one million residents that contains the City of Orlando and a dozen other municipalities. We are a minority majority community with over 160 languages spoken in the public schools. A recent study indicates that by 2030 Orlando may be the most diverse major metro area in the world. The county values innovation, collaboration and inclusion.
Site (Site Plan / Architectural Floor Plan / Reflected Ceiling Plan)
The Phase II renovation of the Orange County Multi-Cultural Center includes 18,089 square feet of currently unfinished space with vaulted ceilings and skylights. Offering the opportunity for the artist(s) and developer to work together to create a vibrant community environment. Artist coordination with developer is required.
For site specific information, please contact Dawn.Knight@ocfl.net.

Budget
$48,500 has been approved for artwork. The selected artist(s) or team(s) will be awarded a comprehensive contract (or contracts). The artist will be responsible for artwork design, fabrication, materials, installation, insurance, travel, public presentations, meetings with Orange County staff as necessary, identification plaque, and all related incidental expenses.

Eligibility
This opportunity is open to professional artists working in any appropriate media. Student artists may apply if they can secure an experienced public artist to serve as a mentor to oversee their work.

Selection Process
A selection panel consisting of the project manager, arts professionals, and community leaders will review artists' qualifications. Several artists will be selected to provide proposals and will be paid a stipend of $500 each for their proposal. Final artist(s) selection will take place after review of the proposals. The Arts & Cultural Affairs Director serves as the non-voting Chair of the Selection panel.
The Public Artist Selection Panel and Orange County reserve the right to reject any or all applications, proposals, applicants or projects, and to modify or terminate the application process or the selection process for any reason and without prior notice.

Selection Criteria
Artists will be evaluated on artistic excellence as evidenced by submitted materials; professional experience; compatibility with the architectural design, facility environment and values of the county and this particular facility.

Submittal Requirements
E

x

perience with public art projects with a similar budget is not required but helpful.

Professional resume (teams must submit resumes for each member).

Letter of interest,

outlining interest in the project and a preliminary statement of approach.

A minimum of one (1) image is required, and the maximum is 6. Images of finished works or conceptual drawings can be submitted. Provide additional information to assure the Selection Panel of ability to realize a public art project and that it will be completed and installed as designed.

Selected artist must complete W-2 and vendor registration and will receive payments by check.
Timeline
Release of call to artists: Thursday, May 21, 2020

Submittals due:

Sunday, July 5, 2020 (midnight MT)

Panel review:

Wednesday, July 15, 2020

Selected Finalists notified:

Wednesday, July 22, 2020

Final Proposals Due:

Wednesday, September 2, 2020

Artwork installation:

Summer 2021 / Fall 2021
Contact
For further information, contact Mr. Terry Olson, Director, Arts & Cultural Affairs. Terry.Olson@ocfl.net, 407-836-5540.
Print this Page
View Legal Agreement