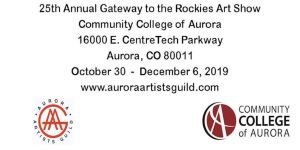 25th Annual Gateway to the Rockies Art Show and Sale
Contact Email:
joan@joanheinen.com
Call Type:
Award
Eligibility:
International
State:
Colorado
Entry Deadline:
9/1/19
Application Closed
REQUIREMENTS:
Media
Images - Minimum: 3, Maximum: 9
Total Media - Minimum: 3, Maximum: 9
Entry Fee (25th Annual Gateway to the Rockies Art Show and Sale): $45.00

Media Fee (per sample over minimum):$5.00

Please read the prospectus very carefully.
25th Annual Gateway to the Rockies Art Show & Sale
October 30 – December 6, 2019
Community College of Aurora, Fine Arts Building
16000 E. Centretech Parkway
Aurora, CO 80011
Entry Deadline: September 1, 2019
Requirements: This juried art show is open to all artists; artists must be at least 18 years old.
2-D – maximum 3
Miniatures – maximum 3
Photography – maximum 3
Maximum entries would be a total of nine, three from each category.
Any entrant with more than three in one category will have the entries in that category reduced to the maximum number of three by the Gateway Committee prior to the juror viewing the images.
Entry Fee: $45.00 for 3 images, for each additional image after the first three the charge is $5 per image.
AAG members are eligible for a $10.00 discount coupon; the $10.00 is subtracted from the $45.00 entry fee. A code will be emailed to all current AAG members. In order to receive this discount a new member must join Aurora Artists Guild before submitting their Gateway registration. To join or renew your Aurora Artists Guild membership payment for dues may be made at our website; auroraartistsguild.com by using PayPal, or mailed to P.O. Box 440457, Aurora CO 80044. After the payment has been received please contact Joan Heinen at joan@joanheinen.com or Trista Robrahn at trista@trent45.com for the code.
All entry fees are non-refundable; no exceptions.
Key Dates for Artists:
Entry Deadline: Wednesday, September 1, 2019 (no exceptions)
Acceptance Notices Emailed: On or before, September 25, 2019
Take-in Accepted Artwork: Saturday, October 26, 2019, 10 am – Noon
All 2-D and Photography pieces must be hand delivered, no exceptions.
Miniatures can be mailed.
(No special arrangements will be made).
Show Opens: Wednesday, October 30, 2019
Reception and Awards: Friday, November 1, 2019, 5 – 7:30 pm, Awards at 6 pm
Take-in for Bin Work - Friday, November 1, 2019, 3:30 – 4:30 pm prior to the Reception
Please see the section on Bin Work for additional important information.
Exhibit Closes: Friday, December 6, 2019
Pick-up for Art work: Saturday December 7, 2019 Noon – 2 pm
There will be no exceptions on pick-up; art work cannot be stored at the college.
Artist Commitment
By submitting your work for consideration, you agree that the work will be available during the exhibition dates listed on this prospectus, and you will hand deliver and pick up your work on the dates specified. Art work that has been accepted by the juror may not be changed in any way. All invited/not invited letters will be sent by email on or before September 25. If you do not receive this notification of invited or not invited email it is your responsibility to contact joan@joanheinen.com. Artists can also find the invited/not invited information through their CaFE account. By entering you grant the Aurora Artists Guild and or the Community College of Aurora permission to use images of accepted works for public relations, marketing and archival purposes.
Juror for 2-D and Miniatures : Bonnie Stolzmann
Photography: Tom Heywood
Award Certificates will be given for each category plus Best of Show, The Kate Tauer Award, CCA Award and an AAG Award. The number of entries and sponsor
contributions will determine monetary awards and gifts.
Rules of Entry:
All artwork will be judged according to fine art and photography principles and presentation.
The decision of the juror is final. The Aurora Artists Guild reserves the right to reject any work deemed unsuitable at any time.
Eligibility:
All artwork must have been completed within the last five (5) years. Works shown in any previous Gateway Art Show will not be accepted. Artwork must be original and not copied from any copyrighted material or photographs, except those taken by the artist. Accepted artwork must be in the categories of Two-Dimensional, Photography, or Miniatures.
Submitting Entries:
All entries must be made through the CaFE TM website, www.callforentry.org. There is no cost to the artist to enter through CaFE TM. The only cost to the artist is for the Entry Fees for the Gateway Art Show. Payment is by credit card or PayPal.
Criteria for submitting files:
File Format – JPEG only
File Dimensions – no smaller than 1200 pixels on the longest side
File Resolution – 72 ppi/dpi (standard web resolution)
File Size – Under 5 MB
Each image must be of the image only; no frames or mats can show in the image.
Any image that contains a frame or mat will not be viewed by the juror.
Categories:
Artists may submit artwork in three different categories; 2-D, Miniatures, and Photography. Be sure to choose the correct category for your artwork. Three images maximum may be entered in any single category for a total of nine images.
Two-Dimensional Artwork:
Only original artwork in any two-dimensional fine art media will be accepted. Artwork that is not allowed: work completed in a classroom, computer graphics, crafts (including stained glass, mosaics, beads, sewing or fiber art, etc.) 3-D work, or sculpture. (3-D is defined in terms of its height, width and depth, it is not flat like 2-D). The frame must be around the perimeter of the art work. Gallery wrapped pieces with no staples are also acceptable. (No other configurations will be accepted.)
Minimum image size: 8" x 10".
Maximum outside dimension including frame size: 36"any side.
Three (3) images, maximum, may be entered per category.

2-D art work must be hand delivered.
Photography:
Only original traditional, digital, or computer-enhanced photography accepted.
Minimum image size: 8" x 10".
Maximum outside dimension including frame size: 36" any side
Canvas and aluminum prints are acceptable without a frame.
Three (3) images, maximum, may be entered.
Photographs must be hand delivered
Miniatures:
Two-dimensional rules apply Traditional miniature rules do not apply.
Maximum image size: 36 square inches.
Maximum image plus frame size: 100 square inches.
Three (3) images, maximum, may be entered.
Minis can be mailed to P.O. Box 440457, Aurora, CO 80044, or hand delivered. Minis that are mailed need to include return postage, and return address.

Other Specifications:
Artwork must be suitably framed and wired with flat clips. The ends of the wire must be wrapped with no sharp ends protruding. No saw tooth hangers, unframed glass or clipped-in hangers. Gallery wrapped canvas must have finished edges. Artwork with smudges or poorly cut mats, and artwork with marred mats, glass, or frames will not be accepted. The artwork must match what was submitted for entry, i.e. title of art, and price. No price or title changes are allowed after entry.
(No exceptions.)
Artwork must have an identification label attached to the lower back of each entry with Artist name, email, phone, title, medium and price.
A commission of 20% of sold work will go to the Aurora Artists Guild. 5% of the 20% will be donated to the Community College of Aurora scholarship fund.
All sales will be handled by a representative of the Aurora Artists Guild.
All art work sold will be released to the buyer on December 7, 2019, with the exception of Bin Work. Bin Work may be released at the time of purchase.
Bin Work:
Bin work will be available for purchase on the night of the reception only. All artists who enter the 2019 Gateway show are eligible to submit bin work. There may be other opportunities to bring in Bin Work at special events; you will be notified of this by email.
Bin Work Criteria
Size is no smaller than 8" x 10" and no larger than 16" x 20" outside dimensions. Bin work is only unframed pieces.
Bin work must be labeled with the artists name and price on the upper right hand corner of the piece. Labels must be on the artwork when it is brought in. Be sure to protect your artwork with clear sleeves or other protection.
Bring a typed inventory sheet listing Artist's name, phone, and email as well as title, medium, and price of each artwork. Only 15 pieces are allowed to be in the bin.
Artists may bring 10 individual Fine Art Cards and place them in their bins in addition to their unframed pieces. Cards should come with an envelope and be in clear plastic sleeves. The size should be no larger than 5 x 7.
Bring a black canvas sling-type floor bin. AAG has a limited amount of bins available for members to share.
Artists Statement:
Artist statement and or bios are encouraged. Statements that are received will be available for College visitors or students to learn more about the artist. Artist statements may also be placed in with your bin work.
Other information:
The Aurora Artists Guild and the Community College of Aurora is not responsible for any damaged or stolen art work. Please have your art work insured if this is a concern for you.
Presented by:
The Aurora Artists Guild
www.auroraartistsguild.com
The Community College of Aurora
www.CCAurora.edu
For questions or general information contact: Joan Heinen, joan@joanheinen.com
Print this Page
View Legal Agreement