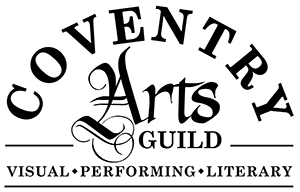 Coventry Plein Air Festival 2019
PO Box 234
Coventry, CT 06238
Contact Email:
info@coventryartsguild.org
Call Type:
Exhibitions
Eligibility:
Regional
State:
Connecticut
Entry Deadline:
8/1/19
Application Closed
REQUIREMENTS:
Media
Images - Minimum: 1, Maximum: 2
Total Media - Minimum: 1, Maximum: 2
Entry Fee (Image #1): $25.00

Media Fee (per sample over minimum):$10.00

Coventry Plein Air Festival - Summer 2019 - Prospectus
Coventry Arts Guild, PO Box 234, Coventry, CT 06238
info@coventryartsguild.org (subject: PA2019)
Juried Exhibition and Paint Out
Regional - Connecticut/New England
Paint Out - June 1 - July 31, 2019
Entry deadline: August 1
Exhibition - Aug. 24 - Sept. 1, 2019
Enter 1 or 2 images - Plein Air painting, drawing, watercolor, pastel, etc. completed during summer 2019.
Paint Out in Town of Coventry, CT Now-July 31, 2019
Entry deadline: August 1
Juror: Barbara Lussier
Acceptance Notifications and delivery details will be posted (coventryartsguild.org) and sent on/about Aug. 10, 2019
Delivery of accepted work: August 22-3 to the Gallery in Coventry, CT
Exhibition: August 24 - September 1 - Mill Brook Place Gallery, Coventry
Opening Reception August 24, 11am-4pm, Prizes, Awards, 1pm
Entry Fee: $25 (Guild Members: $20 w/coupon code) second image $10
Sign up early ; Enrolled artists will receive invitations to selected location paint out sessions and can arrange for day passes to town parks and beach.
Exhibition:
The first Coventry Plein Air Painting Festival is now in progress. Artists are invited to paint in and around the Town of Coventry for a juried show at Mill Brook Place in August. We invite Plein Air artists to set up their easels throughout the summer in Coventry village and town to record impressions of the beauty and history of the Town of Coventry. Submission deadline is August 1.
Come Paint & Show With Us this Summer in the Village. The festival culminates from Aug. 24 - Sept 1 with a juried exhibition. Awards and opening reception at Mill Brook Place in Coventry village is Aug. 24 coinciding with the town Arts on Main event and the fourth annual summer art celebration by the Coventry Arts Guild. This exhibition and celebration will include awards and prizes for exhibiting artists.
Juror:
We are honored to have Barbara Lussier as our juror for this exhibition. Barbara is a signature member of New England Plein Air Painters as well as a member of the Hudson Valley Art Association and the Rockport Art Association. She has taught painting privately and through various institutions including the Lyme Art Association where she is an elected member and past president of the board of directors. Her award winning work is found regionally and internationally in numerous corporate and private collections.
Images to CaFÉ for Entry (callforentry.org):
File format - JPG or JPEG only
Image size - 72dpi / 1200 pixels on longest edge
File size - under 5MB
File Naming:
All entry files must be named with artist's last name (underscore) first name, followed by the entry number as noted on the entry form (for example: Jones_Mike_1.jpg).
Please DO NOT include any other information in the file name, such as title of work, etc.
The Accepted Work:
Plein Air painting, drawing, watercolor, pastel, etc. completed during summer 2019. Work must be framed with secure wire and ready for hanging, and glass where necessary (no zig-zag hardware or wet paintings). Maximum dimension of framed work is 30 inches. Delivery instructions will accompany acceptance notices. Entrants agree to permit use of images for exhibition-related notices etc. by the Guild.
Prizes:
Cash prizes will be awarded by our juror. 1st Prize, $300; 2nd Prize, $200; 3rd Prize;$100
there will honorable mention as well and possibly a purchase award. The most current info will be posted on the Guild website at: coventryartsguild.org/pleinair2019.html
Sales:
Exhibited work must be available for sale and purchase prizes and must hang for the duration of the show. Though we do encourage sales, transactions are to be carried out between artists and buyers. We expect artists will agree to remit a 20% commission to the Coventry Arts Guild on any sales.
Info: coventryartsguild.org/pleinair2019.html
For questions: email: info@coventryartsguild.org (subject: PA2019)
About the Coventry Arts Guild -The Guild is a not-for-profit organization founded in 2016 by artists, writers, performers and supportive community members in and around the town of Coventry in eastern Connecticut. We organize exhibitions, workshops for the community in addition to advising and advocating the arts in town and region which includes the neighboring main campus of the University of Connecticut. This exhibition is part of the larger Arts on Main event and the fourth annual summer arts event organized by the Guild.
Print this Page
View Legal Agreement