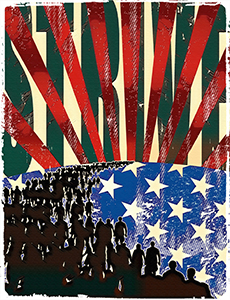 Strive: An Exhibition Highlighting American Immigration & the American Dream
d'Art Center
740 Duke St. STE 150
Norfolk, VA 23510
Contact Email:
abradley@d-artcenter.org
Call Type:
Exhibitions
Eligibility:
National
State:
Virginia
Entry Deadline:
6/30/19
Application Closed
REQUIREMENTS:
Media
Images - Minimum: 1, Maximum: 3
Total Media - Minimum: 1, Maximum: 3
Entry Fee (Strive: An Exhibition Highlighting American Immigration & the American Dream): $35.00

Strive: A National Exhibition Highlighting American Immigration and the American Dream
Description: Strive is a national juried exhibition featuring art that highlights immigration in America and the long admired endeavor of obtaining the American Dream. This country was formed on immigrants seeking new opportunities, democracy, civil liberties, and both religious, and political freedom. The topic of immigration has been discussed in almost every news cast over the last two years and continues to be at the center of mush discussion and debate in the United States. Strive will feature work that depicts various topics surrounding American immigration both throughout American history and in today's society, spanning from those who initially came to the United States seeking the American Dream (and those who currently are in the process of doing so today), all the way to refugees looking for a safe haven. This exhibition is open to all 2D, 3D, fine art, and fine crafts, and is open to all artists living in the United States. You do not have to be an immigrant to submit work to the exhibition. This exhibition will be juried by Solomon Isekeije, and curated by d'Art Center Staff. The d'Art Center is Norfolk's thirty-year-old art center and includes working professional artist studios and provides a wide variety of exhibitions and programming open to the public. The d'Art Center is located in the NEON district of Norfolk.
Juror Biography: Born in Lagos, Nigeria, Solomon Isekeije studied fine arts at Obafemi Awolowo University in the country's Osun State. He studied sculture with Agbola Folarin, printmaking with Bruce Onobrakeya, and wood carver Lamidi Fakeye, among others. He graduated with a Bachelors of Arts degree in 1992 and obtained his M.F.A. degree from Old Dominion University and Norfolk State University in 2002 with specializations in Printmaking and mixed media. He is currently head of Norfolk State University's Art Department. Isekeije's works of art have been shown in juried exhibitions worldwide, including Daegu City,South Korea, where he received the Distinguished Arts Award, and Tokyo, Japan.

Exhibition dates: Thursday, July 25th 2019 - Saturday, August 31st 2019
Reception: Thursday, July 25th 2019, 5:30-7:30pm
Call Open: Monday, May 27th 2019 - Sunday, June 30th 2019
Notifications (by email): By 5pm, Monday July 8th, 2019
Accepted works arrive by: Thursday, July 18th, 2019
Submission fee: $35.00 for up to 3 works
Awards:
1st Place: $500.00
2nd Place: $300.00
3rd Place: $150.00
Eligibility: This exhibition is open to all artists living in the United States. Work needs to have been produced within the last two years. All styles and aesthetics are considered. Work may be no longer/larger than 48 inches in its longest dimension. The d'Art Center is a public non-profit art center open to everyone; as such, the content of submissions should be appropriate for all viewers.
Submissions: All entries and payments must be submitted via Call for Entries (Cafe). Please follow the directions on Cafe. If you have exhibition questions, please contact abradley@d-artcenter.org; questions related to submitting through the Cafe platform should be directed to Cafe.
Limitations: Works cannot exceed a weight of 40 pounds. Work can not be longer/larger than 48 inches in its longest dimension. All 2D works must be equipped with hanging hardware for installation. All 3D works that require presentation other than standard pedestals must include those displays with the works. Works that require special installation must come with clear instructions. Any works that require complicated specialized installation must be installed by the artist. We reserve the right to reject work for the exhibition that differs significantly from the submitted images and/ or for craft issues. Work must be presentation/display quality and hang ready.
Liability: The gallery staff will take great care handling artworks for exhibition. However, the d'Art Center, its staff, and gallery are not responsible for any damage that may occur. We strongly recommend artists insure the works themselves, and purchase insurance from the shipping company used. Shipping your work means you agree to this.
Shipping: The artist is responsible for shipping costs to and from the gallery. All accepted works must arrive by Thursday, July 18th, 2019 without exception. Hand delivered works are accepted through pre-arrangement; please contact abradley@d-artcenter.org. Artists must issue pre-paid return labels for their works through UPS or FedEx. We do not arrange shipping in any other manner. Works must have pre-paid return labels through FedEx or UPS to be returned. Please make your return label easy to locate in packaging. Any additional details on shipping will be included upon notification of accepted entries. Please no packing peanuts. Works should be shipped in reusable containers for return. Clearly indicate any packing directions for return of works. Works that do not include a return label, and works that are not picked up within one month of the end of the exhibition become property of the d'Art Center.
Entry Fees and Materials: Artists may submit up to 3 artworks for consideration and the entry fee is $35.00. Commission for works is 60% (artist)/ 40% (d'Art), not including awards.
Print this Page
View Legal Agreement