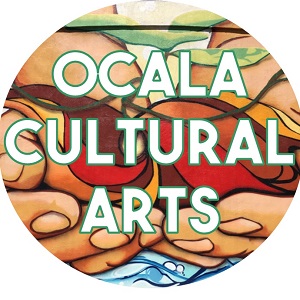 Ocala Cultural Arts - Public Art Roster
828 NE Eighth Ave.
Ocala, FL 34470
Contact Email:
sculpture@ocalafl.org
Call Type:
Public Art
Eligibility:
National
State:
Florida
Entry Deadline:
7/3/20
Application Closed
REQUIREMENTS:
Media
Images - Minimum: 6, Maximum: 6
Audio - Minimum: 0, Maximum: 3
Video - Minimum: 0, Maximum: 3
Total Media - Minimum: 6, Maximum: 12
Program Overview
The City of Ocala Public Artist Roster is a pre-qualified list of professional visual artists that serves as a resource for public art selection and commission at the City and as a reference for external organizations and private entities. The Roster may be used in combination with an open call, invitational or as the sole resource for identifying appropriate artists/teams for select projects based on; an expedited selection process, need for a specific skillset, or a curated opportunity. For each project, qualifications of the artists will be reviewed by the Ocala Municipal Art Commission and recommended for final approval by City staff.
Applications from the call are reviewed on the artist's experience and portfolio. Previously accepted roster artists may update their portfolio materials each year during the application period.
There is no application fee
Are you eligible to apply?
You are eligible to apply to the Public Artist Roster if you:
• Are a professional visual artist or an artist team. (Teams of up to five artists may apply. Team members cannot apply as individual artists. If submitting as a team, portfolios should include works created by the team and not those of the individuals on the team.)
• Live in the United States or have the legal ability to work in the United States. Create public art or artwork well suited for public spaces.
• Have experience creating Public Art in one of the following categories:
o Public Art – for artists/ teams that create standalone works for the public environment that are permanent or temporary in nature and whose works possess the appropriate durability for the lifespan of that art. Projects that are of special interest are mixed-medium works that may include found materials, nontraditional mosaics, living components (such as plant life), illumination, etc.
o Creative Placemaking Practice – for artists/teams that focus on engagement through personal interaction and/or ephemeral artwork which facilitates collaboration between artists, arts and cultural organizations, and communities. This category will serve as a resource for artist-driven community engagement that occurs during events, community building, or community planning events.
o Media Arts – for artists/teams that focus on work that is either produced, modified, and/or transmitted by means of digital technologies, such as video/photography, monitor/LED screens, projections, virtual reality, augmented reality, sound installations, and locative media.
o Murals – for artist/teams with a range of artistic styles and techniques that design and paint large-scale works for architectural features, walls and/or art on materials to be affixed to those structures.
o Integrated/Infrastructure – for artist/teams with design practices that can be integrated into a wide range of projects including building design, works integrated into City buildings, Public Works projects and works incorporated into landscape design.

If you apply for the Roster, it means you are willing to:
• Design and propose artworks - Project managers, professional conservators, and local stakeholders all may be involved in the review and approval your work
• Travel to the project site - You should be prepared to meet with selection committees and project managers up to three times during the proposal and design process (Virtual accommodations will be determined on a case by case basis)
• Work within fixed budgets and/or provide basic and final estimates as requested during the contract process
• Work with committees - Committees often include non-arts professionals
• Work on teams with other artists hired for the same project
• Maintain registration as a City of Ocala vendor- You must adhere to relevant City and State permitting and licensing requirements. This includes those relating to sub-contracting and the paying of prevailing wages.
• Enter into contracts with the City of Ocala- You must fulfill contract requirements, including paying applicable taxes and insurance requirements, providing appropriate insurance and warranties as necessary, and provide documents in a timely manner as requested by the Project Manager. Other terms and stipulations of contract will vary based on project

Completing your application:
Artists should carefully consider and review their materials before application. If accepted to the roster, this portfolio will be reviewed during project call and/or commission by the project selection committee. The following materials are required:
• Current contact information
• Six jpeg images of separate selections of your artworks
• Artwork information for each image (title, date, dimensions, medium, cost, commissioning agency, timespan/life of the work, and location of work)
• Short descriptive statement for each image
• Artist's statement
• Artistic Resume

How does the review panel select artists?
Eleven professional artists, arts administrators and community stakeholders make up the review panel. The Ocala Municipal Arts Commission scores submitted applications based on the established criteria, listed below. Previously approved artist can complete a short form to confirm their desire to either remain on the roster or to be removed from the roster. Inclusion on the roster does not guarantee a public art commission or that the artist will be contacted about all available opportunities including open calls. The panel scores portfolios based on the following criteria:
• Experience (5 points). Evidence of the artist's ability to execute Public Art Projects according to their medium on past projects. There is a demonstrated ability to execute concepts.
• Professional Workmanship (10 points). Ability to complete a project on time and on budget.
• Artistic Excellence (15 points). The body of work shows a strong quality and clear artistic perspective. The body of work presents unique perspectives and/or innovative methods.

Artist Preapplication Checklist:
1. Read the guidelines
2. Make sure you are eligible
3. Choose six digital images of your artwork
4. Format and resize images
5. Gather artwork info: titles, dates, dimensions, medium, budgets, commissioning
agencies, timespan/life of the work, and locations
6. Write short descriptions for each image
7. Review your artist statement
8. Review your resume
9. Apply online at CallForEntry.org before July 3, 2020

Tips for Choosing Images:
• Images should best represent your most current work
• Images should show the spectrum of variety in your work (media, budgets, sites, concepts).
• If you have fewer than six representative artworks to highlight, consider choosing more
than one image of a single artwork (details, different perspectives, or night/day views) or works of smaller scale that do not include public art.
• If you have too many images, choose what best demonstrates your strengths for the types of
projects you would like to create for the City of Ocala.
• Please do not submit composite or montage images. They display poorly when projected.
• When possible, include images that show the work where it's installed (e.g. a painting installed in a building vs. a closely cropped image of a painting).
• You can include concept renderings for unrealized artwork.
• Please see Image Formatting and Size Requirements below for technical requirements

Image format and size requirement:
• JPG or PNG only.
• 1200 pixels on longest side, 72 dpi minimum. You will need to resize your images accordingly. To maximize the quality of your submission, it's best to start with an original, uncompressed image that is no less than 1,200 pixels on its longest side
• Under 1.5 MB file size
• Label each uniquely, no special characters (e.g. ', #, é, etc.).jpg or .png
• Images files must each have a unique name - our system does not recognize upper-case and lowercase letters as unique, so two images named janedoe_01 and JaneDoe_01 will be read by our system as having the same name and will not be accepted.
• DO: janedoe_01.jpg; jane_doe02.jpg; etc.
• DON'T: Janedoe01.jpg; JaneDoe01.jpg; JaneDoe#2.jpg

Tips for listing artwork info
We'll ask you to include
• Title of each artwork
• Date you made or installed each
• Dimensions
• Medium
• Total Artwork Cost: If the artwork is a permanent commission, include all associated costs from proposal/design through to fabrication and installation. If there were in-kind contributions (such as you donated a portion of your labor, time, or materials, or if the construction team contributed site work or installation support) please mention this. If the artwork was not commissioned, please indicate "retail price" or "estimated commission cost" along with the dollar amount.
• Who commissioned it, if applicable, if not, write "studio work" or "private commission"
• Timespan/Life of the work
• Locations where the artworks were installed (if applicable). Please include the city and details of site.
• A short image description
Tips for writing image descriptions (250-character limit)
We read descriptions aloud along with each image to selection panels. Good descriptions give added information about the artwork such as concepts, symbolism, ideas, context, situation etc.
• Avoid repeating information provided elsewhere (title, size, media, date, site, size).
• Don't copy and paste one artwork description for multiple images. If including more than one image of one artwork, stretch your description across images, or leave repeated descriptions blank.
• If showing temporary or studio work, this is a good area to describe how you would approach this work differently if commissioned as a site-specific permanent public artwork.
• Keep in mind, selection panels and committees review many of images during an application call, so craft your language wisely and concisely.
Tips for writing artist statements (1,000-character limit)
Describe the focus of your studio work or public art practice. Include the media in which you are most fluent and the concepts that inform your approach to site-specific public art. If there is a mission/philosophy that informs your vision, perspective, and/or approach to making art that you want selection committees to be aware of, please address this in your statement. Please proofread your statement carefully; it may be read aloud and/or reviewed in assessing your work. If selected, these statements may be used in marketing the project.
Resume Requirements
Resumes should be two pages maximum in PDF format. (1MB max. file size).
Print this Page
View Legal Agreement