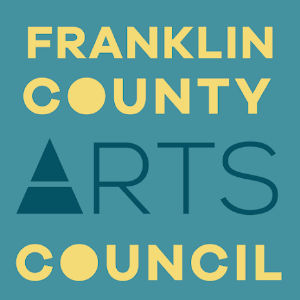 RFQ: Arts Downtown - Murals
3355 Lawrenceburg Rd
Frankfort, KY 40601
Contact Email:
franklinartsky@gmail.com
Call Type:
Public Art
Eligibility:
National
State:
Kentucky
Entry Deadline:
7/15/19
Application Closed
REQUIREMENTS:
Media
Images - Minimum: 2, Maximum: 10
Video - Minimum: 0, Maximum: 1
Total Media - Minimum: 2, Maximum: 11
FRANKLIN COUNTY ARTS COUNCIL
Arts Downtown
Request for Qualifications: Frankfort, KY
The Franklin County Arts Council (Frank Arts) is seeking
qualified muralists or teams to create outdoor murals for three walls in Frankfort, KY.
THEME
There is no specific theme for this mural; however, each design should fit the location.
Interactive murals that allow the public to engage with the work and present photo
opportunities are of particular interest, as are those using trompe l'oeil techniques.
A
site visit is not required but is recommended.
LOCATIONS
We are in the process of securing our locations, however, all three murals will be
located in the Downtown Frankfort area, most likely on historic buildings. Locations will
be announced prior to the second phase of the selection process (proposal
development). Walls chosen will likely be quite large, however, artists invited to submit proposals in Phase Two may use their creativity to address only portions of the surface.
PROJECT DETAILS AND BACKGROUND INFORMATION
The Franklin County Arts Council (Frank Arts) seeks to connect, engage and instill an
appreciation for art throughout the Frankfort/Franklin County community. The group's
mission is to use public art to create vibrant spaces for residents and visitors to enjoy
and to encourage economic development. This project is part of Arts Downtown, a
multi-year public art initiative. This is Phase One of a larger project that also includes
five sculptures under a separate call.
Frank Arts is operated by an advisory board that is spearheading the
Downtown Arts program. Funding for the murals is provided primarily by local
benefactor Richard Rosen, with additional funding from local businesses, grants, and
other local contributors where the murals will be placed.
ELIGIBILITY
Any artist over the age of 18 is eligible to submit their interest and qualifications. Artists
who have a strong professional profile, experience in producing exterior semi-
permanent public murals and/or have successfully worked on collaborative projects are
encouraged to apply. Artist teams may also apply.
PROJECT BUDGET
The budget for each mural may range from $8,000 to $20,000, depending on the size
and complexity of the work.
The artist's budget includes: all artist fees and costs associated with design, fabrication,
travel, transportation to the site, site preparation, insurance, permits, installation,
shipping and transportation of materials to the site, mural protective coating, any
equipment needed for installation, any applicable taxes, time spent in progress
meetings, and any other costs incurred by the artist for this project. Artists will be
required to participate in one Meet the Artist type event, which can likely be scheduled
while the artist is in town.
During Phase Two, artists will be asked to develop an all-inclusive itemized budget as part of the proposal submission.
Payments will be made directly to the artist(s) using the following schedule:
20% of total agreed upon fee is paid when contract is signed.
30% of total agreed upon fee is paid after the work is initiated.
50% of the total agreed upon fee is paid upon completion.
TWO-PHASED ARTIST SELECTION PROCESS
Phase One: RFQ and the evaluation of qualifications, from which a pool of up to 10 artists
or artist teams will be invited to submit specific proposals.
Phase Two: Selected artists/artist teams will prepare and submit a proposal to be
considered for a particular site. An honorarium of $500 will be provided to each artist or
team returning a completed proposal, which will be in addition to the mural fee.
TIMELINE
Request for Qualifications issued: June 13, 2019
Request for Qualifications due: July 15, 2019
Applications reviewed/Semi-Finalist selection panel: July 15 – 31, 2019
Artists Notified/Request for Proposals released: August 7, 2019
Proposals from artists due: September 7, 2019
Proposals reviewed/Contracts awarded: September 8 - 21, 2019
2019 Installation: October 1 – November 15, 2019
Target completion date: November 15, 2019
Note: We do not anticipate any changes in the schedule above, however, should one
become necessary, artists will be notified in writing or, in the case of the RFQ, the
information will be posted on CaFÉ. However, artists should assume all deadlines are
firm.
PHASE 1 RFQ SELECTION PROCESS
Submissions will be judged/scored on the following, with a maximum score of 100
points:
Artistic Excellence (maximum 40 points): The artist's work reflects artistic excellence, innovation, and originality as evidenced by quality of craftsmanship and mastery of skills and techniques; demonstrates professional approaches to processes and presentation; and/or communicates a unique vision or perspective.
Professional Experience (maximum 40 points): The artist's professional experience is adequate to meet the demands of the project, including a proven ability to meet project budgets, deadlines, and to perform work in a timely and professional manner. Public art experience is required.
Experience Working on a Project of Similar Scale (maximum 20 points): Previous work that can specifically demonstrate the successful completion of projects that include partnering with stakeholders for the purpose of creating public art of this size/scale. Experience with public engagement.
Artist submissions will be reviewed by a selection committee comprised of art and
design professionals, key funders/sponsors, and property owners.
REQUIREMENTS FOR SUBMISSION OF QUALIFICATIONS
Current CV/resume. Teams must submit one CV/resume per team member.
Letter of Interest limited to 1000 words: Applicants should briefly describe their interest in the project and include a description of their approach and their typical fee schedule.
Three (3) to five (5) images [two to three views of each piece for a total of 10 images max] of previously completed work that demonstrates an ability to design, create, and paint large scale, outdoor murals. Do not collage multiple images into one image.
A brief description of your intended proposed materials for site preparation, the work itself, and any protective coatings recommended.
Three (3) professional references. Please include name, title, address, affiliation, phone number, and email address.
Optional. Artists may include up to three (3) selections of support materials such as reviews, news articles, and other related information.
Please note: submitted materials will not be returned and incomplete applications may
not be considered.
SUBMISSION PROCEDURES
Submissions may only be submitted electronically through CaFÉ.
SUBMISSION DEADLINE
All materials must be received by 11:59:00 p.m. Mountain Time Zone (Denver, CO, USA) on July 15, 2019.
Incomplete or late submissions will not be considered.
EXHIBITION PERIOD
The mural will be installed in the fall of 2019 and will remain for an anticipated period of
7-10 years, at minimum. However, in some cases the work may be removed
prematurely; if, for example, the building should change ownership.
PROJECT DETAILS AND BACKGROUND INFORMATION
Kentucky's Capital City, Frankfort was founded in 1786 by General James Wilkinson
and is located between the state's two largest cities, Lexington and Louisville. With a
population of 28,000 in the city and 50,000 in Franklin County, it's one of the smallest
state capitals.
Major industries in the Frankfort/Franklin County include Buffalo Trace Distillery, Jim
Beam Distillery and state government.
Frank Arts supports the local effort to establish Frankfort/Franklin County as the Public
Art Capital of Kentucky.
CONTACT
Please direct all questions or requests for assistance to:
Suzanne Fernandez Gray
Arts Consultant
FranklinArtsKY@gmail.com
Print this Page
View Legal Agreement