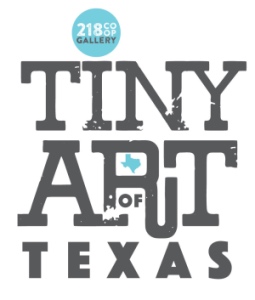 218 Co-Op Tiny Art of Texas
218 N. Guadalupe
San Marcos, TX 78666
Contact Email:
tatx@218coopgallery.com
Call Type:
Exhibitions
Eligibility:
Regional
State:
Texas
Event Dates:
11/7/19 - 12/1/19
Entry Deadline:
9/22/19
Application Closed
REQUIREMENTS:
Media
Images - Minimum: 3, Maximum: 6
Total Media - Minimum: 3, Maximum: 6
Entry Fee (Entry Fee for 1 to 3 entries): $35.00

Media Fee (per sample over minimum):$5.00

CALL FOR ARTISTS - 2019 TINY ART OF TEXAS
218 CO-OP in San Marcos, Texas announces a Call for Entries for its 2019 Tiny Art of Texas Show (TATx). This juried exhibition will celebrate Texas fine artists who create work on a small scale, in a broad range of media and
styles. The call will be open from Thursday, June 20 - Sunday, September 22, 2019. The exhibition will be on display from Thursday, November 7, 2019 to Sunday, December 1, 2019 during normal business hours, in the unique and
beautiful 218 Co-Op Gallery, located at 218 N. Guadalupe Street, in the heart of San Marcos, Texas. An Opening Awards Reception will take place on Saturday, November 9, 2019.
About the Jury: 218 Co-Op Member/Owners

A little over two years ago, San Marcos area artists came together to create the vibrant, artist-owned 218 Co-Op Gallery. Currently the cooperative is comprised of nine artists, each contributing their unique artistic vision to build and promote a diverse and distinctive art and retail venue.
Peter Arcidiacono holds a BFA as well as a Master's degree in Sculpture, and has exhibited and taught in Colorado, New Mexico, and New York. His life has been intimately engaged in making sculptural works using words, material, and imagery derived from both a personal understanding of human nature and the local environment. He uses a variety of media, harvesting wood from dead and dying trees, which he transforms into dynamic abstract art.
Christine Terrell worked as a Graphic Designer for a dozen years then pivoted to make eclectic art jewelry from upcycled decorative tin. She brings an eye for sustainability and a deep knowledge of design to her varied interests, which include the successful promotion of 218 Co-Op Gallery, as well as making historic downtown San Marcos more inviting and walkable.
JoLea Arcidiacono is an accomplished ceramicist and sculptor. Her insightful work is a reflection of her varied attributes - silly, strange, grumpy, quirky, amused, cheerful, dark.
Margaret Falletta hand builds ceramic sculpture that straddles the line between plant and animal. Most pieces are devoid of color, which keeps the focus on form. Her work imparts a sense of movement, expansion, and being alive.
Michael Furrh holds a BFA in Painting and an MFA from UNT. He has taught at UNT, TWU, and currently at Texas State University. He works in many mediums but tends to gravitate toward wood, using its natural grains in conjunction with other finishes and surfaces to explore entropy and chaos as it relates to the human experience.
Carol Schwartz-Medina received her BFA in Ceramic Arts in 2002, and MFA in Ceramic Arts with a minor in Printmaking, in 2005. Since then she has been prolific in producing work playful and tantalizing, and continues to maintain an active studio.
Suzanne Shield-Polk is a ceramicist, mixed media sculptor, encaustic painter, and educator. Her former occupations include Professor of Art, Film Art Director/Set Decorator, Gallery Director, and Arts Advocate.
Kitty Myles settled in central Texas after graduating from Texas State University with a BFA in Sculpture. As well as being a sculptural artist, she produces intricate 2D work using a variety of drawing methods, including stippling.
Susan Best is a mixed media artist with a BFA in Studio Art and an MA in Fine Art, with emphasis on Painting and Printmaking. She currently works with collage, painting, and assemblage, embracing a deep appreciation of the Dada movement and its respect for chance and illogical juxtaposition.
AWARDS

1. BEST OF SHOW $ 500
2. AWARD OF EXCELLENCE $ 200
3. AWARD OF DISTINCTION $ 100
Th

e Best of Show recipient will be given an opportunity to exhibit as a 218 Co-Op Guest Artist for a month-long solo display in a portion of the gallery during 2020, dates TBD.
Opening Awards Reception will be held on

Saturday, November 9, 2019

from

6:00 to 9:00 PM, 218 Co-Op Gallery, 218 N. Guadalupe St., SMTX.
Exhibiting artists, friends, and family are invited to enjoy art, live music, and refreshments along with members of the art community. Awards will be presented at this time.
About Guest Awards Judge:
Catherine Lee
We are pleased to announce that our guest awards judge for this competition will be the renowned artist,
Catherine Lee.
Ms. Lee has exhibited extensively, abroad and in the United States, having had one-person exhibitions in galleries in New York City, London, Paris, Milan, Salzburg, Barcelona, Zürich, Copenhagen, San Francisco, Cologne, Tokyo, Osaka, etc. After 32 years working in New York and London, Lee returned to her native state and built a studio in the Texas Hill Country, where her work continues without the distraction of urban life. Her abstract paintings and sculptures balance the flat landscape of Texas with the verticality of New York.
TATx ELIGIBILITY
This is a Texas statewide competition open to all artists working in Texas.

Work must be no more than 10 inches (10") in any direction
including the frame or mounting.

All work shown must be original. Reproductions from originals will not be accepted, including giclee prints.

The artwork may represent any subject matter.

The call is open to all media including 2D, 3D, and time-based works.

Accepted work must be suitably framed or presented; wall pieces must be ready for hanging.

Wall mountable monitors must be provided for videos and should not exceed 10" in any direction.
Entry requirements:
All entries must be submitted electronically via CaFE. The jury process will take place
ONLY
from the CaFE website. No work will be considered by bringing it in person to the gallery. For video works, please upload a still image in the application and email the gallery directly with a link to the video. The size of work stated in the application form must be
framed
size.
All applications must be complete to be considered for acceptance. Work will not be displayed if it does not comply with these requirements.
Your payment will serve as your acceptance of the terms and conditions stated within this prospectus. Entry fees are non-refundable.
Entry Fee: $35.00 for 1 - 3 works, $5.00 for each additional work up to six (6) total.
E
ntry fee may be paid by credit card or PayPal.
Acceptance: Acceptance notifications will be emailed on Monday, September 30, 2019. Accepted work may be refused if it does not conform to the entered image. Absolutely NO substitutions of accepted works will be allowed. Work must remain in the gallery for the duration of the exhibit.
Sales: The gallery will take 40% commission on any artwork sold. Work not for sale must be clearly marked "NFS" in the Price section of the application form. No "Price On Request" (POR) sales.
Delivery of Accepted Work:
Hand-delivered work will be accepted at the gallery on Saturday, October 26th from 12:00 PM to 6:00 PM, unless prior arrangements have been made with a 218 Co-Op member. Packaging may be removed at the time of delivery.

Shipped work must arrive at the gallery no later than Saturday, October 26, 2019 in a reusable container. A computer-generated return label for return of work must be enclosed. Prepaid shipping arrangements ONLY for return of work. No C.O.D. returns, do not send cash, check, stamps, or credit card information.
Return of Work:
Hand-delivered work must be picked up on
Saturday, December 7th from 12:00 PM to 6:00 PM.
Shipped works will be sent back by
Friday, December 13, 2019.
The gallery accepts no responsibility for work not retrieved.
Liability: Great care will be taken with all artwork, however, artists are responsible for insuring their own work if they wish. 218 Co-Op Gallery will not be responsible for any loss or damage to work while on the premises or in transit to and from the gallery. The submission of a work of art to this exhibition shall be understood to constitute an agreement on the part of the artist to the conditions set forth in this prospectus.
If you have any questions or for more information, please email
TATX@218coopgallery.com
or DM us through Instagram
@218coopgallery Follow us while you're there!
TATx CALENDAR
Thursday, June 20, 2019 Call for Artists Open
Friday, Sept. 20, 2019 Entry Submission Deadline

Monday, Sept. 30, 2019 Acceptance Notifications Emailed

Saturday, Oct. 26, 2019 Deadline for Shipped Entries Receipt

Saturday, Oct. 26, 2019
12:00 PM - 6:00 PM Hand Delivery to 218 Co-Op Gallery

Thursday, Nov. 7, 2019 Show Opens
Saturday, Nov. 9, 2019 Opening Awards Reception
6:00 PM to 9:00 PM 218 N. Guadalupe St., SMTX

Sunday, Dec. 1, 2019 Show Closes

Saturday, Dec. 7, 2019
12:00 PM - 6:00 PM Pick up of hand delivered entries

Friday, Dec. 13, 2019 Shipped art returned to artists
Print this Page
View Legal Agreement