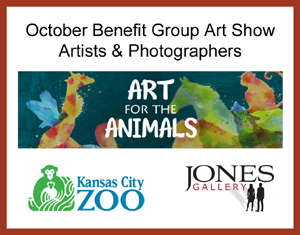 Kansas City Zoo Benefit Art Show
1717 Walnut
Kansas City, MO
64108
Contact Email:
oz.jonesgallery@gmail.com
Call Type:
Exhibitions
Eligibility:
National
State:
Missouri
Entry Deadline:
9/1/19
Application Closed
REQUIREMENTS:
Media
Images - Minimum: 3, Maximum: 5
Total Media - Minimum: 3, Maximum: 5
Entry Fee (Kansas City Zoo Benefit Art Show): $27.00

"Art for the Animals"
Entry Fee: $27
Entry Deadline: September 1st
Exhibit Dates: Wednesday, October 2nd to Thursday, October 24th, 2019.
Private Thursday Night Artist Reception
October 3rd - 6:00 pm to 8:00 pm
The Kansas City Zoo board members and employees are hosting a private catered event to meet the artists and shop for art.
First Friday Group Art Show
October 4th - 5:00 pm to 9:00 pm
Free for the general pubic to attend.
The Crossroads Arts District is packed with happening art galleries in restored warehouses. Hip coffee bars, brewpubs, BBQ joints and retro-styled bars dot the area, along with independent shops selling fashion, and handcrafted jewelry. At monthly First Friday events, art shows and food trucks draw big crowds.
Marketing Prize
The gallery will award 1 artist and 1 photographer 1-year residency in the Jones Cyber Gallery.
50/50 Commission on Sales
Proceeds from sales goes 50/50 in support of the artists and the Kansas City Zoo. Patrons purchasing art during the month long art show will pay the gallery. The gallery will pay the artists by Saturday, November 9th. The gallery will pay the Zoo 50% of each sale.
No commission will be charged by the gallery on any sales for this show.
To increase the likelihood of selling your art, it is highly recommended that selected artists, or their representative, be present during the Thursday Artist Reception and First Friday Art Show.
Art purchased through the gallery may be taken by the patron at the time of payment.
Artists are notified by email of the sale and should have art ready to replace the sold piece at their earliest convenience. Out-of-state artists are not required to replace any sold art.
Local Artwork Delivery and Pick-Up
All art MUST be labeled on the back with artist's name, title, media, price, and best way to be contacted.
NOTE: Art MUST be wired on the back ready to hang.
Delivery Dates & Times:
Friday, September 27th - (11am to 7pm)
Saturday, September 28th - (11am to 5pm)
Pick-Up Dates & Times:
Friday, October 25th - (11am to 7pm)
Saturday, October 26th - (11am to 5pm)

NATIONAL ARTWORK SHIPPING AND RETURN
Shipping Artwork
Artists are responsible for round-trip shipping and insurance (during shipping) of artworks.
All shipments MUST include a prepaid Return Shipping Label from UPS, FED EX, or the US Postal Service.
Artwork must be shipped in strong, reusable cartons or crates with no free-floating Styrofoam or popcorn packing. Packing material must be reusable for return shipping.
All art must be labeled on the back with artist's name, title, media, price, and best way to be contacted.
NOTE: Any artwork not wired and ready for installation WILL NOT be accepted.
Returning Artwork
Unsold artwork will be returned by the Jones Gallery to the artist within two weeks following the closing date of the exhibition in accordance with prepaid labels.
Jones Gallery will not accept postage stamps, credit card numbers, or shipping accounts for return of artwork, nor will Jones Gallery staff take artwork to the post office or anywhere else to be weighed, measured, or pay for shipping.
Jones Gallery is not responsible for return of any artwork if shipping label is not prepaid.
Insurance and Liability
The Jones Gallery will exercise extreme care in handling all artwork, but does not assume any liability for loss or damage while on display in the Jones Gallery or during shipping. It is the artist's responsibility to independently insure their own work.
Artists accepted to the show give the Jones Gallery permission to use their submitted images or photographed images of their work on display in the gallery for promotional purposes.
Artists not delivering their art in the required time frame, without contacting the gallery, will be disqualified from this show with no refund.
Without special arrangements, any work not picked up in 45 days, from last day of show, will be donated to the Kansas City Zoo.
Print this Page
View Legal Agreement