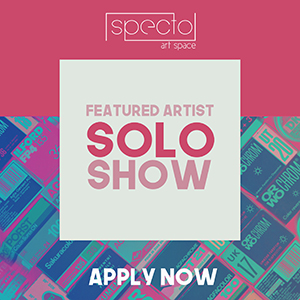 Featured Artist Solo Exhibition - Call for Artists
91 North Main Street, Harrisonburg, VA 22801
Contact Email:
contact@spectoartspace.com
Call Type:
Exhibitions
Eligibility:
International
State:
Virginia
Entry Deadline:
9/15/19
Application ClosedNumber of Applications Allowed:
20
REQUIREMENTS:
Media
Images - Minimum: 8, Maximum: 15
Total Media - Minimum: 8, Maximum: 15
Entry Fee (Featured Artist Solo Exhibition - Call for Artists): $12.00

FEATURED ARTIST | SOLO EXHIBITION
INTERNATIONAL JURIED CALL FOR ART
Rolling DEADLINE | Applications Reviewed 15th of every month
Show Dates | Monthly
Want your chance to break out and get noticed? Want to be represented on the premiere fine art sales platform on the internet? Then look no more. Specto is seeking Featured Artists to have shows in our HYBRID Gallery. A part digital, part in person exhibition experience with unlimited reach.
APPLICATION FEE | $12 - Up to 15 Artworks
ACCEPTED MEDIA |
Photography

Digital art/graphic/design

Painting, drawing/illustration, watercolor

Collage/mixed media

Sculpture

Video art

Printmaking

More!
AWARDS |
A SOLO Exhibition on Artsy.net for 30 days

YOUR work rotating on our 4K UltraHD Samsung Frame TV - all day, everyday in our gallery for 30 days

Feature on our Instagram
Curator | Jeremiah Morris | Jeremiah is the founder, director and curator of Specto Art Space. Found out more here.
The Specto Process
We do things differently. At Specto we print all works we exhibit. Why? We want to turn the juried art exhibition into something more. Using sculptural and thematically powerful means of hanging and displaying works creates an exhibition that impacts viewers in a different way. We believe the HYBRID Gallery is the next logical step to that. In interrogating how audiences interact with art today, to overlook the power and the presence of the internet is a fools errand. We want to revolutionize the gallery process once again, and create a space that is an endless font of talent, ambition, and amazing art. But most importantly, it's accessible!

Specto hopes to soon have monitors rotating through your work BEYOND Specto, we want to put art in everyday places and get your work out there. Every month we will make an effort to work with the chosen artist to try something new and engaging.
Step 1. Application
Our application fee is $12. This includes up to 15 artwork entries.
IF APPLYING ON OUR WEBSITE:
Files must be no larger than 3MB (if accepted you will upload print ready files)

Please try to format your file names as LASTNAME_FIRSTNAME_1.jpg
IF APPLYING ON CaFE:
Follow normal CaFE procedures
Step 2. Jurying
Artists will be notified when applications are under review. 14 - 21 Days after jurying begins artists will be notified of jury results. All artists are notified, whether accepted or not. During the jurying process Specto considers each work on artistic merit alone, putting together the exhibition we feel will be most impactful and engaging.
Step 3. Acceptance
Congratulations! You're accepted! The next steps are as follows:
You receive an email from us with a link for acceptance finalization (failure to finalize acceptance will result in Specto assuming you no longer wish to be involved)

You upload a 300 DPI, print ready version of your artwork:

Specto offers Prints-on-Demand of your works using an Epson SureColor P-800

Maximum 16 inches wide - this means we print your artwork in it's native ratio, with the smallest side being 12-16".

WE NEVER PRINT YOUR WORK WITHOUT YOUR EXPRESS PERMISSION

Artworks are never enlarged

You provide us with all the details we need about the artwork and yourself.

We Create an artsy exhibition and gallery slideshow of YOUR work
Step 4. Promotional Materials
Specto will provide promotional materials in advance of the exhibition, including an instagram and facebook shareable. An artist page will be posted on our site linking to your website as well.
Step 5. Opening Reception
We hold an opening reception for all exhibitions on the First Friday of every month. Here we celebrate with our local community and enjoy some art! 5-8pm
Step 5a. Instagram Takeover!
YOUR work will takeover our instagram during your exhibition. This can either be work that is new in a true takeover fashion, or it can be Specto sharing the work in your exhibition. Whichever you prefer.
Step 6. Artsy Exhibition
The exhibition is listed for sale on our Artsy.net profile for 30 days.
Step 7. Sales
We do sales differently. We offer Print-On-Demand Services for artists who are interested:
Specto offers you prints - a limited edition run of your work - you decide how many, we edition each print

We offer you a selection of paper types

At sale, we provide you with a certificate of authenticity to fill out and return to the buyer, hopefully with a personal message of thanks - we find this process allows you to connect with a buyer who would be nameless otherwise, creating lasting connections and customers
For artists who do not wish to utilize our print on demand services, create one-of-a-kind or physical works:
Specto focuses sales efforts on the sale of the original artwork

At sale, we organize delivery of artwork directly from you to the buyer, ensuring less time in shipping and less risk to the work itself

Since sales are also on Artsy.net, your work could be shipped worldwide - ensuring the work is coming from you allows an additional level of care and security for our buyers
Specto retains a 35% commission on all sales. Payment of sales will be remitted to artists within 14 days of sale.
Step 8. Archive
You remain on the Specto website, forever!
Questions? Check out our FAQS.
Or…
Don't hesitate to contact us!
contact@spectoartspace.com
Print this Page
View Legal Agreement