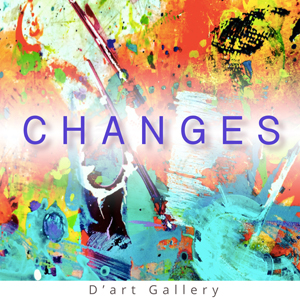 Changes
900 Santa Fe Drive
Contact Email:
dartcalls@gmail.com
Call Type:
Exhibitions
Eligibility:
International
State:
Colorado
Event Dates:
11/14/19 - 12/8/19
Entry Deadline:
10/4/19
Application Closed
REQUIREMENTS:
Media
Images - Minimum: 1, Maximum: 3
Total Media - Minimum: 1, Maximum: 3
Entry Fee (Changes): $35.00

Changes
In a nod to growing, to reinventing, to defying your critics and to stepping out on your own, we present Changes, a juried show featuring visual works about the many changes in our lives, environment, and thought processes.
This International Show will feature artwork in the categories of painting, drawing, mixed media, sculpture, fiber, and photography. Themes can include your personal changes such as: seasonal, climate, social or economic, relationship, historic, or others.
JUROR INFORMATION
Michael McClung is the co-owner and Director of Michael Warren Contemporary Art, Denver, CO, along with his partner, Warren. The gallery "showcases contemporary artwork that speaks to us personally. We present colorful abstract and figurative work alongside contemplative sculpture, installations, works on paper and photography with particular emphasis on materials and process."
He has worked in both business and in the creative industries for the past 30 years. The gallery was opened in the heart of Denver's Art District on Sante Fe in 2014, and in 5 years has mountd 80 exhibits and welcomed more than 76,000 visitors to the gallery.
BEST OF SHOW
Cash prize of $100 will be presented to one artist and announced on the opening date of the show, as selected by the Juror.
DEADLINE
The deadline to enter for consideration in this show is midnight (MST) on October 4, 2019. No late applications will be considered.
NOTIFICATION
Results of the judging will be emailed by October 14, 2019.
EXHIBITION DATES
Accepted work will be exhibited at D'art Gallery in Denver, CO from November 14 – December 8, 2019.
FEES
$35 flat fee for up to three art pieces/images. Entry fees may be paid by credit card only through callforentry.org. Fees are non-refundable and do not guarantee acceptance in the exhibition.
ELIGIBILITY
The exhibition is open to all artists 18 years and older. All work must be original in concept and not copied from another artist's work.
No installations or artwork that requires special technical installation or intensive assembly will be accepted. No performance-based work. Maximum size of 5 feet in any direction for both 2D and 3D works.
Only entries submitted online through Callforentry.org will be considered. Do not contact gallery to submit images or information for your application, unless more information has been requested. Entries are limited to a maximum of three works.
All notifications will be sent by email through Callforentry.org. These emails occasionally end up in one's spam/junk box. Please add the Callforentry.org email address to your address book.
ACCEPTED WORK
Accepted artists will receive instructions for shipping and hand delivery. Shipping and return shipping costs and insurance are the responsibility of the artist. For shipped work, reusable shipping containers only. D'art Gallery encourages artists to insure their artwork when shipping, and we strongly encourage using Plexiglass for shipped work. Shipped work accepted up until November 8, 2019. Shipping address will be sent to accepted artists.
No packing peanuts allowed. Any shipped artwork found with packing peanuts will not be unpacked, displayed, or eligible for an award. All shipped artwork must include a pre-paid return-shipping label. Work will be held until a pre-paid label is provided.
Artists may hand-deliver accepted artwork at D'art Gallery on November 9, 10, 2019, during business hours, or by special arrangement with a member of D'art Gallery with more than one week notice.
All accepted artwork is due by Sunday, November 10, 2019 at 3:45 p.m, and will not be included in the exhibition if late.
SPECIFICATIONS
All works accepted for the exhibition must be original, completed, and ready to hang. Substitutions of accepted works will not be allowed and all delivered work must match the image juried.
Frames, mats, and wiring must be professional quality and in good condition. Wiring must be in good condition and substantial enough for the weight of the artwork. No sawtooth hangers. All paintings must be framed or gallery wrapped with fully painted edges. Two-dimensional works on paper must be framed. No audio-video artworks accepted.
Accepted artwork may not be removed from D'art Gallery prior to the close of the exhibition.
SALES
Any artwork sold to the public will incur a 25% commission. Prices quoted on the entry form may not be changed after acceptance. Buyer will be charged sales tax for Denver area.
No purchased work may be removed from D'art Gallery before the close of the exhibition, unless arrangements are made in advance and permission granted by D'art Gallery.
Artwork that is "Not for Sale" - Please add NFS to the description box of the artwork in question.
Artwork listed as "Purchase upon Request" will not be accommodated and will be listed as "Not for Sale."
Artists will be notified by email of any sales, and will receive payment for any sold works within one month of the close of the exhibition.
PICK UP
Due to D'art Gallery's extremely limited storage space, artwork left more than 30 days after close of the exhibit will be considered abandoned and deemed the property of D'art Gallery unless arrangements have been made in writing and agreed upon by both parties. Pick-up is on December 8 after 3:45 PM, unless other arrangements are made with the gallery. Shipped work will be packaged and shipped to artists on Monday, December 9, 2019
ENTRY PROCEDURE - ONLINE ONLY
All submissions will be through Callforentry.org (www.callforentry.org). Entries and credit card payment must be submitted on or before the posted deadline, with no entries accepted after this date.
Upload requirements for image files:
File format: JPEG only

File dimensions: No smaller than 1920 pixels on the longest side

File resolution: 72 ppi/dpi (standard web resolution)

File size: 5 MB maximum

Image must be correctly oriented (vertical or horizontal)

No digital enhancement is allowed

Maximum of 3 photos per entry
Further information on the image requirements for submission and resources for editing the digital image size can be found on Callforentry.org's Help section.
Print this Page
View Legal Agreement