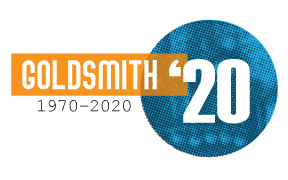 Goldsmith '20
PO Box 1355
Eugene, OR 97440
Contact Email:
eshypertt@snagmetalsmith.org
Call Type:
Exhibitions
Eligibility:
International
State:
Oregon
Entry Deadline:
9/17/19
Application Closed
REQUIREMENTS:
Media
Images - Minimum: 1, Maximum: 3
Total Media - Minimum: 1, Maximum: 3
Entry Fee (Entry Fee): $35.00

When: SNAG Conference, 2020 in Philadelphia
Venue to be announced
Call Opens: July 15, 2019
Entry Deadline: September 16, 2019, 11:59 pm MT
REQUIREMENTS:
Images – Minimum:1, Maximum: 3 (The third image should be of your inspired piece)
Entry Fee - $35.00 SNAG Members Only
QUALIFICATIONS: Goldsmith '20
This is an open call to all current members of SNAG. You must be a current member of SNAG to enter and if your piece is accepted your membership must remain current through the end of the exhibition.
As a continuation of SNAG's 50th Anniversary Celebrations, an exhibition is planned that will both pay homage to our past and look ahead to our future. The first SNAG exhibition, Goldsmith '70, was held in 1970 and was curated by Stanley Lechtzin and John Prip. It took place at the Minnesota Museum of Art in Minneapolis. This exhibition highlighted the proficiency of an art form (jewelry and metal vessels) that more or less began after World War II and was, at that time, found to be maturing to the point of being ready for a museum exhibition.
To quote Stanley Lechtzin from his curator's statement:
"The high level of technical competence displayed by most of the entered work was pleasantly surprising and encouraging. As recently as five years ago, this degree of skill was not common in American metalsmithing. This can be directly attributed, I feel, to the numerous excellent metalsmithing and jewelry programs presently being offered in the universities and colleges. The young craftsman today is being exposed to tools and techniques which were not available to his predecessors. It is apparent that a tradition of excellence is developing."
Goldsmith '20
will be a nod in the direction of our forefathers, with a modern twist.
This last sentence is exactly what we have in mind for this current exhibition. We want you to find an artist in the original exhibition and use one of their pieces – either a piece from the catalogue or another piece of theirs – to influence your own creation. Or, if you have already created a piece influenced by one of these artists, you may submit that piece. Entries may be an image of the finished piece or a drawing of the piece you plan to make.
We do not want copies but instead, your take on their work!
Unfortunately, the catalog does not have images of every piece in the exhibition, but there is a list of all the artists and all the pieces. With a bit of sleuthing on your part, you may find the perfect piece to be your inspiration. You can find a link to the pdf of the catalog here. And you can find each object from the exhibition here at American Craft Council's digital archives.
Please also be aware that even though the titles of both of the exhibitions include the word
Goldsmith
, the first had very little gold and we hope you will use your imagination and skills to make pieces out of any materials you choose.
To quote John Prip from his curator's statement written in 1970:
"...we must be aware of the large number of young people currently choosing metalsmithing as their life work. We are just beginning to hear from them."
He was talking about YOU!
PROCESS + TIMELINE:
Call for Entry Opens: Call Announcement: July 15, 2019

Call for Entry Closes: Final Submission Deadline: September 16, 2019

May 2020 – to run during the SNAG conference. Exact dates to be announced

Notification Letter: October 31, 2019

Gallery Exhibition: May 2020 – exact dates TBA

Opening Reception: During the Philadelphia SNAG conference – exact date TBA
​SUBMISSIONS AND FEES:
Entries may be an image of the finished piece or a drawing of the piece you plan to make. You will be asked to indicate the artist and piece you are inspired by, as well as any other information you feel necessary for the jurors to make an informed decision about your submission.

Only original works or drawings of original works may be submitted. The fee is $35.00 for up to two (2) images. You may submit up to two (2) different works/drawings, but only one (1) work will be selected per artist. The third image you submit should be of the actual piece you were inspired by.

All entries must be registered/received by September 16, 2019 11:59 PM MT.

Entry fees are non-refundable.
PRESENTATION:
Maximum Size: 8"x8"x8"
Maximum Weight: 15 lbs.
SHIPPING:
Artists will be responsible for delivery of all their artwork. The artist assumes all responsibility for insuring artwork against shipping damage or loss.
SNAG or host institution will be responsible for return shipping and insurance to the artist of any pieces not sold during the exhibition.
SNAG or host institution will also be responsible for the delivery of any sold work to the purchaser.
SALES/COMMISSIONS:
All artwork must be priced for sale.
Artwork cannot be withdrawn, nor sales shipped, before the end of the exhibit.
The artist will retain 50% of any piece sold. The price represented on the artist entry form will be the sale price.
CONTACT/QUESTIONS:
Please direct all questions to Elizabeth Shypertt at eshypertt@snagmetalsmith.org
ENTRY AGREEMENT:
With the submission of artwork into the Goldsmith '20 exhibition, the artist agrees to all the terms and conditions set forth in this prospectus.
ABOUT THE JURORS:
Dominique Bereiter has been serving as a SNAG board member since 2015. She was trained as a neuroscientist and worked in this field for 25 years (in Switzerland and the US). While working in science, she took numerous classes at the Rhode Island School of Design and other art centers. In 2006 she changed her focus from medical research to art, set up a studio and immersed herself in designing and making jewelry. In 2014 she was the juror for Jewelry in the Uptown Art Fair in Minneapolis. Since 2016 she has been on the Studio Program Advisory Committee at Stout University. She is also a collector and supporter of the arts.
Eleanor Moty is Professor Emerita, University of Wisconsin, Madison, where she taught jewelry and metalsmithing from 1972 to 2001. She has been a member of SNAG since 1970, was one of nine presenters at the first SNAG conference in St. Paul, MN and exhibited work in the Goldsmith 70 juried exhibition.
For more than five decades her work has been exhibited in museums and galleries and is included in private and museum collections. Among them are: Boston Museum of Fine Arts, Boston, MA; the Hermitage State Museum, St. Petersburg, Russia; Houston Museum of Fine Arts, Helen Williams Drutt Collection, Houston, TX; Pinakothek der Modern, Munich, Germany; Philadelphia Art Museum, Philadelphia, PA; Renwick Gallery of the Smithsonian American Art Museum, Washington, DC
Elizabeth Shypertt is a SNAG board member and co-founder of Velvet da Vinci art jewelry gallery in San Francisco. Over the 23 years of running the gallery, Elizabeth organized more than 80 exhibitions including one-person and group shows. Since leaving the gallery, Elizabeth has curated jewelry shows for the Petaluma Arts Center, the Center for Enamel Arts, Shibumi Gallery in Berkeley, and most recently, an exhibition of SNAG Lifetime Achievement Award Winner, Tex Gieling, for the Museum of Craft and Design in San Francisco.
Print this Page
View Legal Agreement