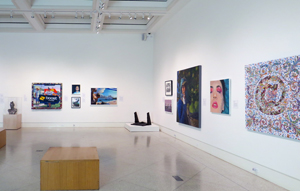 53rd Founders Juried Awards Exhibition
585 Park Street, Naples, FL 34102
Contact Email:
jack.obrien@naplesart.org
Call Type:
Exhibitions
Eligibility:
National
State:
Florida
Entry Deadline:
10/7/19
Application Closed
REQUIREMENTS:
Media
Images - Minimum: 1, Maximum: 2
Total Media - Minimum: 1, Maximum: 2
Entry Fee (53rd Founders Juried Awards Exhibition): $29.00

The 53rd Founders Juried Awards Exhibition

• Artwork will be exhibited in a brick-and-mortar gallery
• On view in the Naples Art Association at 585 Park Street, Naples, Florida
• Exhibit Dates: December 6, 2019 - January 9, 2020
• Open to artwork created after Jan. 1, 2015 by artists residing in the USA
• Nine cash awards totaling $3,500
• Three exhibition jurors will view and score all entries
• Enter online with CaFÉ at www.callforentry.org
• Maximum of two entries per artist
• Exhibited in all Naples Art Association galleries on the Ground Floor & Second Level
• Non-refundable Entry Fee of $29. Payable online with a credit card
• Entry Deadline: October 7, 2019

The 53rd Founders Juried Awards Exhibition is an art exhibition open to 2-dimensional and 3-dimensional artwork by artists residing in the United States. Founders exhibitions are a long-held tradition honoring the artists who came together in 1954 to create the Naples Art Association, the first non-profit visual arts organization in Collier County, Florida. Founders exhibitions serve as a platform for local artists to share the spotlight with their peers at the national level. For artists from outside Florida, Founders exhibitions provide the opportunity to demonstrate success, compete for cash prizes totaling $3,500 and exhibit their art in Naples, Florida.

The 53rd Founders Juried Awards Exhibition will be installed in the Naples Art Association's ground floor galleries from December 6, 2019 through January 9, 2020. The Naples Art Association is located at 585 Park Street in Naples, Florida in the heart of the 5th Avenue South shopping, dining and entertainment district. The exhibition is open to 2-dimensional and 3-dimensional artwork in any style or medium.

Awards
$3,500 in cash awards will be presented to artists during a reception the evening Thursday, December 5, 2019. Artists are encouraged to attend the preview reception, but attendance is not a requirement. Award checks will be mailed to winning artists who are unable to accept their awards in person.

List of Awards
$1,000 Best of Show
$800 First Place
$600 Second Place
$400 Juror's Choice Award
$200 Award of Merit (2 awards)
$100 Honorable Mention (3 awards)

Three Jurors will View and Score all Entries

John Loscuito, Art Gallery Director
John Loscuito is the Florida Gulf Coast University Art Gallery Director, overseeing both the Wasmer Art Gallery in the Arts Complex and the ArtLab in the Library. He also teaches Professional Practices, preparing students for a career after graduation. Loscuito earned a Master of Fine Arts degree in Painting and Drawing from the University of Wisconsin-Milwaukee and a Master of Business Administration from Marquette University in Milwaukee. During his six years at FGCU he has curated over eighteen exhibitions featuring nationally recognized artists that explore a broad range of themes and materials.

Prior to coming to FGCU he taught a variety of studio courses at the University of Wisconsin-Milwaukee and the Milwaukee Institute of Art and Design. He was the Registrar at the Haggerty Museum of Art for seven years as well as an independent curator and producer of art events. He currently serves as an Executive Committee Member on the United Arts Council of Collier County's Board of Directors.

R.W. Lovejoy, Professor
R. W. Lovejoy is a professor at American University where he teaches courses on graphic design history. He has an Master of Arts degree in art history from the University of South Florida and a PhD in History from the University of Manchester, Manchester, UK. He is a founding member of the History of Illustration project and a contributing author to the first textbook on the History of Illustration (2018) for which he wrote chapters on European eighteenth- and nineteenth-century print culture, the prints of José Guadalupe Posada, pulp magazine illustration, the art of alternative periodicals and newspapers, rock posters and underground comix. Dr. Lovejoy has also taught the history of illustration, sequential art, and the history of political art and persuasive imagery for Ringling College of Art and Design in Sarasota, Florida.

Erin Palmer Szavuly, Associate Professor and Chair of the Art Department
Erin Palmer Szavuly is Associate Professor and Chairperson of the Art Department at Lourdes University in Sylvania, Ohio. She studied at Bowling Green State University and received a Master of Fine Arts degree in Drawing and a Bachelor of Fine Arts degree in Painting and Drawing. She has been on the faculty at Lourdes University since 1990. In addition to teaching painting and drawing, she coordinates the annual Sr. Jane Mary Sorosiak Lecture Series, involving presentations on topics in the arts. "The Sights and Sounds of Judaism" with composer Dr. Samuel Adler and art historian Ruthy Behare Light was the 2019 series topic. Past presentations have included "Censorship in the Arts" with Dr. Brian Kennedy, "Cover Stories" with Thomas Allen, "Digital Photography in the Commercial Market" with Eric Eggly, "Painter and Muralist: Hubert Massey" and "Portrait of an Artist" with Leslie Adams, and "Celebration of Food, Ceramic Objects and Thoughtful Dialog" with Jeni Hansen Gard.

Erin Palmer Szavuly is on the community boards of the Toledo Area Cultural Leaders and The Toledo Federation of Art Societies (past President). She is a past President of the Medici Circle Advisory Council at Bowling Green State University and is a member of the Athena Art Society, the Toledo areas oldest women's invitational art organization. She curates exhibitions at the Canticle Center Gallery at Lourdes University and has more than 15 year's gallery experience working with the former Spectrum Gallery at Toledo Botanical Gardens and the Lourdes Gallery Loft.

Enter Online with CaFÉ
Use CaFÉ to enter the 53rd Founders Juried Awards Exhibition. Accounts are free, easy to set up and do not expire. After setting up an account, artists may enter national competitions hosted by the Naples Art Association (Founders Juried Awards exhibitions, National Art Encounter exhibitions and the annual Camera USA® photography competition) as well as competitions hosted by other organizations around the country and the world.

To get started follow this link How to Apply or go to www.callforentry.org. Click on the "Help" tab and then on the "How to Apply" tab.

Eligibility
Artists residing in any of the fifty States in the United States of America are eligible to enter one or two artworks created after January 1, 2015 and not exhibited in the Naples Art Association's galleries within the past 12 months. Artwork must be original. Prints reproduced from original works of art are not eligible. Accepted artwork must remain on display for the entire duration of the exhibition.

Size Limitations and Presentation
There are two entry categories: 2-dimensional artwork and 3-dimensional artwork.

2-dimensional artwork: maximum width 96 inches and height 96 inches (including frame if artwork is framed). Artwork must be ready for display. Framed works must be sturdy. Glass may be used only if frame is smaller than 24 x 24 inches. For safety reasons, larger frames requiring a glazing must have Plexiglas.

3-dimensional artwork: maximum dimensions 48 x 48 x 48 inches with a maximum weight of 100 pounds. Artwork weighing more than 50 pounds must fit on a 20 x 30 inch platform cart for moving within the gallery and installation. Ceiling suspended artwork cannot exceed a weight of 5 pounds. Pedestals will be provided for the exhibition. However, artists with specific pedestal requirements (size, height, color, type) should provide their own pedestal(s).

Non-Refundable Entry Fee
A $29 non-refundable entry fee is required to enter one or two artworks in the 2-dimensional and/or 3-dimensional artwork categories. The non-refundable entry fee is payable online by credit card when applying.

Jury Process Results Notification
Notifications will be posted to your CaFÉ account by October 30, 2019. To view the status of your entry, log into your CaFÉ account and click on "My Applications." Shortly before results are posted an email notification will be sent to the email address listed in your CaFÉ account. For artists with artwork accepted for the exhibition, instructions and addresses will be sent via email for hand delivering or shipping artwork.

Artist's Statement (Do Not Include Your Name)
An artist's statement of not more than 2,000 characters is required with your entry. Statements provide information and your insight for the jurors. If your artwork is accepted for the exhibition, the artist's statement you submit with your entry will be printed and mounted in the gallery next to your artwork. Artist's statements cannot be changed after entering. If one or both of your entries are accepted for the exhibition, visitors to the galleries will read the identical statement the jurors read when viewing and scoring your entry. Your statement cannot be changed or edited at any time after the October 7, 2019 entry deadline.

The purpose of an artist's statement is to help others understand the aspects of your work you think are the most important. A well written artist's statement can put readers "in your shoes" by revealing your goals and aspirations as an artist. When you talk to others about your artwork, you probably address one or more important aspects behind your work. Writing an artist's statement can be merely the process of clearly stating the thoughts you express during a critique, a conversation in your studio and even during a social gathering when someone learns you are an artist and asks, "What do you do?" Providing an artist's statement allows you to share your ideas and opinions even when you are not present.

To avoid being disqualified from the jury process, do not include your name in your artist's statement. The jury process is "blind" which means the jurors will not see your name when they view your entries. Also refrain from including your website URL or any personally identifying information in your artist's statement or in any of the descriptive fields of your entry.

Artwork Delivery
Artwork accepted for the 53rd Founders Juried Awards Exhibition may be hand delivered to the Naples Art Association or shipped to ARTMove LLC in Naples. Accepted artwork must remain on display for the entire duration of the exhibition and the earliest date it may be removed from the Naples Art Association is January 10, 2020 at 10 am.

Hand Delivery: Deliver accepted artwork on Wednesday, November 27, 2019 or Sunday, December 1, 2019 from 12 noon - 2 pm. Delivery prior to November 27th is available by appointment and during regular gallery hours. The Naples Art Association is located at 585 Park Street, Naples, FL 34102. Gallery hours are Monday through Saturday from 10 am to 4 pm.

Shipping Your Accepted Artwork: Accepted artwork may be shipped to ARTMove, LCC in Naples, Florida to arrive by no later than November 21, 2019. The ARTMove, LLC shipping address and contact information will be provided in the jury process notification email sent to all applicants with artwork accepted for the exhibition. Exhibitors are responsible for the cost of transporting their artwork to and from Naples, Florida. Shipped artwork must include a FedEx or UPS prepaid return shipping label or an Airbill or Groundbill with UPS or FedEx shipping account number. Return shipping to PO Boxes is not permitted. ARTMove, LLC will receive and return all shipped artwork. Consider opening an account with UPS or FedEx. There are no costs for opening and maintaining an account and they include automatic shipping discounts. Contact UPS or FedEx to open your shipping account.

Use care when packing your artwork. Cushion artwork on all sides with at least 4 inches of packing material and pack in a sturdy shipping carton. Popcorn (loose foam) is not an acceptable packing material as it will allow your artwork to shift during transit. Airfloat Systems sells excellent cushioned-shipping "Strongbox" containers that are sturdy and reusable. Enter code NAA when ordering online to receive a 20% discount on all orders. FedEx Office locations sell boxes specifically designed for shipping framed artwork. Please note: The Naples Art Association and ARTmove, LLC are not responsible for artwork damaged during shipment. The Naples Art Association reserves the right to disqualify damaged artwork from the exhibition.

Reception and Awards Presentation
On Thursday, December 5, 2019 from 5:30 - 7:30 pm the Naples Art Association will host a Reception and Awards Presentation for the 53rd Founders Juried Awards Exhibition at 585 Park Street in Naples. The awards presentation will begin at approximately 6:30 pm.

Gallery Hours
The 53rd Founders Juried Awards Exhibition will be on view from December 6, 2019 through January 9, 2020. Gallery hours are Monday, Tuesday, Wednesday, Friday and Saturday 10 am to 5 pm, Thursday 10 am to 8 pm and Sunday 12 noon to 4 pm. Admission is free.

Sales
Artwork exhibited in the 53rd Founders Juried Awards Exhibition may be available for purchase or listed as NFS (not for sale). The Naples Art Association processes sales and will retain a 30% commission on all artwork sold during the exhibition. Proceeds from the sale of artwork support the Naples Art Association's exhibition programs. Artists' proceed checks will be mailed. Artists should receive their checks within three weeks from the close of the exhibition. Once stated, the price of artwork may not be changed. Consider all of your expenses before establishing the price of your artwork. Your expenses may include framing, shipping costs, the entry fee and a 30% sales commission.

Artwork Pick-up or Shipped Artwork Return
Artwork will be available for pickup Friday, January 10, 2020 from 10 am to 2 pm and on Friday, January 11 from 12 noon to 2 pm. Artwork should be picked-up during scheduled pickup dates. Shipped artwork will be return shipped by ARTMove, LLC during the week of January 19, 2020.

Waiver
Due care will be taken with all artwork. However, the Naples Art Association and ARTMove, LLC will not be held responsible for loss or damage to exhibited and/or shipped artwork. Artists may wish to acquire insurance to cover loss and/or damage.

Calendar
October 7, 2019 - Entry Deadline
October 30, 2019 - Notification Date (e-mail sent and notification posted to your CaFE account)
November 21, 2019 - Shipped Artwork Deadline (ship to ARTMove, LLC)
November 27, 2019; 10 am to 2 pm - Artwork Receiving
December 1, 2019; 12 noon to 2 pm - Artwork Receiving
(For an earlier delivery date: Make an appointment to hand deliver your accepted artwork during regular gallery hours.)
December 5, 2019; 5:30 to 7:30 pm - Reception and Awards Presentation
December 6, 2019 - January 9, 2020, Exhibition Open (Gallery hours are Monday, Tuesday, Wednesday, Friday and Saturday 10 am to 5 pm, Thursday 10 am to 8 pm and Sunday 12 noon to 4 pm. Admission is free.)
January 7, 2020; 10 am, ART Focus - Presentation with Juror, John Loscuito at the Naples Art Association
January 10, 2020; 10 am - 2 pm - Artwork Pick-up
January 11, 2020; 12 noon - 2 pm - Artwork Pick-up
Week of January 19, 2020 - Artwork return shipped from ARTMove, LLC


Contact Person: Jack O'Brien, (239) 262-6517 ext. 106, jack.obrien@naplesart.org
Print this Page
View Legal Agreement