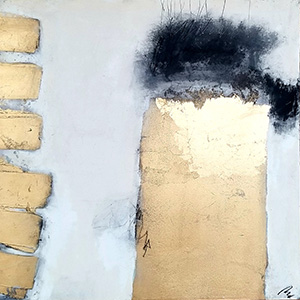 In Gold We Trust
Art on 30th
4434 30th Street
San Diego, CA 92116
Contact Email:
arton30th@gmail.com
Call Type:
Competitions
Eligibility:
National
State:
California
Event Dates:
10/19/19 - 11/15/19
Entry Deadline:
9/22/19
Application Closed
REQUIREMENTS:
Media
Images - Minimum: 1, Maximum: 6
Total Media - Minimum: 1, Maximum: 6
Entry Fee (In Gold We Trust): $35.00

Media Fee (per sample over minimum):$5.00

Long Description
Ashton Gallery @ Art on 30th, a contemporary art center and gallery in San Diego, California, would like to invite regional and national artists to submit original works of art for our 2019 "In Gold We Trust" exhibition. Do you have the "Midas touch" with gold in your artwork? Let's see what you have been creating. All that glitters is not gold... any of the metallic paints are eligible as well as golden colors (mustard, yellow oxide, yellow ochre, etc) in any piece of artwork makes it eligible. The color does not have to be dominant as long as it is prominent. $1,000 awarded in prizes.
Selected works will be published in the Ashton Gallery Full Color Exhibition Catalog. Accepted artists will have the opportunity to proof their page before it goes to print. Catalogs will be available for viewing on opening night and available for ordering through print on demand. A link will be provided closer to time.
Three awards and two honorable mentions will be given by the juror:
Best in Show (featured on the cover of the catalog)
First Place (will receive a double page spread in the catalog)
Juror's Choice (will receive a double page spread in the catalog)
Honorable Mention (will receive a double page spread in the catalog)
We will also be awarding $1,000 in cash prizes!
Juror: Leonardo Bravo, Director at Palm Springs Art Museum

About the Juror:
Leonardo Bravo is an artist, educator, and curator. He is the founder and organizer of Big City Forum, an interdisciplinary, social practice and curatorial research project that brings attention to emergent practices across design, architecture, and the arts. It provides an ongoing exploration of the intersections between these creative disciplines and new ways of knowledge making within the context of public space and social change. Over the last three years he has been the Director of Education and Public Programs with the Palm Springs Art Museum where he oversees partnership development and program implementation with school districts in the Coachella Valley and the development of new social engagement projects with contemporary artists. Leonardo Bravo received his MFA from the University of Southern California and his BFA from Otis College of Art & Design.

Categories / Mediums Accepted: Acrylic, oils, watercolor, drawing, photography, assemblage, collage, encaustic, mixed media, fiber art, and 3D art that fits on an 18" x 18" pedestal. This exhibit does not accept jewelry, video, film, performance art, or installations.

Submissions must be the artist's original work.

D-ring hardware of any size is required for installation (can order on Amazon; no eyelets or hooks)

All entries must be for sale. Ashton Gallery retains 50% commission for sale of artwork. All sales are handled by Ashton Gallery. All artwork must remain in show until closing.
Exhibition Dates:
October 19, 2019 - November 15, 2019
Opening Reception:
October 19, 2019 from 6pm - 8pm
Deadline for Submission:
September 22, 2019
Complete entry information, including images of artwork, must be submitted online with CaFÉ TM before 11:59 PM PST to be considered by juror. (That's 1:59 AM EST and 11:59 PM MST)
Entry Fees
Payment of $35 is for the first entry and $5 for each additonal images. (1 work = $35, 2 works = $40, 3 works = $45, 4 works = $50, 5 works = $55, and 6 works = $60)
CaFÉ TM Submission Process
All submissions for this show are handled through CaFÉ TM (callforentry.org). Artists are required to sign up and create a profile on CaFÉ TM. There is no charge for using this service. CaFÉ TM provides 960 MB for the artist profile. Artists will upload images and information directly to their profile and reference when filling out the official call for submission.
Notification
Notification of the juror's selection will be made by email by September 30, 2019. All artists who have artwork accepted to the show will be notified by email from Ashton Gallery @ Art on 30th.
Identification of Artwork:
All artwork must be identified on the back with the following information clearly printed (proof thoroughly as we copy and paste this information for accepted art in the catalog):
Artist Name
Title of Artwork
Media (main category, not a list of materials - i.e. drawing, photography, acrylic, etc.)
Dimensions (height x width x depth)
Price (all art is for sale)
Important Dates (Summary)
* 9/22/2019 Deadline for entry
* 9/30/2019 Notification of acceptance
* 10/7/2019 Must be postmarked for shipping by this date
* 9/30/2019 to 10/11/2019 Hand-delivered work accepted during business hours
* 10/19/2019 Opening reception from 6pm - 8pm
* 11/15/2019 Exhibition ends
* 11/15/2019 Hand-pick up during regular business hours begins
* 11/18/2019 Unsold artwork shipping begins
Visit Ashton Gallery @ Art on 30th
* arton30th.com
* Facebook: facebook.com/arton30th
* Instagram: @arton30th
Print this Page
View Legal Agreement