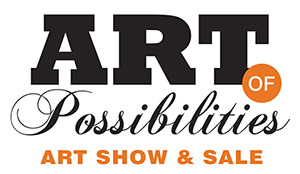 2020 Art of Possibilities ART SHOW & SALE
3915 Golden Valley Road
Minneapolis, MN 55422
Contact Email:
artsearch@allina.com
Call Type:
Competitions
Eligibility:
International
State:
Minnesota
Entry Deadline:
2/10/20
Application Closed
REQUIREMENTS:
Media
Images - Minimum: 1, Maximum: 2
Total Media - Minimum: 1, Maximum: 2
CALL FOR ENTRIES
Courage Kenny Rehabilitation Institute invites artists with disabilities to submit artwork to participate in the 56th Art of Possibilities Art Show & Sale.

First created as a way to provide a forum for the creative talents of people with disabilities, the art show now offers a unique opportunity for artists to showcase and sell their art as well as a way to promote all of the community based programs of Courage Kenny Rehabilitation Institute.

Courage Kenny Rehabilitation Institute provides a continuum of rehabilitation services for people with short and long-term conditions, injuries and disabilities. For more information on our programs and services, visit www.allinahealth.org/couragekenny
ELIGIBILITY
All artists with a disability causing physical or mental impairment which substantially limits one or more major daily life activities are eligible. Examples of major life activities include walking, seeing, hearing, breathing, personal care, learning or working.
ART SPECIFICATIONS
Art must be the original work of the artist and created within the past three years.
Artist must have a disability at the time of art creation.
Artist name must be the participating artist. If someone is entering on behalf of an artist, the artist must remain the main contact name. Do not use organizations or representatives as the artist contact.


Previous entries are not accepted.

Artwork must not exceed 36 inches in any one direction.

All artwork, including sculpture, must not exceed 20 pounds.
Anatomical/grahic nude art will not accepted.
Sculpture must not be larger than 10 inches deep and 30" tall.

No unfired clay sculptures or crafts will be accepted.

Art must be for sale at a fair market price.

Price works to sell.

Consider quality, technique and experience of you and your art.

Any entry priced over $2,000 will not be accepted.

The price of art is determined by the artist. Art price may not be changed after the online application is submitted.

Art must have an identification label attached to the back or to the base. It must include artist's full name, title, medium and price (the price entered in the online application will be the set price of the art).

Artwork must be finished for hanging (framed or canvas wrapped) with an attached wire hanging that is at minimum 6 inches wide for the hanger. We cannot hang unwired frames. Frames with saw-tooth, unwired D-rings or flimsy hooks will not be hung.

Plexiglas is also recommended for framing and especially for shipping. Courage Kenny Rehabilitation Institute is not responsible for glass breakage either in transit or while in our possession.
Coruage Kenny Rehabilitation Institute reserves the right to accept or refuse artwork for any reason in order to create a balanced art show collection.
ART CATEGORIES
Graphic – printmaking, charcoal, ink, computer design, pastels, colored pencil
Mixed Media
Oils and Acrylics
Photography – color and black and white
Sculpture – relief, ceramics, woodcarving, metal, jewelry, clay and stone
Watercolor - watercolor, alcohol inks
ENTRY REQUIREMENTS
Submissions are limited to two entries per artist.
An artist biography must be submitted with art entry. All artists will have a 500 word or less artist biography displayed near their art. Biographies should include information about the artist's interest and experience with art, techniques, their philosophy and personal connection to art. We strongly encourage artists to include the artist's disability and any special adaptations used to create art as this reflects the mission of the show. Please proof your aritst biography, as this is what will hang next to your art. This is a great way to connect with viewers. Well written biographies with a personal connection help sell the art!

Artwork entered into the show must be the same artwork submitted in the online review. Substitutions will not be accepted.

CKRI requests artists to cover shipping expenses. Pre-paid UPS or FedEx return labels may submitted with original artwork or artists may send postage at the conclusion of the show. Art will not be denied based on inability to cover shipping costs.

2-PHASE JURY PROCESS
PHASE 1: Phase 1 is the review of digital images (JPEG) to select the original framed art to be submitted for the art show. All artists will be notified after the Phase 1 review. Each entrant is required to submit one digital image of each piece of art. Images should be in JPEG format. Please take care in photographing your work to ensure a quality image.

PHASE 2: Phase 2 is the in-person jury of the original framed art accepted in Phase 1. Art reviewed in Phase 2 must be the same art submitted in the online review. Substitutions are not permitted. Artwork selected for Phase 2 may either be shipped (must include a paid return label) or hand-delivered to Courage Kenny Rehabilitation Institute (3915 Golden Valley Road Golden Valley MN 55422). All art must be received on or before March 20, 2020.

ARTIST BIOGRAPHY
All artists will have an artist biography of approximately 500 words or less displayed near their art. Biographies may include information about the artist's background, interest and experience with art, techniques, their philosophy and personal connection to art. We encourage artists to include the artist's disability and any special methods used to create their art. CKRI retains the right to edit biographies for any reason including marketing purposes. A well written biography helps sell the art!

ART SHIPPING AND DELIVERY
Shipped artwork must be packed in a quality reusable shipping container. Do not use: Styrofoam, peanuts, popcorn or coins as packing filler. Hand-delivered artwork may be submitted between March 16 to March 20 (9 AM - 4 PM). Art Show staff will only be available during these times. If you are not able to deliver your art during these times, please call to make special arrangements.


LIABILITY
Artists assume all risk for loss or damage of artwork submitted. Courage Kenny Rehabilitation Institute will do its best to secure the art and have trained staff handle the artwork. The value of any one piece of artwork must not exceed $2,000.

AWARDS
All artists will receive recognition through the promotion of Art of Possibilities. A $500 cash award will be awarded to one artist whose work is chosen as "Best of Show". First, second, third and honorable mention ribbons are awarded in all categories. Winners receive $250, $175, $125 and $100 respectively. A number of cash awards are also given to selected artists by donors as Encouragement Awards.

ART SALES
All artwork submitted must be for sale at a fair market price. Courage Kenny Rehabilitation Institute will retain 25% of the selling price. Please price work to sell, and consider quality, technique and experience of you and your art. Currency exchange rates will be based on rate, on the day of sale. Sold artwork must remain on display for the entire duration of the show. Payments for sold artwork will be issued in July, 2020.


RETURN OF UNSOLD ARTWORK
Unsold shipped artwork will be returned in the original packaging materials. Courage Kenny requests artists to submit a pre-addressed paid postage along with the artwork or at the end of the show.
Unsold hand-delivered artwork must be picked up on May 20 to May 22 between 9 AM to 4 PM. Unless other arrangements are made, artwork not picked up by June 15th will serve as a confirmation the artist is donating the artwork to the permanent collection of Courage Kenny Rehabilitation Institute for display, sell or auction.

IMPORTANT DATES

January 31, 2020: Online Entry Deadline
February 14, 2020: Notification of acceptance
March 16 – 20, 2020: Artwork delivery dates
March 20, 2020: Deadline for Receipt of Work
April 23, 2020: Opening Night 5:30 PM – 7 PM
April 24 – May 21, 2020: Show Dates
May 27-29, 2020: Pick up of unsold hand-delivered art
Print this Page
View Legal Agreement