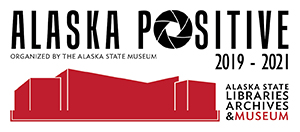 Alaska Positive
Contact Email:
jackie.manning@alaska.gov
Call Type:
Photography
Eligibility:
Regional
State:
Alaska
Entry Deadline:
10/13/19
Application Closed
REQUIREMENTS:
Media
Images - Minimum: 1, Maximum: 4
Total Media - Minimum: 1, Maximum: 4
Entry Fee (Alaska Positive): $25.00

Alaska Positive is the statewide juried photographic exhibition organized and toured by the Alaska State Museum. Its purpose is to encourage the practice of photography as an art form in Alaska. The exhibition will open in Juneau on December 6, 2019 and close on February 15, 2020 then travel throughout Alaska concluding a statewide tour in 2021.

JUROR: David Michael Kennedy
ELIGIBILITY: The competition is open to any resident of the State of Alaska. Only photographs not shown in previous statewide juried competitions are eligible. Any work that makes use of photographic processes is eligible. All work must be original work and completed within the last three years. Entries may only be submitted by the artist.

SCHEDULE SUMMARY:
SEPTEMBER 3, 2019

-

Call-for-entry for Alaska Positive 2019 opens on CaFÉ,

callforentry.org

.

OCTOBER 12, 2019 -

All digital submissions for initial judging are due on CaFÉ.

NOVEMBER 8, 2019 -

All matted exhibit-ready submissions are due. Deadline for receipt is 4:00 pm, at the Alaska State Museum in Juneau.

NOVEMBER 15, 2019 -

Lecture by juror David Michael Kennedy, at 7:00 pm at the Alaska State Museum.

DECEMBER 6, 2019 -

Exhibit opens at the Alaska State Museum in Juneau and runs through February 15, 2020.

EXHIBITION TRAVELS

to museums throughout Alaska including the following:

March – May, 2020

Sheldon Jackson Museum, Sitka

June – September, 2020

Wasilla Museum & Visitor Center

October – November, 2020

University of Alaska Museum of the North, Fairbanks

mid-December – February, 2021

Haines Sheldon Museum

March – mid-April, 2021

Cordova Historical Museum

May – September, 2021

Valdez Museum
* dates subject to change
AWARDS
There will be a $300 Juror's Choice Award and two $150 Awards of Recognition. The awards are sponsored by the Friends of the State Library, Archives, and Museum. The juror will also select a number of photographs for Honorable Mention.

INITIAL SUBMISSION - DIGITAL CHECKLIST
Each person may enter up to four photographic works.

List of acceptable upload-ready file formats can be found on the CaFÉ Media Help page: https://www.callforentry.org/uploading-images-audio-and-video-files/

Upload an ENTRY IDENTIFICATION document that lists the required information for each entry submitted. Instructions are included in the application.

Pay the $25 application fee to CaFÉ.

DIGITAL SUBMISSIONS AND JUDGING
Alaska Positive judging will be completed in a two-step process by our juror with an initial judging of all the digital entries, then a final judging of selected exhibition-ready artwork in Juneau.

Artists whose work is selected from the initial judging will be notified and will need to submit exhibition-ready (matted with white or natural white museum board) photographs for final judging. Artists will be sent instructions for labeling their work. Please do not send framed work for final review.

FINAL SUBMISSION - MATTED ART
Artwork that is selected from the digital submissions for the final judging should be mailed or hand delivered by 4:00 pm on November 8, 2019 to: Alaska Positive 2019, Alaska State Museum, P.O. Box 110571, Juneau, Alaska, 99811.

Artwork that is selected for final judging must be matted with white or natural white museum board. Framed entries will not be accepted. The Museum will frame selected works.

Upon selection, artists will attach identification labels to the back of their work. Instructions for labeling will be sent to artists when they are notified of selection.

All mailed entries must be properly packaged in a reusable container. Remember, framed entries will not be accepted.

All entries will be returned to the artist postage-paid by the museum. Entries accepted for the statewide traveling exhibit will be returned following the tour in fall 2021. Unaccepted entries will be returned by mail, or may be picked up in Juneau.

Undeliverable entries returned to the Alaska State Museum or hand delivered entries that have not been picked up within one year of the exhibit's closure will be dealt with at the discretion of the Alaska State Museum.
CONDITIONS AND SALES:
Entries are submitted with the understanding that all accepted works must remain in the exhibition through fall 2021. Oversize or fragile pieces may not be included in the traveling exhibition, and may be returned following the exhibit in Juneau.

Entries will be handled with the greatest possible care. The Museum carries insurance against loss or damage on the premises and in transit for the traveling exhibit. The Museum cannot assume responsibility for normal wear and tear, faulty materials or workmanship.

The Museum retains the right to photograph and reproduce works selected for the exhibition for the purposes of documentation, publication, and education, including low-resolution display on the Museum's website.

The Museum will provide a price list (prices provided by the artist) for exhibited photographs. Sale of photographs will be negotiated between the photographer and the purchaser. Sold photographs are required to stay in the exhibit through the tour and then will be unframed and returned to the photographer. The photographer will be solely responsible for shipping to the buyer. The Alaska State Museum does not participate in sales of artwork nor shipping of sold artwork.

The Alaska State Museum wishes to thank the Friends of SLAM for its continued support of Alaska Positive and for sponsoring this year's Juror's Choice and Recognition Awards.
Print this Page
View Legal Agreement