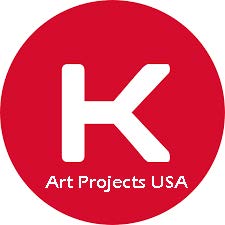 Exhibit at Art Basel Miami Week 2019. Red Dot Art Fair. K Art Projects USA
Contact Email:
kartprojectsusa@gmail.com
Call Type:
Exhibitions
Eligibility:
International
State:
Florida
Event Dates:
12/4/19 - 12/8/19
Entry Deadline:
11/1/19
Application Closed
REQUIREMENTS:
Media
Images - Minimum: 1, Maximum: 5
Total Media - Minimum: 1, Maximum: 5
Entry Fee (Be Part of Art Basel Week Miami 2019. Call for Artists/Red Dot Art Fair/ K-Art Projects USA): $35.00

Media Fee (per sample over minimum):$10.00

Be a Part of Art Basel Week Miami. Call for Artists Red Dot Art Fair K Art Projects USA

Event Dates: 12/04/2019 - 12/08/2019
Entry Deadline: 11/1/2019
Days remaining to deadline: 53

REQUIREMENTS:

Media
Images - Minimum: 2, Maximum: 5
Total Media - Minimum: 2, Maximum: 5

Entry Fee (Be Part of Art Basel Week Miami 2019. Call for Artists/Red Dot Art Fair/ K-Art Projects USA): $35.00

View Site Details
Miami's newest project "K-Art Projects USA" a subsidiary of Contemporary Art Projects USA will give the opportunity to emerging artists to enter a contest to win a Free of Charge Exhibition at Red Dot Fair, December 4-8|2019, during Art Miami Week, within the curated booth of Contemporary Art Projects USA. The Booth 101 will be located at the entrance of the Fair. 5 artists will exhibit free of charge and another 20 artists will be selected as Finalists and will receive a Marketing Discount Fee to exhibit within the project.
IT WILL BE AN ONLINE CATALOG WITH THE FIRST 100 ARTISTS THAT APPLY....IT WILL BE DISTRIBUTED THRU SOCIAL MEDIA AND COLLECTORS.
ANY SELL THE ARTISTS WILL RECEIVE 70% COMMISSION.
An International Committee will select the winner artists under the guidance of the Executive Director of Contemporary Art Projects USA, Tata Fernandez. The selected artworks will be based on artistic excellence, innovation, and originality.
About Red Dot Art Fair: About Red Dot Art Fair: a modern and contemporary art show in the heart of Miami featuring an international slate of 75+ galleries showing over 500 leading artists. Now in its 15th year, Red Dot Miami nurtures and strengths Miami's art scene with a provocative agenda that includes Art Labs, Art Talks, and Spotlight Galleries. The event attracts over 38,000 visitors, a majority of whom are high-net-worth collectors. Join us for an unforgettable five days of cutting-edge art, entertainment, and special events.
About Contemporary Art Projects USA: About thirty national and international artists will show in the 800sqft impressive curated booth of Contemporary Art Projects USA that will return to Mana Convention Center in Wynwood. A significant number of essential Galleries from around the world will offer an excellent overview of Modern and Contemporary Art. The Artists presented at Booth 101, located at the Main Entrance of the Fair and across from the VIP Cafe & Lounge Area, will display a variety of media and styles, from Abstract or Geometric to Figurative, from painting to photography, sculpture and ceramic installation. Due to the exciting themes approached by the Artists and the well-balanced curated conception for the presentation of meanings, shapes, and colors, the exhibition will be attractive and significant for the Art Fair visitors of any age and walk of life, as well as a 'must-see' for the Art Collectors and all the Art Basel Miami Week viewers of this year.
Deadline to Submit Application is November 1/2019
AGREEMENTS
REQUIREMENTS
Media
Images -MINIMUM 1 IMAGE MAXIMUM of 5 IMAGES
Total Media – Minimum: 1, Maximum: 5
Entry Fee: $35.00/per Application Process and One Image.
Additional Media (per IMAGE): $10.00
Maximum Fee of $75.00
The only additional cost to the artists is Shipping or Deliver Cost to and from the Fair if the artwork is not sold. All other Costs are Included.
AWARDS
First Prize: 3 Artists will exhibit 01 Artwork Free of Charge
Second Prize: 20 Artists will exhibit with a Marketing Discount Fee of $350.00
Entry Deadline: 11/01/2019
ELIGIBILITY
This exhibition is open to all artists 18 years of age and older in the disciplines of Computer Art, Mixed Media, Painting, Photography, Small and Monumental Sculptures, as well as all Innovative New Technologies in Art.
SPECIFICATIONS
All work must be original, and the artist must own the sole copyright to the art. Substitutions of accepted works will not be allowed, and all delivered work must match the image juried. Photography must be on aluminum, Plexiglas, or framed. The frame must be "floating" 1.5" to 2.00" wide in black or white. No other frames will be accepted.
SIZE RESTRICTIONS
Hanging works are limited to 72" height and 44" width and may not exceed 30 lbs. per unit. There are no exceptions.
Sculptures are limited to 40" height x 24" depth. Outdoor Monumental Sculptures no size limitation.
SALES
All work must be available for sale. There is a 35% commission for CONTEMPORARY ART PROJECTS USA on sales during the exhibition, and 30 days after the close of the exhibition. Prices quoted on the entry form may not be changed after acceptance.
ACCEPTED WORK
The selected artist is responsible for proper arrangements and costs connected to shipping to and from the fair and the insurance of the artwork while it is in transit.
IMPORTANT INFORMATION
Contemporary Art Project USA is not responsible for any fees encountered during the shipping, storage, and delivery of artwork.
Note: To compensate for International shipping costs Contemporary Art Project USA, will accept canvas in a tube and the artists will cover the cost for stretching.
Each work of art must be identified on the back with the artist's name and title of the artwork.
Artists are responsible for the shipment and arrival of the artwork on time before the fair set up.
National and International Artists: All artwork must be sent to Contemporary Art Projects USA. DISCUSS WITH GALLERY THE BEST METHOD.
Unsold artwork must be picked up on December 8th, 2019, at the fair closing time.
Note: If the unsold artwork is not picked-up or correctly returned, there will be a storage fee of $100.00/per day.
Contemporary Art Projects USA shall have the right to use for its purposes any image(s) of any artwork that is photographed during the fair. Artists will retain all rights in terms of attribution and ownership of any images of their making in all other respects except those stated herein.
LIABILITY
Artwork will be handled with reasonable care. Contemporary Art Project USA and its representatives will not be responsible for loss, theft or damage of artworks while in the fair exhibition's possession or in transit. Contemporary Art Project USA has the right to reproduce accepted artwork for publicity and documentary purposes. Contemporary Art Project USA allows researchers and commercial filmmakers to use the project as a backdrop. The artist retains all copyrights of the artwork.
Juried art exhibitions are competitive by nature and require the artist to present artwork that is beautifully executed, innovative, and engages the viewer intellectually, emotionally, as well as visually. For assistance with your application, image resizing, and final overview, please E-mail to kartprojectsusa@gmail.com
Print this Page
View Legal Agreement